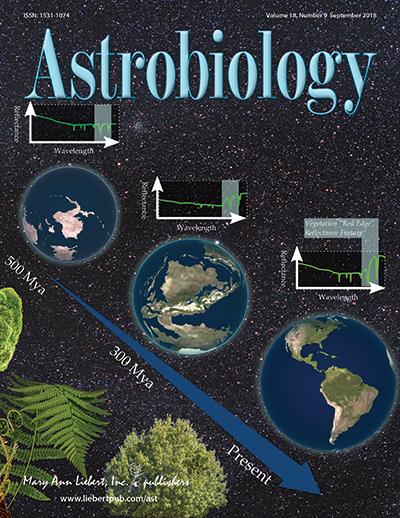 New Rochelle, September 26, 2018--New data from the Mars Science Laboratory demonstrating the presence of methane presents novel challenges to explain how it was formed and what it suggests about the potential for life to exist or be supported on Mars. A comprehensive overview of these new findings, their implications, and recommendations for future studies to help interpret the data is published in Astrobiology, a peer-reviewed journal from Mary Ann Liebert, Inc., publishers. Click here to read the full-text article free on the Astrobiology website.
Pin Chen from the NASA Jet Propulsion Laboratory, California Institute of Technology (Pasadena, CA), and a large team of international researchers collaborated on the article entitled "Methane on Mars and Habitability: Challenges and Responses." They share their perspectives on what the evidence of methane suggests in terms of geochemical processes within the Martian environment and whether it could indicate a biosignature for subsurface habitability. The researchers present a series of recommendations for future studies and Mars exploration programs, including those that can advance our understanding of the potential for life and habitability on Mars, further clarify the chemical reactions and energy sources in the Martian atmosphere and on the Martian surface and subsurface, and add to our knowledge of the sources of methane on Mars.
###
About the Journal
Astrobiology, led by Editor-in-Chief Sherry L. Cady, a Chief Scientist at the Pacific Northwest National Laboratory, and a prominent international editorial board comprised of esteemed scientists in the field, is the authoritative peer-reviewed journal for the most up-to-date information and perspectives on exciting new research findings and discoveries emanating from interplanetary exploration and terrestrial field and laboratory research programs. The Journal is published monthly online with Open Access options and in print. Complete tables of content and a sample issue may be viewed on the Astrobiology website.
About the Publisher
Mary Ann Liebert, Inc., publishers is a privately held, fully integrated media company known for establishing authoritative peer-reviewed journals in many promising areas of science and biomedical research, including New Space and High Altitude Medicine & Biology. Its biotechnology trade magazine, GEN (Genetic Engineering & Biotechnology News), was the first in its field and is today the industry's most widely read publication worldwide. A complete list of the firm's 80 journals, books, and newsmagazines is available at the Mary Ann Liebert, Inc., publishers website.
---