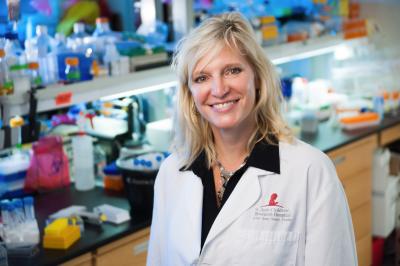 (MEMPHIS, Tenn. – September 4, 2014) A study led by St. Jude Children's Research Hospital scientists found the avian influenza A H3N8 virus that killed harbor seals along the New England coast can spread through respiratory droplets and poses a threat to humans. The research appears in the current issue of the scientific journal Nature Communications.
The avian H3N8 virus was isolated by scientists investigating the 2011 deaths of more than 160 harbor seals. Researchers discovered the virus had naturally acquired mutations in a key protein that previous laboratory research had shown allowed the highly pathogenic avian H5N1 virus to spread though respiratory droplets. Scientists reported that the avian H3N8 seal virus infected and grew in human lung cells. Researchers also found that the virus spread in ferrets though respiratory transmission, which is uncommon for avian flu viruses and raises concerns about possible person-to-person airborne spread of the harbor seal virus. Investigators found no evidence of human immunity to the strain.
"This study highlights a gain-of-function experiment that occurred in nature and shows us there are avian flu viruses out there beyond H5N1 and H7N9 that could pose a threat to humans," said corresponding author Stacey Schultz-Cherry, Ph.D., a member of the St. Jude Department of Infectious Diseases. In recent years, human cases of highly pathogenic avian H5N1 and H7N9 flu have been confirmed in countries around the world, with mortality rates approaching 60 percent.
"Avian H3N8 viruses are established in horses and dogs. This study raises a red flag about the threat this strain poses to humans exposed to animals infected with the virus," Schultz-Cherry said. While no human illness was linked to the 2011 harbor seal virus, a different flu virus has spread from infected seals to humans who came in close contact with the animals. Avian H3N8 is also believed to have triggered a human flu pandemic in the 1880s.
The findings reinforce the need for continued surveillance of flu viruses circulating in wild and domestic animals to understand the risk the viruses pose to humans, said the study's first author Erik Karlsson, Ph.D., a St. Jude postdoctoral fellow.
The H3N8 harbor seal virus caught the attention of researchers when sequencing showed the virus included two particular mutations in the hemagglutinin (HA) protein and a change in the PB2 gene. HA is carried on the surface of the flu virus. The virus depends on HA to bind to and infect cells. The PB2 mutation was associated with more severe illness in mice. The HA and PB2 changes were among a handful of genetic alterations that in 2012 other scientists reported were sufficient to allow the highly pathogenic H5N1 to spread in ferrets via respiratory droplets.
In this study, two of the three animals exposed to the harbor seal virus via respiratory transmission became infected, although symptoms were mild. Airborne transmission did not occur with the five other avian viruses tested, but two of the viruses spread in ferrets that shared cages. Both viruses were close genetic relatives of the harbor seal virus. Scientists want to understand the genetic changes that make respiratory transmission of avian H3N8 virus possible and the likelihood that related flu viruses will or have acquired those alterations.
Researchers also checked blood samples from 102 individuals vaccinated against seasonal flu strains between 2009 and 2011, including the human H3N2 flu strain. There was no evidence that seasonal flu vaccines protected against the harbor seal virus. "The transmissibility of the seal H3N8 virus coupled with the apparent lack of immunity makes this strain a concern," researchers noted.
###
The study's other St. Jude authors are Richard Webby and Sun Woo Yoon and Jordan Johnson, both formerly of St. Jude. The other authors are Hon S Ip and Jeffrey Hall, of the U.S. Geological Survey (USGS), National Wildlife Health Center, Madison, Wis., and Melinda Beck of the University of North Carolina, Chapel Hill.
The study was funded in part by contracts (N266200700005C, N266200700007C and N272201400006C) from the National Institutes of Allergy and Infectious Diseases, which is part of the National Institutes of Health (NIH); grants (AI078090 and DK056350) from NIH; USGS and ALSAC.
St. Jude Media Relations Contacts
Carrie Strehlau
Desk: (901) 595-2295
Cell: (901) 297-9875
carrie.strehlau@stjude.org
Summer Freeman
Desk: (901) 595-3061
Cell: (901) 297-9861
summer.freeman@stjude.org
St. Jude Children's Research Hospital
St. Jude Children's Research Hospital is leading the way the world understands, treats and cures childhood cancer and other life-threatening diseases. It is the only National Cancer Institute-designated Comprehensive Cancer Center devoted solely to children. Treatments developed at St. Jude have helped push the overall childhood cancer survival rate from 20 percent to 80 percent since the hospital opened more than 50 years ago. St. Jude is working to increase the overall survival rate for childhood cancer to 90 percent in the next decade. St. Jude freely shares the breakthroughs it makes, and every child saved at St. Jude means doctors and scientists worldwide can use that knowledge to save thousands more children. Families never receive a bill from St. Jude for treatment, travel, housing and food—because all a family should worry about is helping their child live. To learn more, visit stjude.org or follow St. Jude at @stjuderesearch.
---
Journal
Nature Communications