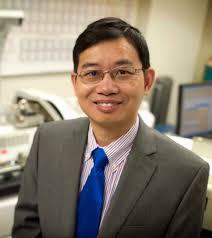 Nuclear waste repositories must be safe for millions of years, so knowing which materials are most appropriate as barriers is vitally important. A professor at The University of Texas at Arlington is researching the physical and chemical processes by which fluids and radioactive atoms move through different rock formations to better assess which rock materials provide optimal barriers to isolate nuclear wastes in long-term repositories.
'Max' Qinhong Hu, UTA associate professor of earth and environmental sciences, recently won a three-year $567,831 grant from the Department of Energy's Nuclear Energy University Program to assess six different kinds of low-permeable rock formations, including granite and clay, as potential barrier materials.
"We need to be sure that we have chosen the materials that are most appropriate, that will be least affected by leakage from the nuclear containers, as well as from weather events that result in liquid seepage," Hu said.
Hu is also looking at how radioactive atoms or radionuclides from nuclear waste, or liquids, can move through the tortuous passageways found in these rock formations to better assess how to isolate the radionuclides over the long-term.
"These pore spaces can be very small, nanometers instead of microns, with an extremely low permeability even tighter than the kitchen-top granite, and we need innovative ways to characterizing these tiny pore structure to enhance the isolation," Hu said.
Hu's team will provide a mechanistic or process-level understanding of how the fluid and radionuclide movements work and also quantify the uncertainty around the materials for isolation purposes. Some work will be carried out using small angle neutron scattering technique at the National Institute of Standards and Technology and Oak Ridge National Laboratory.
"Traditionally, UTA has not been a nuclear science center but we will be able to offer our students experience working at top national labs on this project," Hu said. He plans to employ two doctoral students to this end.
Arne Winguth, chair of UTA's Department of Earth and Environmental Sciences, congratulated Hu on his new grant.
"Dr. Hu's unique focus combines hydrogeology with radiochemistry to handle research around both fluid movement and radionucleotide transport," Winguth said. "This is very important work in line with the strategic plan of the Department of Earth and Environmental Sciences and of the University of Texas at Arlington."
###
Hu has been at UTA since 2008. Prior to that, he worked at the U.S Department of Energy's Lawrence Livermore National Laboratory and Lawrence Berkeley National Laboratory. He is a fellow of The Geological Society of America.
---