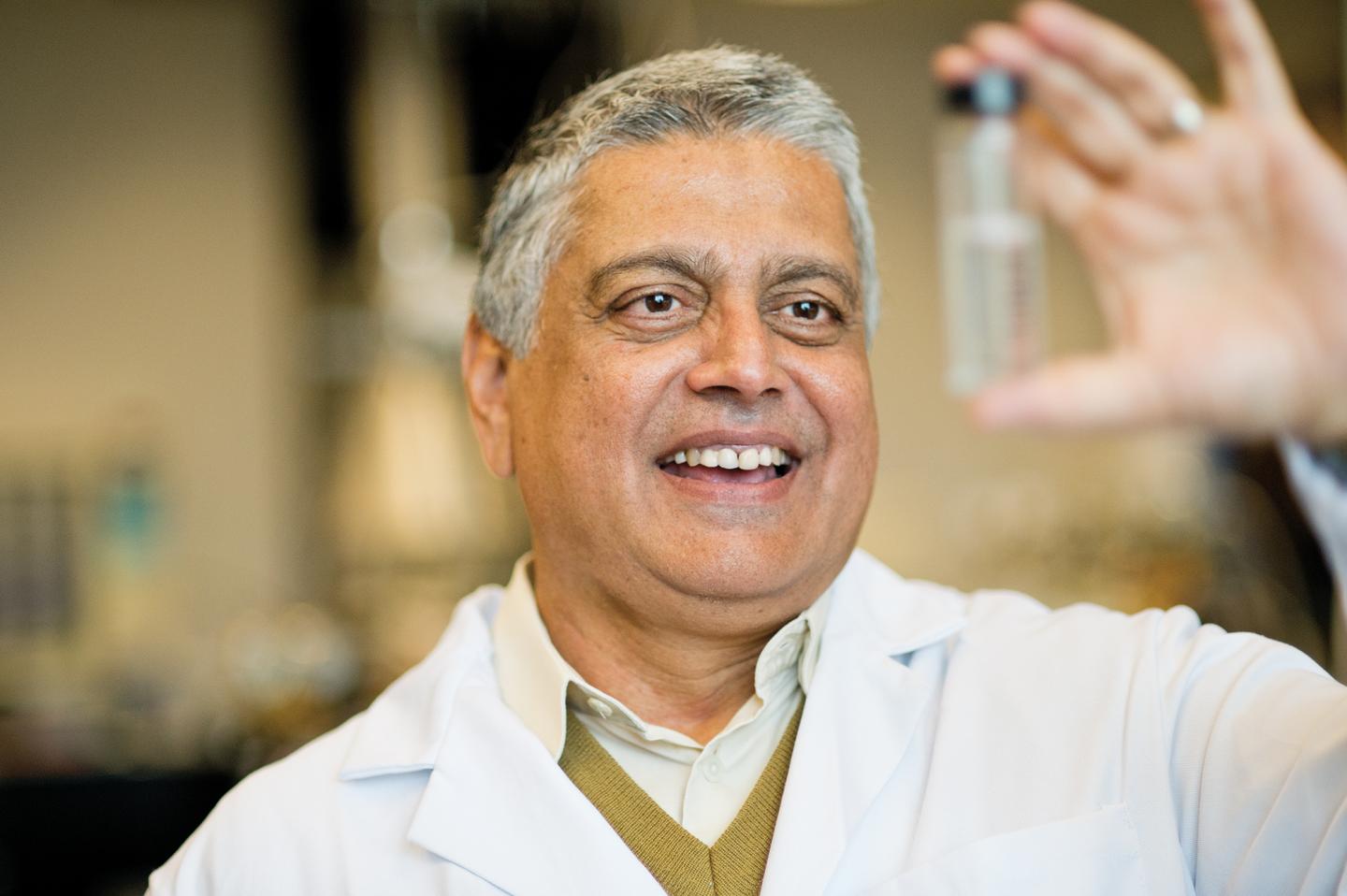 Krishnan Rajeshwar, Distinguished Professor of Chemistry and Biochemistry at The University of Texas at Arlington, has received an international award for his work in electrochemical deposition, or electrodeposition.
Rajeshwar is the recipient of the Electrochemical Society's 2019 Electrodeposition (ELDP) Research Award for his outstanding research contributions to the field of electrodeposition, including the publication of high-quality papers in the Journal of the Electrochemical Society. The award was established in 1979 to recognize preeminent scientists in the field.
"I couldn't be more pleased and honored to be included in the list of outstanding individuals who have been recognized previously by this award," Rajeshwar said. "I thank the Electrodeposition Division for this award and look forward to many more years of collegial interactions with its members."
Rajeshwar has a long record of service in the Electrochemical Society (ECS). He is currently an ECS fellow and served as society president in 2016-17 and senior vice president in 2014-15. In January he was appointed editor in chief of the Journal of Solid State Science and Technology.
"Congratulations to Dr. Rajeshwar on receiving this prestigious award," said College of Science Dean Morteza Khaledi. "He has been a leader and innovator in the field of electrochemistry for more than three decades, and this honor is well-deserved recognition of his significant research and scholarly contributions."
In addition to the ELDP award, Rajeshwar was recently honored with a special symposium organized by the ECS during the 235th ECS Meeting, held May 26-30 in Dallas. The symposium was titled "Semiconductor Electrochemistry and Photoelectrochemistry in Honor of Krishnan Rajeshwar." It included 16 invited talks from leaders in the field from around the world and a reception featuring congratulations from the ECS president and chief executive officer, among others.
A special focus issue of the Journal of the Electrochemical Society in Rajeshwar's honor was distributed at the same meeting. Hard copies of this volume were presented to invited speakers and other attendees.
Rajeshwar was honored with another special symposium, titled "Photocatalytic and Electrochemical Processes in Green Energy and Environmental Remediation: A Symposium in Honor of Professor Krishnan Rajeshwar," during the American Chemical Society Spring 2019 National Meeting. The event honored Rajeshwar for his decades of contributions to environmental chemistry and was organized by the ACS Division of Environmental Chemistry.
Rajeshwar's research interests include photoelectrochemistry, solar energy conversion, renewable energy, materials chemistry, semiconductor electrochemistry and environmental chemistry. He has authored more than 350 publications and monographs and has edited books, journal focus issues, and conference proceedings on energy conversion. He is also the founding director of UTA's Center for Renewable Energy and Science Technology.
###
---