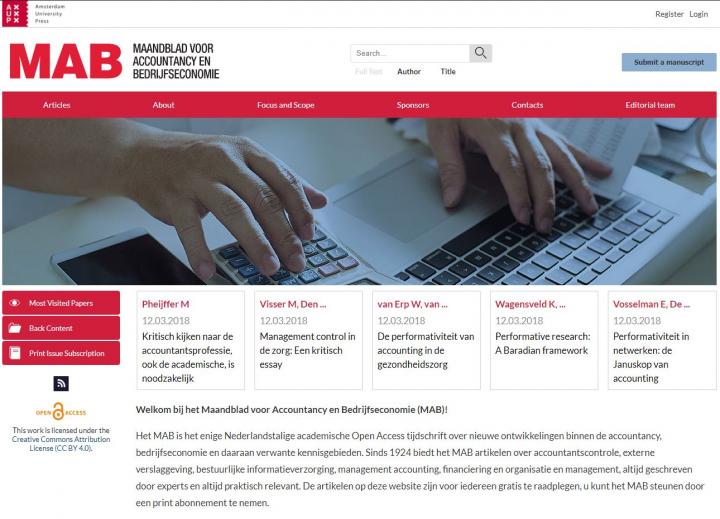 Launched back in 1924, the then monthly periodical for Accountancy and Business Economics (MAB), also known under its original Dutch title Maandblad voor Accountancy en Bedrijfseconomie, has been publishing articles on auditing, external reporting, management information, management accounting, financing and organization and management ever since.
Now, having taken advantage of the white-label journal publishing solution provided by ARPHA Platform, not only is the renowned title transitioning to Open Access, but it also adopts a long list of technologically advanced user-friendly innovations, while preserving its well-known expertise and devotion along with a strong position within the portfolio of Amsterdam University Press.
The first MAB issue in collaboration with ARPHA is already live on the journal's new website.
Thanks to the fast and convenient publishing workflow provided by ARPHA, each manuscript makes it through all stages from submission and reviewing to dissemination and archiving without ever leaving the platform's singular online environment.
Furthermore, all publications are available in three formats (PDF, XML, HTML), complete with a whole set of semantic enhancements, so that the articles are easy to find, read and collect by both humans and machines.
"It is great to see the MAB journal presented on the ARPHA platform and I am confident that the move to Open Access will greatly enhance the journal's readership. The ARPHA team did a great job in incorporating the wishes of the journal editors into the new website," says Dr. Max Haring, publisher at Amsterdam University Press.
"I'm delighted to welcome both MAB journal and Amsterdam University Press to the family of ARPHA," says Prof. Lyubomir Penev, founder and CEO of the platform and its developer - Pensoft Publishers.
"It wasn't long ago that at Pensoft we decided to offer our publishing platform to external journals who find our services matching their own vision for modern and innovative publishing, but wish to remain with their current publisher. Now, having authoritative names like MAB and AUP take advantage of this offer has definitely come to show us that we have done a good job."
###
Additional information:
About ARPHA:
ARPHA is the first end-to-end, narrative- and data-integrated publishing solution that supports the full life cycle of a manuscript, from authoring to reviewing, publishing and dissemination. ARPHA provides accomplished and streamlined production workflows that can be customized according to the journal's needs. The platform enables a variety of publishing models through a number of options for branding, production and revenue models to choose from.
About Pensoft:
Pensoft is an independent academic publishing company, well-known worldwide for its innovations in the field of semantic publishing, as well as for its cutting-edge publishing tools and workflows. In 2013, Pensoft launched the first ever end to end XML-based authoring, reviewing and publishing workflow, as demonstrated by the Pensoft Writing Tool (PWT) and the Biodiversity Data Journal (BDJ), now upgraded to the ARPHA Publishing Platform. Flagship titles include: Research Ideas and Outcomes (RIO), One Ecosystem, ZooKeys, Biodiversity Data Journal, PhytoKeys, MycoKeys, and more.
About MAB:
The editorial board of the Monthly magazine for Accountancy and Business Economics (MAB) aims to inform readers about theoretical and practical aspects of, and developments in accountancy and business economics and related knowledge areas. In doing so, it focuses on the academically trained accountants, controllers and business economists, as well as on those who are professionally interested in the topics covered by other training or professional practice.
About Amsterdam University Press (AUP):
Amsterdam University Press (AUP) is a leading publisher of academic books in English, journals and textbooks in the Humanities and Social Sciences. AUP contracts over one hundred and fifty titles a year specialising in the fields of History, Asian Studies, Film, Media and Communication, Social and Political Sciences, and Linguistics, with an additional active and best-selling list of non-fiction trade publications in Dutch. AUP connects authors with readers through an international network of distributors and partners, and offer sales and marketing with dedicated representatives in key markets across the world. Working on cutting-edge research, AUP authors are from a global academic network, distinguishing an open, creative, and internationally orientated attitude in acquisitions, sales and marketing. Visit http://www.aup.nl for more information.
Contacts:
Prof. Lyubomir Penev, ARPHA
Email: penev@pensoft.net
Dr. Max Haring, AUP
Email: M.Haring@aup.nl
---