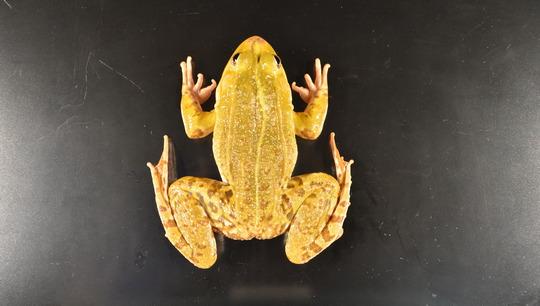 The research is aimed at studying the phenomenon of genome elimination in the organism. The essence of this phenomenon is as follows. The organism possesses a genetic system of elimination (selective destruction) of hereditary information. This system is crucial for the survival, reproduction and evolution of species. A vivid example of the elimination of the genome can be observed during the formation of germ cells in a natural frog hybrid Pelophylax esculentus. Natural crossbreading of different species of green European frogs lead to formation of specimen containing the hereditary material of only one of the parents in their genome. This happens due to the fact that one of the parental genomes destroys, and the remaining one is duplicated, as a result we have an individual that is a genetically identical copy of one of its parents. As studies show, this type of reproduction affects the development of the body and leads to a decrease in survival rate in general.
Recent discoveries on the study of genome editing systems allow us to take a fresh look at the molecular foundations of this complex, intricate process.
A group of Russian scientists headed by Professor of Ural Federal University Vladimir Vershinin in collaboration with a team of researchers from the Institute for Amphibian Biology of Hiroshima University headed by Professor Ikuo Miura plans to conduct a series of experiments to uncover the mechanisms of genome elimination. The Institute for Amphibian Biology is the only institution in the world with many years of experience, technical capabilities and the necessary tools for the artificial breeding, growth and maturation of adult frogs for generations.
According to Ivan Sitnikov, graduate student of UrFU majoring in Fundamental and Applied Biology, in the summer 2017, the scientists brought to Hiroshima the specimens, for which genetic markers were subsequently allocated. Hybridization was performed and young specimens were obtained; at the moment they are in the Amphibian Biology Center. In the future, researchers plan to study Japanese brown frogs forming hybrids, to compare the data.
'After the completion of the two-year program, it is planned to organize the International Conference in Russia with the participation of Japanese colleagues to discuss results of the study,' said Ivan Sitnikov. 'We assume, the obtained results will confirm the fact that the elimination of the genome is not exceptional, but a universal process that is characteristic for all living systems. Understanding the mechanisms of this process will help to use it in medical purposes, such as the treatment of hereditary diseases by the destruction of "unnecessary" genes.'
###
---