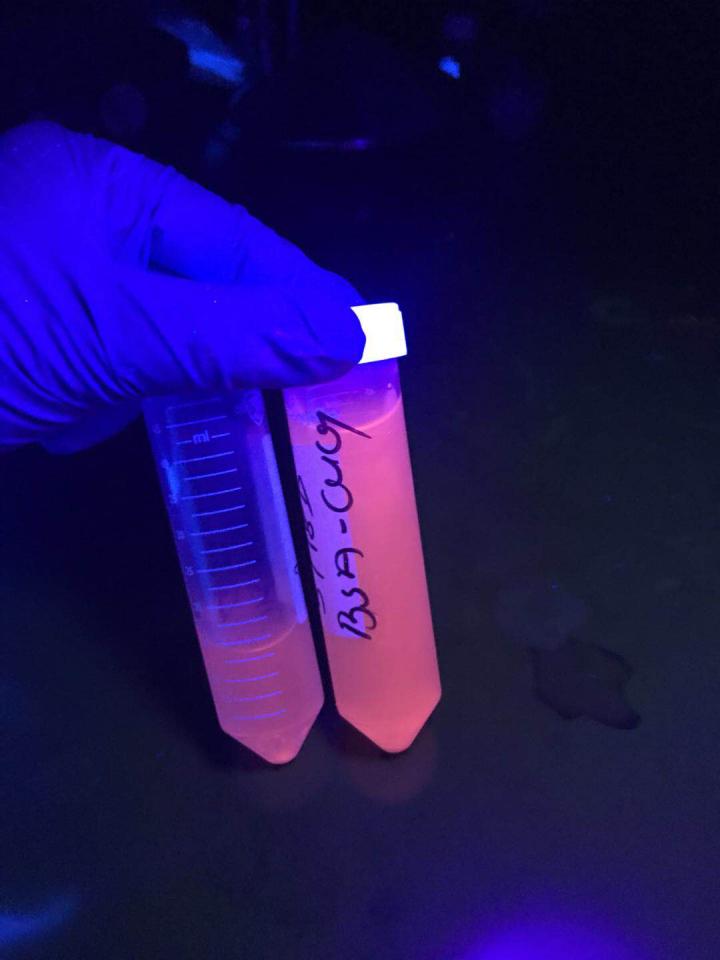 The University of Texas at Arlington has been awarded U.S. and international patents on a nanoparticle material that can be activated by light, microwave, X-ray, or ultrasound to kill multiple kinds of cancers.
"This new nanoparticle material has many properties that improve upon traditional photodynamic cancer therapies, where light is used to activate a particle that kills cancer cells," said UTA physics professor and inventor Wei Chen.
The principal advantages are:
Fewer side effects for patients as healthy cells are not affected by treatment
Low cost and ease of manufacture of the material
Applicability to multiple cancers as it can be effective from the skin surface to 25 centimeters below skin level
Possibility to treat the patient immediately applying the sensitizer rather than waiting several hours for treatment to be effective
Decreased sensitivity to sunlight, a problem of earlier photodynamic therapies
Emits intense luminescence, which means it can also be used as an imaging agent as well as for cancer treatment
Traditional photodynamic therapy kills cancer cells when a nanoparticle introduced into tumor tissue generates toxic singlet oxygen after being exposed to light. Singlet oxygen is a highly reactive type of oxygen species that irreversibly damages cell mitochondria and eventually causes cell death.
Over multiple studies, the UTA researchers were able to identify a new type of nanoparticle, copper-cysteamine or Cu-Cy, that can be activated not only by light, but also by X-rays, microwaves, or ultrasound, to directly target tumors without harming surrounding tissue.
"The material provides an excellent solution to the issue of how to penetrate cancer tumors found at different levels in the body - light is effective for skin cancers and cancers near the skin surface, microwaves for cancers between 5-7 centimeters below skin level, X-rays for deeper cancers and ultrasound for cancers between 15-25 centimeters below the skin surface," Chen said.
"The material is also much less toxic and can selectively kill cancer cells without harming healthy tissue, which is an important step forward for photodynamic therapies," he added.
Alex Weiss, chair of UTA's Physics Department, was among the first to congratulate Chen and his team on this new U.S. and international patent issue.
"Dr. Chen's research into nanoparticle activation has led to important discoveries that could potentially transform cancer treatment," Weiss said. ""If Dr. Chen's new materials can be developed into inexpensive, easy-to-manufacture nanoparticle based pharmaceuticals that are effective on multiple cancers on and below skin level it would be an extraordinary achievement. Dr. Chen's work in this area demonstrates how important it is to support the commercialization of the new discoveries being made here at UTA."
###
Chen came to UTA in 2006 following an international career in the United States, Canada, Sweden and China. He received his doctorate in chemistry from Peking University in Beijing, China.
---