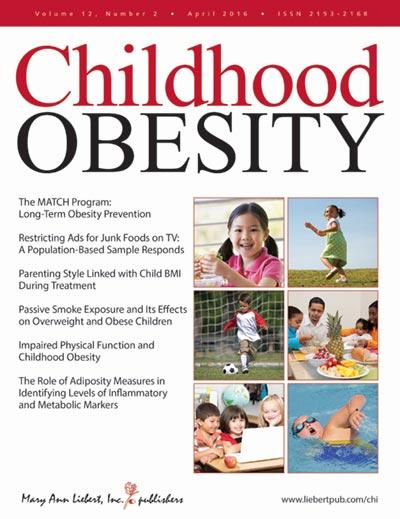 New Rochelle, NY, April 19, 2016--A novel approach to preventing overweight/obesity in young children by replacing traditional, individual well-child care with a series of group visits that emphasize nutrition-focused interventions during the first 18 months of life was associated with a significantly reduced obesity rate at 2 years of age. Designed for use in a primary care setting, this model provides a unique opportunity to target an effective strategy for pediatric obesity prevention to at-risk communities, as described in the study published in Childhood Obesity, a peer-reviewed journal from Mary Ann Liebert, Inc., publishers. The article is available free on the Childhood Obesity website until May 19, 2016.
In the article "Well Baby Group Care: Evaluation of a Promising Intervention for Primary Obesity Prevention in Toddlers", Hildred Machuca, DO, Sandra Arevalo, RD, MPH, Barbara Hackley, PhD, Jo Applebaum, MPH, Arielle Mishkin, Alan Shapiro, MD, Community Pediatric Programs, Montefiore, and Moonseong Heo, PhD, Albert Einstein College of Medicine (Bronx, NY), describe the Well Baby Group (WBG) care model, in which the same 6-8 mother-infant pairs participated in 11 group sessions during 18 months. The researchers compared the rates of overweight and obesity in these children at age 2 years to a group that received traditional well-child care at the same health center.
"While most obesity prevention programs are having little to no impact, this well-baby care program conducted early in life may have a substantial impact among infants and toddlers at high risk for obesity," says Childhood Obesity Editor-in-Chief Tom Baranowski, PhD, Baylor College of Medicine, Houston, TX. "While these results are exciting, the evaluation needs to be extended to assess the effects beyond 2 years and replicated with a randomized clinical trial to have confidence in the effect. Stay tuned!"
###
About the Journal
Childhood Obesity is a bimonthly peer-reviewed journal, published in print and online, and the journal of record for all aspects of communication on the broad spectrum of issues and strategies related to weight management and obesity prevention in children and adolescents. Led by Editor-in-Chief Tom Baranowski, PhD, Baylor College of Medicine, and Editor Elsie M. Taveras, MD, MPH, Massachusetts General Hospital for Children & Harvard Medical School, the Journal provides authoritative coverage of new weight management initiatives, early intervention strategies, nutrition, clinical studies, comorbid conditions, health disparities and cultural sensitivity issues, community and public health measures, and more. Complete tables of content and a sample issue may be viewed on the Childhood Obesity website.
About the Publisher
Mary Ann Liebert, Inc., publishers is a privately held, fully integrated media company known for establishing authoritative medical and biomedical peer-reviewed journals, including Metabolic Syndrome and Related Disorders, Population Health Management, Diabetes Technology & Therapeutics (DTT), and Journal of Women's Health. Its biotechnology trade magazine, GEN (Genetic Engineering & Biotechnology News), was the first in its field and is today the industry's most widely read publication worldwide. A complete list of the firm's 80 journals, newsmagazines, and books is available on the Mary Ann Liebert, Inc., publishers website.
---
Journal
Childhood Obesity