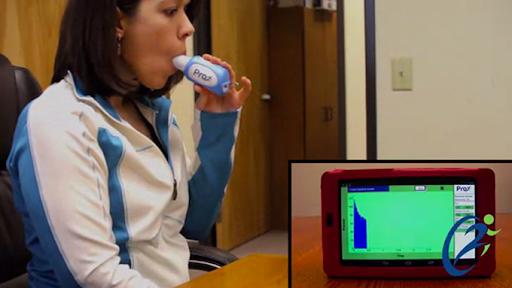 Researchers exploring a new method to help people recover from Covid-19, using breathing exercises and a hand-held device, have received funding of £275,000 to help them test it, with the support of volunteers who have had Covid.
The work could benefit patients and ease the strain on health services like the NHS.
More people are now surviving Covid-19. However, patients who are recovering talk about continued shortness of breath, sometimes for many months, which causes tiredness and difficulties with the basic tasks of daily living.
The UK-wide team, led by Drs Melitta McNarry and Kelly Mackintosh of the School of Sport and Exercise Sciences at Swansea University, which is rated amongst the best in the UK, are trying to identify how best to help people recover quickly and fully.
The research project has just been awarded funding from the Sêr Cymru programme, run by the Welsh Government.
Dr McNarry and team believe that they can improve shortness of breath by training the muscles involved in breathing, using a small handheld device that gives regular feedback to the user. To use the device, people breathe in as deeply as they can, for as long as they can.
Based on previous work with long-term respiratory conditions, doing these exercises just three times a week for about 20 minutes has been linked to improvements in how people feel and how much they can move around.
The team are looking for volunteers to use the device for 4-8 weeks, to see if this helps them recover more quickly. Researchers will study whether people get less breathless, stronger, fitter, move around more and, importantly, whether they feel better about their health and well-being. Each volunteer will get regular feedback on how they are doing and plenty of motivation to keep going!
Associate Professor McNarry, an expert in cardiorespiratory health has worked with people with many types of respiratory conditions such as chronic obstructive pulmonary disease, asthma and cystic fibrosis.
She helps them improve their breathing through inspiratory muscle training, high-intensity interval training and physical activity. She has also worked with clinicians to improve pulmonary rehabilitation programmes for patients with respiratory disease.
Dr Melitta McNarry of Swansea University said:
"It is great news that more and more people are now surviving Covid. But it's vital that we now focus on rehabilitation, so that people recover quickly and fully. To do this, we need a greater understanding of the long-term effects of Covid-19 and how we can make these better.
We can only do this with the help of volunteers. That's why we're asking people who are recovering from Covid to consider taking part in our research.
You can be an adult of any age, from any part of the UK and it doesn't matter how long ago you had Covid. If you think you may be interested, I'd be delighted to hear from you. I can tell you a bit more about the work and answer any questions you may have, so you can decide if you're able to help."
###
Recovering from Covid? If you think you may be able to help, contact Dr McNarry on 01792 513069 or email m.mcnarry@swansea.ac.uk
Swansea University is a world-class, research-led, dual campus university offering a first-class student experience and has one of the best employability rates of graduates in the UK. The University has the highest possible rating for teaching - the Gold rating in the Teaching Excellence Framework (TEF) in 2018 and was commended for its high proportions of students achieving consistently outstanding outcomes.
Swansea climbed 14 places to 31st in the Guardian University Guide 2019, making us Wales' top ranked university, with one of the best success rates of graduates gaining employment in the UK and the same overall satisfaction level as the Number 1 ranked university.
The 2014 Research Excellence Framework (REF) 2014 results saw Swansea make the 'biggest leap among research-intensive institutions' in the UK (Times Higher Education, December 2014) and achieved its ambition to be a top 30 research University, soaring up the league table to 26th in the UK.
The University is in the top 300 best universities in the world, ranked in the 251-300 group in The Times Higher Education World University rankings 2018. Swansea University now has 23 main partners, awarding joint degrees and post-graduate qualifications.
The University was established in 1920 and was the first campus university in the UK. It currently offers around 350 undergraduate courses and 350 postgraduate courses to circa 20,000 undergraduate and postgraduate students. The University has ambitious expansion plans as it moves towards its centenary in 2020 and aims to continue to extend its global reach and realise its domestic and international potential.
Swansea University is a registered charity. No.1138342. Visit http://www.swansea.ac.uk
For more information:
Kevin Sullivan, Swansea University Public Relations Office k.g.sullivan@swansea.ac.uk
Follow us on Twitter: http://www.twitter.com/SwanseaUni
Find us on Facebook: http://www.facebook.com/swanseauniversity
---