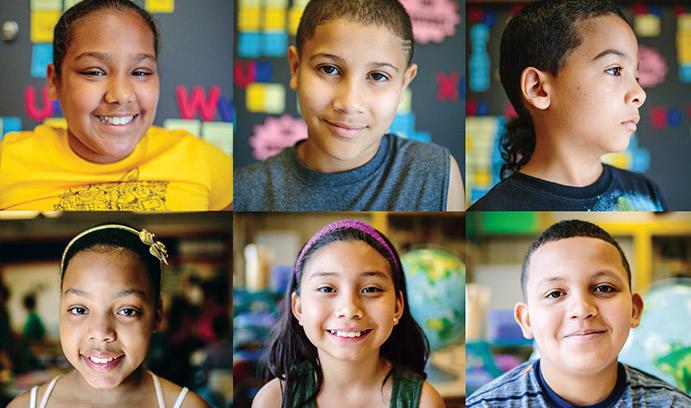 In school year 2013-14, 9.3 percent of public school students in the United States, or an estimated 4.5 million students, were English language learners (also known as dual language learners) according to the National Center for Education Statistics. Latino children under the age of 6 represent the largest group of dual language learners; 84% of dual language learners live in Spanish-speaking homes.
As the number of dual language learners--those learning two languages at the same time--grows, teachers and schools are increasingly faced with the challenge of providing them with an effective education. Though they have the potential to excel in a diverse society, these learners often lag behind in academic achievement compared with students whose only home language is English, according to the non-profit research group Child Trends.
In fact, according to the National Center for Education Statistics, only 30% of dual language learners read proficiently by 4th grade as compared to 70% of native English speakers, with this gap widening by 8th grade.
To help address this issue, researchers at Lehigh University, led by L. Brook Sawyer and Patricia H. Manz, assistant and associate professors in the College of Education, have developed a method to bring parents and teachers of preschool dual language learners together, which they call Project TAPP (Teachers and Parents as Partners). Among the goals: incorporating native language, providing more instructional support for dual language learners in classrooms, increasing teacher efficacy/preparation to teach dual language learners and enhance partnerships between schools and families.
The framework is detailed in a new book Family Involvement in Early Education and Child Care (Emerald Group Publishing, Ltd.) in a chapter called Teachers and parents as partners: Developing a community of practice to support Latino preschool dual language learners. In addition to Sawyer and Manz, the chapter is authored by Kristin A. Martin, Thomas C. Hammond and Scott Garrigan.
From the article: "Given the robust findings that family involvement promotes children's academic success as well as recognition of parents' 'funds of knowledge,' one pathway to provide a culturally and linguistically responsive classroom environment for dual language learners is to form collaborative relationships between parents and teachers of dual language learners."
The researchers conclude: "Overall, the results from this initial pilot study of Project TAPP are very promising. Teachers and parents developed closer relationships and valued one another's perspectives. Parents reported increased self-efficacy, and teachers expressed appreciation for learning about the Latino culture and Spanish language."
Future work will include data collection on how participating in Project TAPP may influence parents' and teachers' practices with dual language learners and whether the school readiness skills of dual language learners are enhanced as a result.
Sawyer also co-authored an article in Bilingual Research Journal earlier this year called "Preschool teachers' language and literacy practices with dual language learners." She and her colleagues examined the degree to which teachers use linguistically responsive practices to support the language and literacy development of Spanish-speaking dual language learners and investigated the associations between these practices and select teacher-level factors. The sample consisted of 72 preschool teachers. Teachers self-reported on language and culture beliefs, Spanish-speaking ability, and classroom composition. Results indicated that teachers, including those who spoke Spanish, used few linguistically responsive practices to support preschool dual lanaguage learners. Only Spanish-speaking ability was related to practices. Implications for targeted professional development are also discussed.
Tools for teachers
Sawyer and Hammond, Associate Dean of Lehigh's College of Education, along with colleagues from Cedar Crest College, DeSales University, Muhlenberg College and the Hispanic Center of the Lehigh Valley in Pennsylvania, sought to promote awareness of issues particular to dual language learners and better equip teachers by organizing a "Speaking My Language" seminar at Lehigh earlier this year.
"I wanted teachers to know how hard it is for children to learn English. There is a myth that children learn so much more easily than adults, but this is often not true. It is also important for teachers to learn about the strengths of families as well as the challenges that parents face," Sawyer states.
Sawyer also wanted to give teachers more tools and strategies that can be implemented in their classrooms.
As part of their research into teachers' multicultural educational practices, Sawyer and Lehigh doctoral student Emily Aragona-Young surveyed dozens of teachers at elementary schools in the Lehigh Valley, Pennsylvania, area to assess how they define culture, what cultural factors they consider when planning instruction and the range of multicultural practices they endorse.
In evaluating the survey results, Sawyer noted that "teachers do a really great job of developing community in their classrooms." She further noted, "They want all of their students to get along. They want everybody to respect each other. And sometimes they feel, at least as it was reported in this survey, and I've seen it many times, that talking about how someone is different might make the student feel singled out or embarrassed.
"They think they're doing a good thing, but they're really not allowing the students to develop their own identity," she says. "So I think, as teachers, it's a hard balance to strike. You want students to feel comfortable and safe and part of a community, but you also want to honor their culture and their language and make them feel good about that."
That's part of the reason Sawyer refers to the students who are learning English as dual-language learners: to show an appreciation for the students' home language, to put equal emphasis on both their home language and English.
Understanding the child
At Lehigh's "Speaking My Language" seminar, Annette Zito, an ESOL (English for Speakers of Other Languages) teacher in the Bethlehem Area School District (BASD), shared strategies for helping the learners adjust to their new surroundings, whether they are relocating from Puerto Rico and speak only Spanish or are fleeing Iraq and speak only Arabic. Ideas ranged from assigning classroom buddies to making a "survival" ring for students to communicate basic needs.
"You have to understand the child and their culture," says Zito, who works with kindergartners to fifth graders at BASD's Farmersville Elementary School. "No matter who the student is, they have something to contribute to your classroom. It's important for the teacher to get other students to understand that."
Zito recalled an instance when some students had been reluctant to have a young child from Croatia join their group, until she pointed out that he knew the material but was still learning English. In another instance, a teacher had been surprised that a fifth-grader, a Liberian refugee, did not know his birth date. Zito expressed the likelihood he hadn't marked the occasion with a cake while in a refugee camp.
The Bethlehem Area School District, identified 1,103 students, or 7 percent of its student population, as English language learners in the beginning of the 2015-16 school year, states Doris Correll, the district's supervisor of ESOL. The students spoke 43 different languages, with the overwhelming majority speaking Spanish as their first, or home, language. Other top languages were Chinese, Punjabi, Portuguese, Arabic and Gujarati.
Correll tries to empower the district's specialists to lead discussions and convey to classroom teachers that just because ESOL students cannot produce English language yet "does not mean that they cannot think at a higher level, that they cannot perform at a higher level." They can process pictures, bars and charts, she says, for example. "They can do a lot, especially with the technology we have now."
English language learners can't just be the responsibility of specialists, says Sara Kangas, assistant professor of Teaching, Learning and Technology at Lehigh. In most of the models used in Pennsylvania, she says, they spend much of their time with classroom teachers learning science, math and other content. They receive support from ESOL teachers in the classroom, or they receive one to two hours of support in a separate location with other English language learners.
She recognizes the challenges that presents. "General education teachers already have so much on their plate and then they need to also be thinking about how their instruction can meet the needs of these kids." Are the teachers modeling different tasks for the students? Are they using visuals? Does their instruction have any cultural bias? "They need to tend to all those things."
When school models incorporate students' first languages, Kangas says, those students have better academic outcomes. Also influencing learners, she says, are teachers' perceptions of family members and their understanding of different cultural values. Teachers might perceive parents as being apathetic when in fact those parents may have a different understanding of their role in their child's education.
###
---