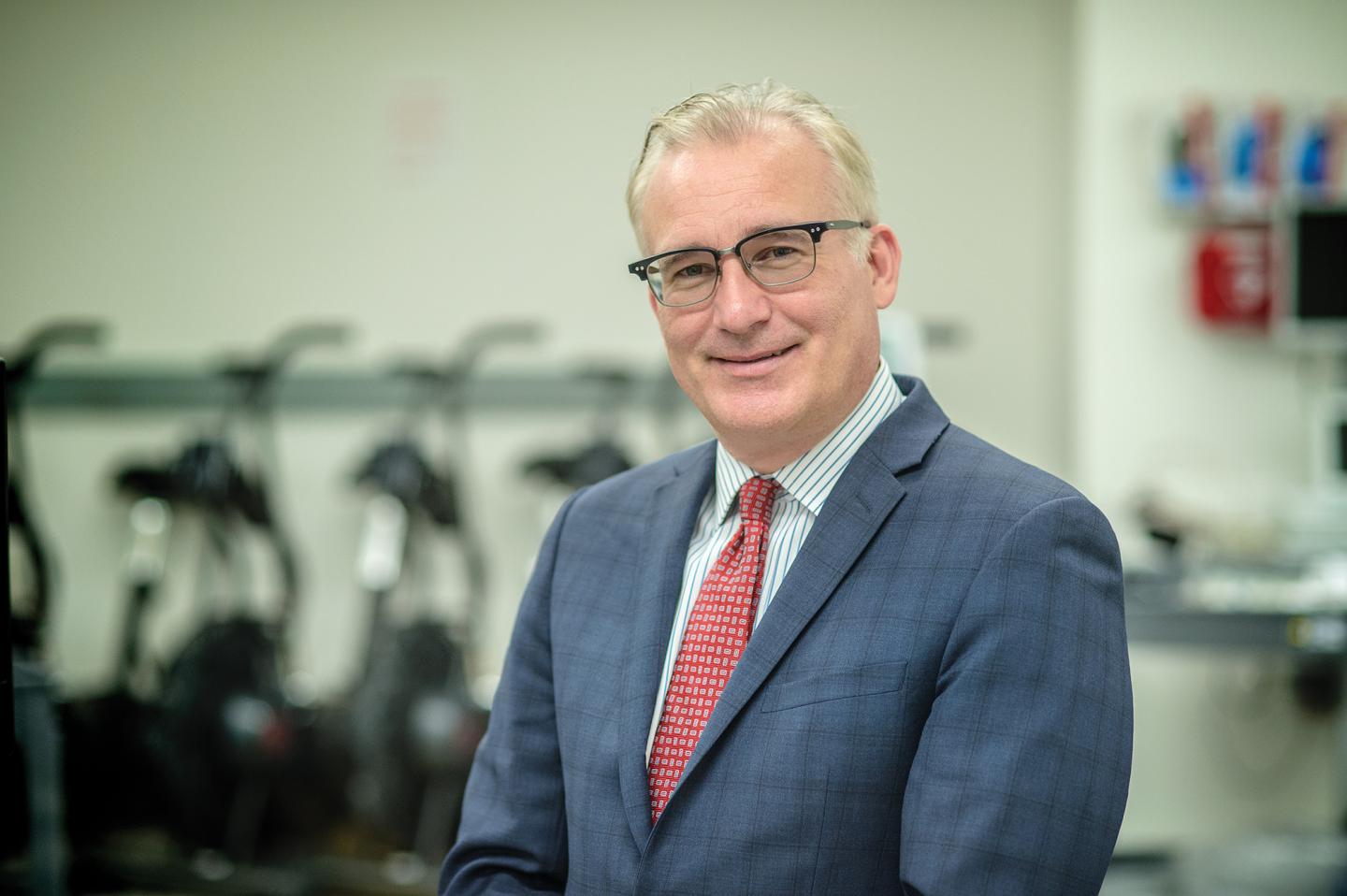 Mark Haykowsky, a University of Texas at Arlington nursing professor and leading expert in exercise physiology and heart failure rehabilitation, has been elected a fellow of the American College of Cardiology or ACC.
The fellowship is one of the most prestigious designations bestowed by the ACC on its members. It is touted by the organization as the ultimate recognition of professional achievement. Fellows are selected based on outstanding credentials, scholarly achievements and community contributions to cardiovascular medicine.
The ACC has 52,000 members. Its fellows come from a variety of cardiology specialties and include adult cardiologists, pediatric cardiologists, interventional cardiologists, surgeons, researchers, academicians, specialists in cardiovascular-related fields and cardiovascular team members who hold advanced degrees.
Haykowsky, who directs the College's Integrated Cardiovascular and Exercise Physiology and Rehabilitation or iCARE Laboratory as well as the College's FitSTEPS for Life Cancer Rehabilitation Program, came to UTA from Canada's University of Alberta in 2015.
"This honor is a resounding endorsement of our ongoing efforts to find solutions to health care challenges, in particular heart failure with preserved ejection," said Haykowsky, the College of Nursing and Health Innovation's Moritz Chair of Geriatric Nursing Research.
"Mark's selection as an ACC fellow is a tribute to his prodigious body of work as a scholar," added Judy LeFlore, associate dean of the College of Nursing and Health Innovation. "It also says much about our rising stature as a leading center for health care research and education, and as a key destination for some of the world's most respected scholars."
A prolific scholar, Haykowsky's has published numerous articles in leading scientific journals. In the last year alone, he published 28 articles on exercise limitations in heart failure with preserved or reduced ejection fraction, upper limits of human performance after a heart transplant and lifestyle interventions to improve cardiorespiratory fitness in breast cancer survivors.
The articles were published in leading cardiology journals, including Circulation, Circ: Heart Fail, Journal of the American College of Cardiology, JACC: Heart Fail, Nature Review's Cardiology and Journal of Applied Physiology.
Since coming to UTA, Haykowsky has helped attract hundreds of thousands of dollars in grant funding. Last year, he received a $308,000 grant from the National Institutes of Health to study exercise intolerance in older heart failure patients.
Together with a team of CONHI researchers, he is using the grant to study the mechanisms and management of exercise intolerance in older heart failure patients with preserved ejection fraction. Heart failure with preserved ejection fraction is the fastest growing type of heart failure and is found mostly in older individuals. The mortality rate for these patients is high and the cardinal feature among these patients is fatigue and exercise intolerance.
Haykowsky is a much sought-after speaker. Later this month, he will speak at two conferences in Germany: the European Congress of Internal Medicine in Wiesbaden and the European Association of Preventative Cardiology - Sports Cardiology Course in Munich, where he will be the keynote speaker.
Haykowsky will receive his certificate at a convocation ceremony at the ACC's annual meeting in March 2019.
###
---