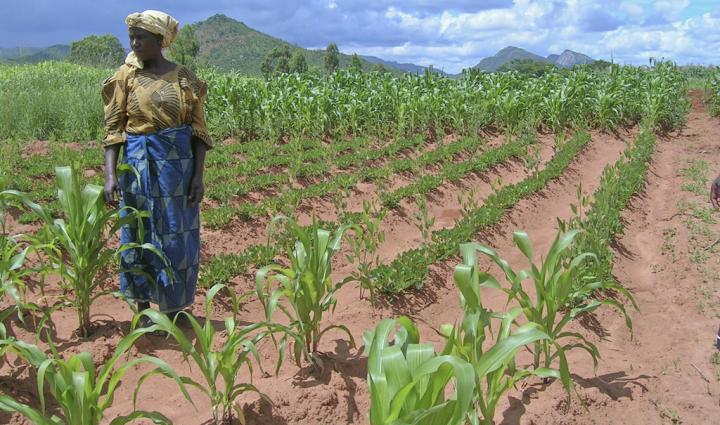 The Michigan State University Food Security Group, based in the MSU Department of Agricultural, Food and Resource Economics, has received an $11 million grant from the United States Agency for International Development to implement a new Feed the Future Innovation Lab for Food Security Policy Research, Capacity and Influence. With additional funding from USAID offices in Africa, Asia and Latin America, the total value of this five-year award could reach $38 million.
The new lab builds on previous work done by FSG, but takes a big step forward in working with local agricultural policy research organizations to strengthen their ability to carry out rigorous research on food security policy, and incorporate this research into policymaking, said David Tschirley, Professor, International Development in AFRE, co-director of FSG and director of the new Innovation Lab. To do this, MSU has partnered with the Regional Network of Agricultural Policy Research Institutes, an African organization operating primarily in East and Southern Africa, and with the Institute of Statistical, Social and Economic Research in Ghana.
"The lab's activities are designed to put these local partners in charge of their own capacity development in a team-based approach that draws on strengths from all consortium partners," Tschirley said.
Working with ReNAPRI and ISSER and with its U.S. partners the International Food Policy Research Institute and Cornell University, the Innovation Lab will target promising research centers in Africa and Asia, to develop their own capacity development plans, and provide funding to pursue those plans. Researchers from MSU, IFPRI and Cornell will also work directly with researchers from these centers, mentoring them in research and writing techniques, to help build this capacity. These centers will then engage directly with their countries' policy makers, to bring insights from the research into better policymaking that improves rural and urban food security.
"This new award reflects USAID's increasing commitment to building sustainable local capacity for food security policy analysis and policy engagement. The fact that MSU will lead this project is a testimony to MSU and FSG's own commitment to these goals, to the unique capacity we bring to this kind of work, and to the very high performance of our previous work in this area. This funding will provide us a continued foundation for extending MSU's world grant vision - the land-grant vision applied worldwide," Tschirley said.
"USAID is proud to partner with Michigan State University to leverage its cutting-edge research in food security and commitment to strengthening the policy research capacity of Asian and African research organizations," said Robert Bertram, Chief Scientist in USAID's Bureau for Food Security. "MSU's leadership of this new Feed the Future Innovation Lab will help partner country governments create better policies and effective approaches to policymaking that stimulate increased investment in food security and nutrition and help countries move from vulnerability to self-reliance."
The Food Security Group was established in 1983, building on two decades of prior work that addressed agriculture and rural development. Since its inception, FSG has won more than $112 million in grants for its work, two-thirds of it from USAID, the world's premier international development agency.
MSU and IFPRI maintain an extensive network of country programs across the developing world, where they bring their research and capacity building to bear. Together, they operate 13 country offices and have had recent engagement of at least five successive years in 19 countries across Africa and Asia. Cornell University is also a worldwide leader in applied research on developing country agriculture with a long and distinguished record of capacity building.
###
For more information on the Food Security Group visit https://www.canr.msu.edu/fsg/.
About Feed the Future: Feed the Future is the U.S. Government's global hunger and food security initiative. It focuses on transforming lives and on the root causes of poverty, hunger and malnutrition. To achieve this, Feed the Future works hand-in-hand with partner countries to develop their agriculture sectors and break the vicious cycle of poverty and hunger. It helps people feed themselves and creates important opportunities for a new generation of young people, while building a more stable world.
---