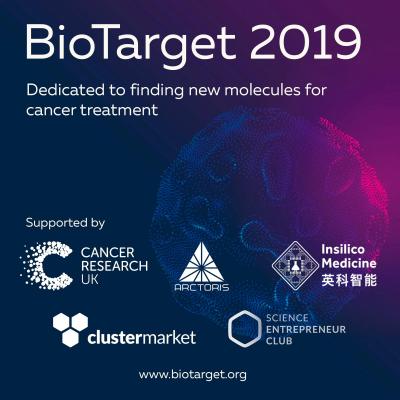 Wednesday, April 17, 2019 - Cancer is a disease that afflicts an alarming number of people, with one in two being diagnosed with a type of cancer during their lifetime. The global cancer burden has risen to 18.1 million people in 2018, which makes cancer one of the leading causes of death worldwide. While clinical developments and advances in early detection and treatment have already changed the lives of many people suffering from this disease, there is still a tremendous need to develop new knowledge and make new breakthroughs in cancer drug discovery and development.
Effective cancer research is unthinkable without collaboration. The field is immense and new developments are occurring all the time, so partnerships are key - whether internal, external or interdisciplinary.
Today, Insilico Medicine, a biotech company developing the end-to-end drug discovery pipeline utilizing next-generation artificial intelligence, announces its partnership with Arctoris, the world's first fully automated cancer research laboratory providing robotic experimentation in the cloud, Science Entrepreneur Club, a life sciences network and Cluster Market, a leading online equipment sharing and booking platform enabling and accelerating science.
The goal of this collaboration is to conduct BioTarget, which is dedicated to finding new molecules for cancer treatments from collaborating partners worldwide, and to raising awareness for entrepreneurship and innovation amongst scientists. We also aspire to unite the life science ecosystem by educating, inspiring biotech companies to form powerful connections and receive grants for experiments. The initiative is supported by Cancer Research UK, the world's largest independent cancer research charity organisation.
"Our mission is to enable the brightest minds worldwide to tackle one of the hardest problems, cancer, by putting cutting-edge research capabilities at scientists' fingertips. BioTarget is a unique way to identify and bring together the next generation of cancer biotech companies, and we are proud to be a founding partner of this unique collaborative effort," said Martin-Immanuel Bittner, Co-Founder & Director of Arctoris.
"This collaboration was established for a single purpose: to support combined efforts to find a cure for and eliminate cancer. By using our resources and working with others dedicated to a common cause, there is a hope that together we can beat this disease," said Alex Zhavoronkov, Ph.D., Founder, and CEO of Insilico Medicine, Inc.
###
About BioTarget 2019
BioTarget is the world's first biotech competition for emerging companies dedicated to finding new molecules for cancer treatment. BioTarget also aims to raise awareness for entrepreneurship and innovation amongst scientists in academia and industry alike. It allows companies to showcase their innovation to a great audience, meet leading biotech investors and industry professionals that can help them reach the next milestone towards developing new drugs for cancer patients..
Official Website: https://www.biotarget.org/
For further information, images or interviews, please contact:
Insilico Medicine Contact: Klug Gehilfe ai@pharma.ai
Official Website: http://insilico.com/
About Insilico Medicine, Inc
Insilico Medicine is an artificial intelligence company headquartered in Rockville, with R&D and management resources in Belgium, Russia, UK, Taiwan, and Korea sourced through hackathons and competitions. The company and its scientists are dedicated to extending human productive longevity and transforming every step of the drug discovery and drug development process through excellence in biomarker discovery, drug development, digital medicine, and aging research.
Insilico pioneered the applications of the generative adversarial networks (GANs) and reinforcement learning for generation of novel molecular structures for the diseases with a known target and with no known targets. In addition to working collaborations with the large pharmaceutical companies, the company is pursuing internal drug discovery programs in cancer, dermatological diseases, fibrosis, Parkinson's Disease, Alzheimer's Disease, ALS, diabetes, sarcopenia, and aging. Through a partnership with LifeExtension.com, the company launched a range of nutraceutical products compounded using the advanced bioinformatics techniques and deep learning approaches. It also provides a range of consumer-facing applications including Young.AI.
In 2017, NVIDIA selected Insilico Medicine as one of the Top 5 AI companies in its potential for social impact. In 2018, the company was named one of the global top 100 AI companies by CB Insights. In 2018 it received the Frost & Sullivan 2018 North American Artificial Intelligence for Aging Research and Drug Development Award accompanied with the industry brief. Brief company video: https://www.youtube.com/watch?v=l62jlwgL3v8
Arctoris Contact: Martin-Immanuel Bittner martin-immanuel.bittner@arctoris.com
About Arctoris
Based in Oxford, UK, Arctoris is the world's first fully automated cloud lab for cancer research, enabling academic scientists worldwide to directly configure a wide range of cancer research experiments online, and have them completed at its robotic facility. Arctoris offers its clients and partners a wide range of techniques to cover cellular and molecular biology, providing a platform solution from experiment design via robotic experimentation to data storage and visualisation.
Arctoris is actively partnering with academic centres and drug discovery companies to move their drug candidates forward, leveraging its robotic platform to generate data of unprecedented quality and depth.
Official Website: https://arctoris.com/
About Cancer Research UK
Cancer Research UK is the world's largest independent cancer research charity that conducts research into the prevention, diagnosis and treatment of the disease. Research activities are carried out in institutes, universities and hospitals across the UK, both by the charity's own employees and by its grant-funded researchers. It also provides information about cancer and runs campaigns aimed at raising awareness of the disease and influencing public policy. Cancer Research UK's work is almost entirely funded by the public. It raises money through donations, legacies, community fundraising, events, retail and corporate partnerships. Over 40,000 people are regular volunteers.
Official Website: https://www.cancerresearchuk.org/
About Science Entrepreneur Club
The Science Entrepreneur Club aims to boost innovation by uniting the key stakeholders in the life science industry. The SEC provides (early stage) scientific entrepreneurs with a revolutionary network and platform to showcase their innovative technologies, accelerate their company and find investors. Their events provide you with a unique opportunity to blend with the most innovative entrepreneurs and give you an insight into the hidden world of startups.
Official Website: https://www.science-entrepreneur.com/
About Cluster Market
Cluster Market is building a world leading online equipment sharing and booking platform enabling and accelerating science. Clustermarket's marketplace is giving scientists easy and affordable access to equipment and technical services in nearby institutions. Research facilities/labs have the opportunity to promote their resources to external businesses, colleagues or even international collaboration partners.
Official Website: https://www.clustermarket.com/
---