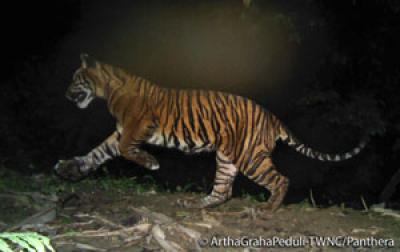 New York, NY – In time for the third annual International Tiger Day, recent findings from a camera trap survey in Sumatra, Indonesia have uncovered a burgeoning tiger stronghold on an island that typically makes headlines for its rampant loss of forests and wildlife.
Mr. Tomy Winata, an Indonesian businessman, conservationist and founder of Tambling Wildlife Nature Conservation (TWNC, which is a 450km2 privately managed concession), has carried out critical tiger conservation initiatives in the region since 1996, and recently partnered with Panthera, a global big cat conservation organization, to implement this successful survey.
The study's preliminary camera trap data recently indicated an unexpected density of six tigers per 100km2 in the southern region of TWNC. This estimate is nearly double the highest recorded for the island to date. These findings, including camera trap images of tiger cubs like that above, have identified Tambling, which is part of the globally significant Bukit Barisan Selatan National Park (BBSNP), as a beacon of hope for the last remaining 400-500 wild Sumatran tigers.
Panthera's CEO and tiger scientist, Dr. Alan Rabinowitz, stated, "The extraordinary tiger densities that have been discovered in Tambling are the tangible result of Mr. Tomy Winata's program not just to provide tigers sanctuary, but to protect them. Simply put, the main threat to tigers across their range is from poaching. Poaching is not a disease we can't see or a threat we can't identify. It can be beaten if the will is there to do so. Armed with a zero tolerance policy towards poaching, Mr. Tomy Winata and his team have successfully secured a significant area utilizing effective enforcement. This fact, coupled with good science and monitoring, has had the desired results; tigers are now breeding. Tambling is a model tiger conservation site that is giving the Sumatran subspecies a real chance not just to recover...but to thrive."
Prior to TWNC's efforts, Tambling's tigers were subjected to high levels of poaching and habitat loss. However, Mr. Tomy Winata's use of law enforcement patrols carrying out strict protection efforts, and maintenance of lowland tiger habitat and prey populations, has allowed Tambling to emerge as a key site for tigers in Sumatra and across their range. TWNC's initiatives have also benefited Tambling's local fishing community, which Mr. Tomy Winata has supported by providing villagers with employment opportunities, contributions to the community health clinic and school, student scholarships and more.
Mr. Tomy Winata stated, "I am doing all this because it is my belief that nature has provided us with everything we need to survive and live in this world, and yet so many people have taken from her for their own benefit without giving anything back in return. So I hope that my efforts in wildlife conservation and forest and ecosystem sustainability can be a role model for others, so that together we can help save Mother Nature and never forget where we came from."
Situated within a picturesque peninsula forming the southern tip of BBSNP, the TWNC region encompasses a privately managed concession which is critical to the protection and connectivity of core tiger populations in the larger BBSNP landscape - an area extending 3,568 km2 that represents one of the largest contiguous protected regions of Sumatra.
Panthera's tiger conservation efforts in southern Sumatra began in 2012 with the filming of the BBC Natural World documentary, Tiger Island, which follows Dr. Rabinowitz as he assesses the state of Mr. Tomy Winata's wild tiger conservation initiatives in Tambling.
Today, Panthera's wild cat scientist and post-doctoral fellow, Dr. Robert Pickles, is working with the TWNC team to extend the population density analysis to the northern region of TWNC and implement extensive habitat analyses to determine the vitality of Tambling's ecosystem. Expanding the reach and efficacy of the Tambling tiger conservation project, the field teams will soon implement a new monitoring software known as SMART to track evidence of illegal activities and better evaluate and target law enforcement efforts. Additional activities include assisting local authorities with park boundary delineations and determining additional threats and their solutions, besides poaching, to tigers, their prey, and their habitat.
Through this joint initiative, Panthera is working with Mr. Tomy Winata and TWNC to establish its first 'Tigers Forever Legacy Site.' Dr. Rabinowitz concluded, "There would be no greater legacy than creating safe havens for tigers where the legacy is that they live on, in the wild forever. Together with TWNC, we're one step closer to that becoming a reality."
###
View camera trap photos from Tambling.
Read the press release in Indonesian.
About Panthera and Tigers Forever
Panthera, founded in 2006, is devoted exclusively to the conservation of wild cats and their ecosystems. Panthera's Tigers Forever program was launched after decades of continuing tiger declines and is changing the face of tiger conservation. Tigers Forever makes a unique commitment to increase tiger numbers at key sites by at least 50% over a 10-year period by relentlessly attacking the most critical threats to tigers – poaching of tigers and their prey. Utilizing rigorous science to maintain constant vigilance on conservation efforts and on the tiger itself, this transformative program is the only one of its kind to guarantee success – the recovery of the wild tiger. Visit Tigers Forever.
About TWNC
Artha Graha Peduli ("AGP") supports the management and conservation of Tambling Wildlife Nature Conservation ("Tambling"), a four hundred and fifty square kilometre (450 km2) concession in the south of Bukit Barisan National Park, Indonesia. This concession provides a permanent refuge for tigers and other wildlife, and represents a model for conservation leadership in Indonesia and around the world. Visit Tambling Wildlife Nature Conservation.
---