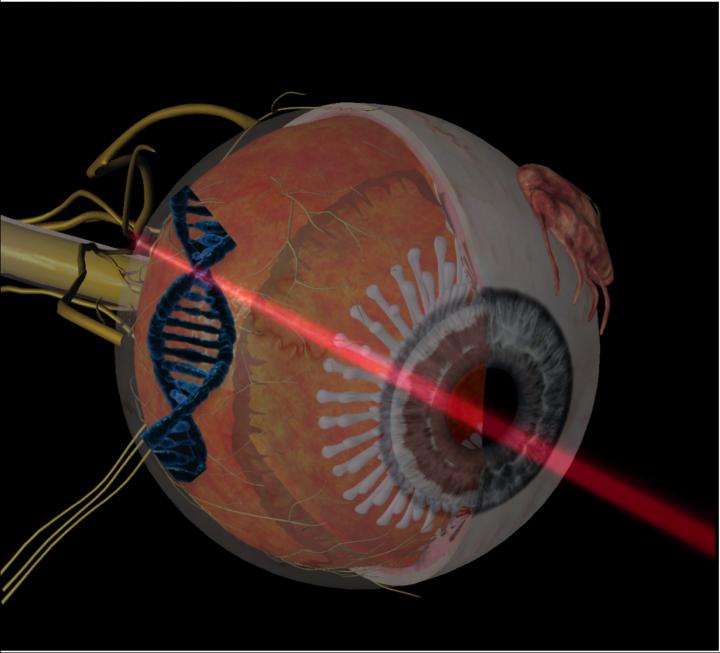 Retinal dystrophies such as Age-related macular degeneration (AMD) are a major cause of vision loss in aging populations. National Eye Institute (NEI) estimates that the prevalence of advanced AMD will grow to nearly 3 million by 2020. Most of the current clinical treatments are focused on slowing down the progression of these retinal diseases, since there is neither a cure nor a therapy that can totally stop the degeneration. In addition to higher resolution, optogenetics approach provides cellular specificity in stimulating retinal neurons.
Hundreds of gene mutations have been found to cause retinal degenerative diseases and classical gene therapy approaches aim to correct specific genes and therefore, limited to be applied to patients with that specific genotype-mutation.
"Our goal is to further develop the MCO Platform for restoring vision in subjects with retinal dystrophies in ambient light environment. Use of optogenetics approach to treat the disease phenotype (i.e., loss of photoreceptors) versus a genotype (i.e. specific gene mutation) has potential to impact a much larger patient population. Further, use of laser-based targeted gene delivery provides unique platform that will allow inclusion of patients with partial retinal degeneration", said Samarendra Mohanty, Chief Scientific Officer of Nanoscope Technologies and Principal Investigator of the recently awarded SBIR Phase-II, R01 and supplemental grants.
In the past, NanoScope Technologies has been awarded multiple Small Business Innovation Research (SBIR) Grants from the National Eye Institute (NEI). Last year, Nanoscope received orphan drug designation status by FDA for Retinitis Pigmentosa (RP) with potentially rapid path for development given it is rare disease with high unmet need. "Our approach is based on single intravitreal injection of MCO and our gene therapy approach has potential to offer durable response for multiple years if proven in clinic", said Weldon Wright, co-Principal Investigator of the NEI SBIR and R01 grants.
Eye being immune-privilege and easily accessible for both injection and external light, allows safe execution of optogenetic therapy. Further, having a small vitreous volume, injection of small quantity of the vector carrying MCO is sufficient to photosensitize the degenerated retina. This reduces the production cost per patient and minimizes unwanted immune response in other parts of the body.
"The small and large animal efficacy study shows MCO delivery and expression in targeted retinal cells as well as enhanced electrical signals/behavioral improvement. We are also advancing our laser delivery platform to achieve spatially-targeted therapeutic gene expression in retina", said Subrata Batabyal, co-Investigator of the NEI R01 and SBIR grants.
As visual acuity in retinal-degenerated mice was found to increase significantly after MCO injection, we are hopeful that the patients will be able to see enough to significantly improve their daily activities. Our aim is to allow patients to visualize objects illuminated with any visible color of ambient light. That does not mean they will have full-color vision, or 20/20 vision.
" Our optogenetics approach addresses disease phenotype with an ambient light sensitive opsin and already proven intravitreal injection procedure - a recipe for scientific & commercial success. Since no external device required for retinal stimulation, concern of photo-toxicity is negligible. With support from NIH, we are able to recruit diverse talent from industry as well as premier academic Institutes", said Suagna Bhattacharya, Chief Executive Officer of Nanoscope Technologies.
###
Nanoscope Technologies is the only company that has been recently awarded multiple R01 grants under Audacious Goal Initiative and Bioengineering Research Grant mechanisms by National Institute of Health (NIH). The Nanoscope research team and company are dedicated to the goal of translating the MCO and laser delivery platform technologies into treatments for retinal and other neurological diseases. With in-house animal facility, state-of-the art imaging and functional evaluation tools, and supportive environment, Nanoscope scientists are well positioned to rapidly advance innovations to marketplace. Nanoscope is organizing an event to educate public and enhance collaboration with industries and academics. For more information regarding the event, please visit http://bit.ly/Nano10th
Contact Ms. Sulagna Bhattacharya at ceo@nanoscopetech.com for further information.
---