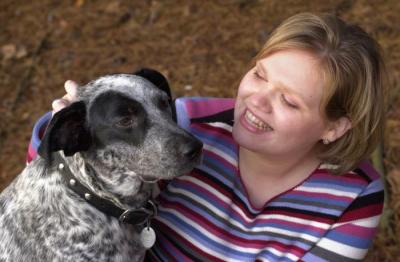 WHAT:
A new study suggests that exposure to dust from homes with dogs may alter the immune response to allergens and other asthma triggers by affecting the composition of the gut microbiome—the community of microbes that naturally colonize the digestive tract. The findings, published in Proceedings of the National Academy of Sciences, help demonstrate how environmental exposures may protect against airway allergens and asthma. The study, led by researchers at the University of California, San Francisco; the University of Michigan; Henry Ford Health System in Detroit; and Georgia Regents University in Augusta, was supported by the National Institute of Allergy and Infectious Diseases (NIAID), part of the National Institutes of Health.
Previously, the researchers found that infants who live in homes with dogs are less likely to develop childhood allergies. They later showed that dust collected from homes with dogs contains a wider range of bacteria types than dust gathered from homes without pets. In the current study, they show that dog-associated house dust can play a key role in preventing allergic inflammation. Feeding young mice dust from a home with a dog protected the animals against airway inflammation triggered by cockroach allergen. Compared to mice fed dust from a pet-free home or those not exposed to dust, mice exposed to dog-associated dust had fewer of the cells and immune-modulating chemicals involved in allergic responses. The researchers obtained similar results when they exposed dust-fed mice to a different allergen.
In addition, the investigators found that exposing mice to dog-associated dust altered the composition of the mouse gut microbiome. Specifically, the animals' lower intestines contained high levels of the bacterium Lactobacillus johnsonii. Feeding mice live L. johnsonii reduced inflammation triggered by cockroach allergen or infection with respiratory syncytial virus, two risk factors for childhood asthma. These results suggest potential new strategies to prevent and treat certain allergic diseases and lung infections.
###
ARTICLE:
KE Fujimura et al. House dust exposure mediates gut microbiome enrichment of Lactobacillus johnsonii and immune defense against airway allergens and respiratory virus infection. Proceedings of the National Academy of Sciences DOI: 10.1073/pnas.1310750111 (2013).
WHO:
Alkis Togias, M.D., Branch Chief, Allergy, Asthma and Airway Biology Branch in NIAID's Division of Allergy, Immunology and Transplantation, is available to comment on the findings.
CONTACT:
To schedule interviews, please contact Hillary Hoffman, (301) 402-1663, niaidnews@niaid.nih.gov.
NIAID conducts and supports research—at NIH, throughout the United States, and worldwide—to study the causes of infectious and immune-mediated diseases, and to develop better means of preventing, diagnosing and treating these illnesses. News releases, fact sheets and other NIAID-related materials are available on the NIAID Web site at http://www.niaid.nih.gov.
About the National Institutes of Health (NIH): NIH, the nation's medical research agency, includes 27 Institutes and Centers and is a component of the U.S. Department of Health and Human Services. NIH is the primary federal agency conducting and supporting basic, clinical, and translational medical research, and is investigating the causes, treatments, and cures for both common and rare diseases. For more information about NIH and its programs, visit http://www.nih.gov/.
NIH...Turning Discovery Into Health
---
Journal
Proceedings of the National Academy of Sciences