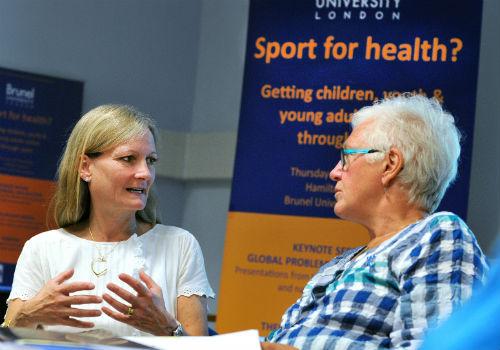 An ambitious new initiative aims to end bullying, discrimination and abuse of athletes by establishing a set of global standards for sport.
Formed under the guidance of the Brunel University London International Research Network for Athlete Welfare and with the support of UNICEF, the world's leading children's organisation, Safe Sport International (SSI) is made up of a panel of experts in the fields of sport, child protection, security, education and sports medicine.
Its aim is to ensure that sporting organisations have the advice, education and support they need to develop measures to protect athletes from harm. The overall ambition is to make safe sport policies and practices part of the criteria that countries need to adhere to if they are to host major sporting events across the world.
The concern around abuse in sport includes sexual, physical and emotional abuse of both adult and child athletes; sexual harassment; bullying; and often dangerous and humiliating rituals which people are forced to go through to join a sports team. Despite research over the past 20 years helping to raise awareness of the issue, there are still limited policies or practices in place to tackle it.
Professor Celia Brackenridge, Emeritus Professor at Brunel University London's Centre for Sport, Health and Wellbeing, said: "Abuse of any kind has no place in sport, but for too long it has gone unchecked and unpunished. Research carried out over the past 20 years has shown us just how prevalent the problem is and that's why we believe it is time to set international standards, to understand what is acceptable and what isn't."
Susan Bissell, UNICEF's Chief of Child Protection, said: "Playing and participating in sport is an essential part of every childhood. It not only keeps children healthy, but it can give them confidence, new skills and break down social barriers. But for too many children, their love of sport is clouded by abuse and harm.
"Regardless of whether a child has dreams of becoming an Olympic athlete or just wants to have a kick around in the park with their friends, they should be able to do so safe from harm. We hope this is the first step to ensure that happens for children everywhere."
Safe Sport International will now talk to an international audience of governments, committees, sporting organisations and abuse charities and seek to agree a set of standards.
The next step is to establish an organisational structure, with plans to launch SSI officially at the end of 2015.
###
For more information about UNICEF please contact Liz Jones on 0207 375 6084 or at lizj@unicef.org.uk
The Olympic Charter (2013) makes express mention of the IOC's role in encouraging measures to support the health of the athlete, act against any forms of discrimination and promote sustainable development. Its Medical Code (2005) states that the IOC "should take care that sport is practised without danger to the health of the athletes and with respect for fair play and sports ethics ... [and should take] measures necessary to protect the health of participants and to minimise the risks of physical injury and psychological harm."
Research over the past 20 years has helped raise awareness of abuse in sport significantly and led to a number of projects and policy changes including:
The International Olympic Committee (IOC) Sexual Harassment and Abuse initiative (2007).
A 2010 review of violence against children in sport by UNICEF.
The development and trial of a set of International Standards for Child Safeguarding in Sport, currently being tested by more than 50 organisations internationally.
The introduction of respect-based programmes and other safe sport initiatives addressing the safety of adult and child athletes in many countries.
The participants of SSI represent entities of high performance sport (the US Olympic Committee, the Hong Kong Sports Institute), children's NGOs (UNICEF, UNICEF UK, the NSPCC's Child Protection in Sport Unit), development stakeholders (the Norwegian Olympic Committee and representatives of Brunel and York St John universities), sport security (the International Centre for Sport Security), the charitable sector (Oak Foundation), advocacy organisations (Safe4Athletes), and researcher-advocates in institutes of higher learning (Brunel University London, Winnipeg University and the Norwegian College of Sport Sciences).
UNICEF: UNICEF promotes the rights and wellbeing of every child, in everything we do. Together with our partners, we work in 190 countries and territories to translate that commitment into practical action, focusing special effort on reaching the most vulnerable and excluded children, to the benefit of all children, everywhere. UNICEF UK raises funds for UNICEF's emergency and development work and advocates for lasting change for children everywhere. We are a UK registered charity, supported entirely by voluntary donations. We do not receive any money from the UN. For more information, please visit unicef.org.uk.
---