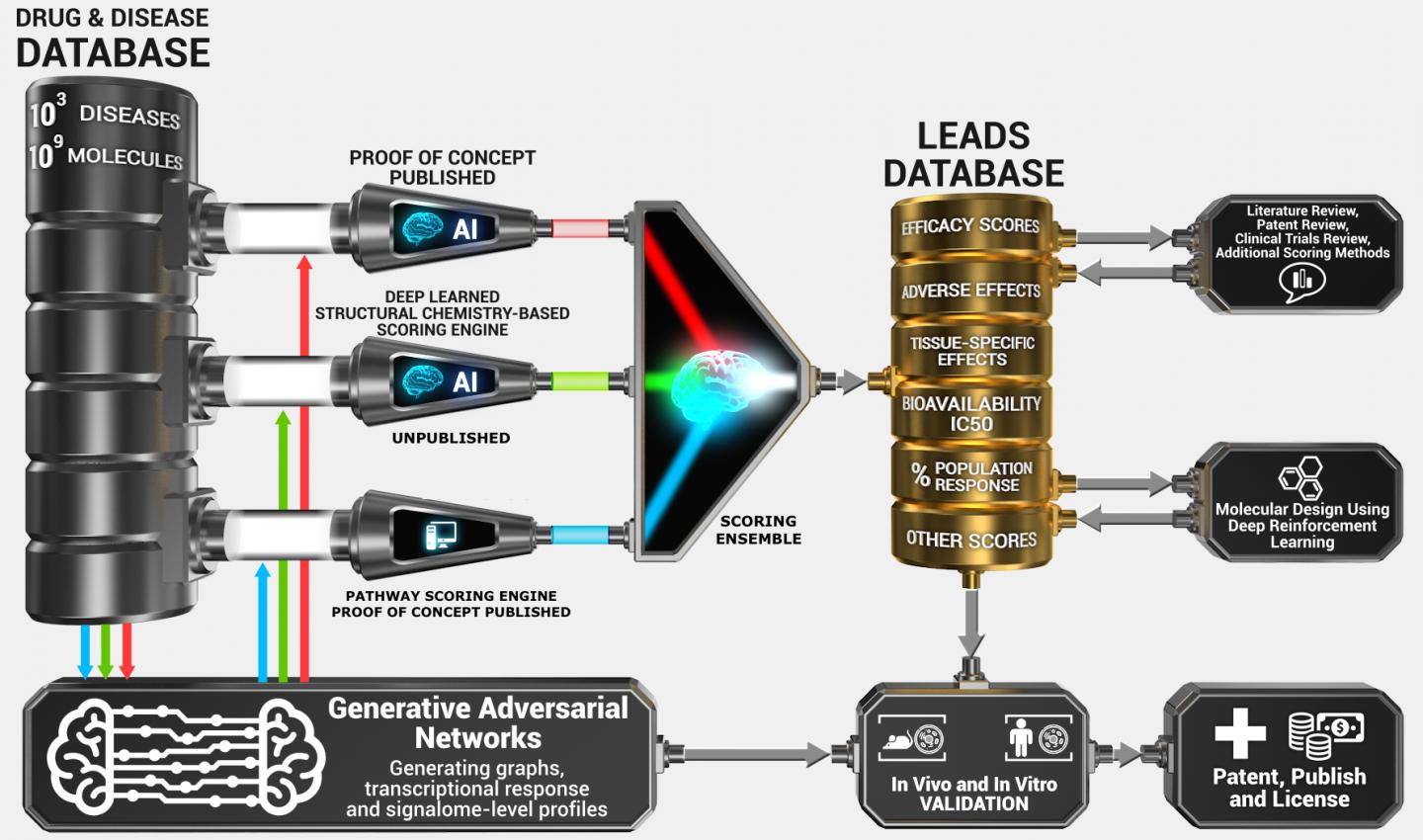 Thursday, July 27, 2017, Baltimore, Md., Insilico Medicine ("Insilico"), a Baltimore-based leader in artificial intelligence ("AI") for drug discovery and biomarker development, is pleased to announce a multi-year drug development agreement with the biotechnology company Juvenescence AI Limited ("Juvenescence AI"). Juvenescence AI will develop the first compounds generated by Insilico's deep-learned drug discovery engines, which train over structural, functional, and phenotypic data in order to predict the biological activity of compounds. Insilico's platforms incorporate new AI techniques such as Generative Adversarial Networks in order to generate novel compounds with desired pharmacokinetic and pharmacodynamic properties.
As part of the agreement, Juvenescence Limited ("Juvenescence"), the parent company of Juvenescence AI, made a direct investment into Insilico to further advance Insilico's drug discovery platform and develop a set of companion multi-modal disease biomarkers. The two companies agreed to form Juvenescence AI as a joint venture that will license several compound families per year from Insilico and develop them into drugs. Juvenescence agreed to make a multi-million dollar investment into Juvenescence AI to complete the preclinical and clinical studies of licensed compounds. Juvenescence AI will independently develop an AI engine focused on accelerating the clinical development of novel drugs and will work with other companies or academic groups.
The principals of Juvenescence, Jim Mellon, Dr. Greg Bailey and Dr. Declan Doogan, have extensive track records in drug development, company formation, and biotech investment. The Juvenescence executive and scientific team hopes to combine their classical drug development expertise, earned through careers in the pharmaceutical industry and through their successful early investments in companies such as Medivation and Biohaven Pharmaceuticals (NYSE:BHVN), to bear on the new prospects presented by AI-assisted drug development. The team believes that advances in AI provide new avenues for clinical, regulatory and commercial success.
Dr. Declan Doogan, the former Senior Vice President and Head of Worldwide Development at Pfizer, current Chairman of Biohaven Pharmaceuticals (NYSE:BHVN), and co-founder of Juvenescence said, "The application of AI techniques to drug discovery has enormous potential and could dramatically alter the way that we discover new drugs and define existing diseases. AI could decrease the cost and increase the speed with which we can bring new medicines to patients."
Juvenescence AI has agreed to license selected novel and repurposed compound families from Insilico on an ongoing basis, with the aim of developing therapies for both ageing itself and the diseases of ageing, such as diabetes, dementia, cancer, respiratory disease and cardiovascular disease, which increasingly burden our health care systems as the world's population continues to age.
"We are very pleased to partner with Alex Zhavoronkov and his team at Insilico Medicine. Artificial intelligence is set to increase efficiencies in many sectors, something sorely needed in drug development as evidenced by the prolonged decline in the sector's productivity. Insilico Medicine's approach has massive potential to reduce the cost associated with the discovery of new drugs," said Juvenescence's Chairman, Jim Mellon, adding, "We are excited by the potential for AI to streamline the longest and most costly portions of the drug development cycle: clinical trials. With Insilico Medicine's help, we hope Juvenescence AI will both develop therapeutics that treat the diseases that plague all of us as we age and eventually treat the ageing process itself. "
Insilico Medicine was the first company to apply deep generative adversarial networks (GANs) to generation of new molecular structures with specified parameters and published a seminal papers in Oncotarget and Molecular Pharmaceutics. Another paper published in Molecular Pharmaceutics in 2016, demonstrated the proof of concept of the application of deep neural networks for predicting the therapeutic class of the molecule using the transcriptional response data, received the American Chemical Society Editors' Choice Award.
The pharmaceutical industry has is expected to benefit from the recent advances in AI. Insilico Medicine was profiled in the recent article in Nature Biotechnology titled "AI-powered drug discovery captures pharma interest" among the other companies utilizing machine learning for drug discovery. The agreement with Juvenescence is expected to set a precedent for the new molecules discovered using the new generation of artificial intelligence by a team of expert drug developers.
###
About Juvenescence Limited
Juvenescence Limited is an investment company focussed on therapies to increase human longevity and complementary investments in related sectors. It was founded in 2017 by Jim Mellon, Greg Bailey,Declan Doogan, Anthony Chow, and Alexander Pickett. The Juvenescence team are highly experienced entrepreneurs and investors with a significant focus on the life science and commercial drug development sectors. Juvenescence creates new ventures and invests directly in both startup and established longevity related companies while offering strategic advice and operational support.
Juvenescence believes that advances in science have made real the possibility of slowing, halting or potentially reversing some elements of ageing. Juvenescence believes that the resulting increase in life expectancy will have profound implications on all sectors and in particular healthcare, education, insurance and leisure.
About Juvenescence AI Limited
Juvenescence AI Limited is a drug development and artificial intelligence company focussed on ageing and age-related diseases. Juvenescence AI combines advances in artificial intelligence with classical development expertise in order to prioritise and develop compounds from Insilico Medicine, Inc's end-to-end automated drug discovery pipeline through to clinical proof of concept.
About Insilico Medicine, Inc
Insilico Medicine, Inc. is an artificial intelligence company located at the Emerging Technology Centers at the Johns Hopkins University Eastern campus in Baltimore, with R&D resources in Belgium, Russia, and the UK sourced through hackathons and competitions. The company utilises advances in genomics, big data analysis, and deep learning for in silico drug discovery and drug repurposing for ageing and age-related diseases. The company is pursuing internal drug discovery programs in cancer, Parkinson's Disease, Alzheimer's Disease, ALS, diabetes, sarcopenia, and ageing. Through its Pharma.AI division, Insilico provides advanced machine learning services to biotechnology, pharmaceutical, and skin care companies, foundations and national governments globally. In 2017, NVIDIA selected Insilico Medicine as one of the Top 5 AI companies in its potential for social impact.
Brief company video: https://www.youtube.com/watch?v=l62jlwgL3v8
---