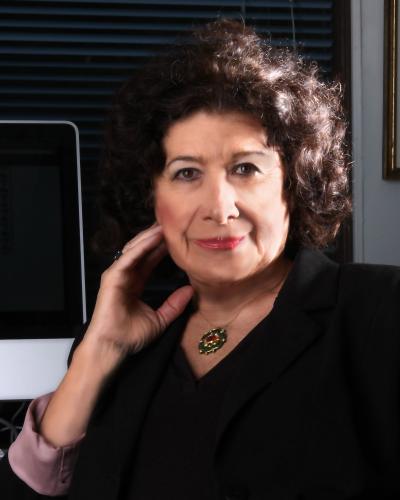 Zafra M. Lerman, creator and advocate for the Biennial Malta Conferences, which promote international scientific cooperation and diplomacy by convening scientists from 15 Middle Eastern nations, has been chosen by the American Association for the Advancement of Science (AAAS) to receive the 2014 Award for Science Diplomacy.
Lerman--an accomplished chemist, science educator, and humanitarian--serves as president of the Malta Conferences Foundation. She was honored by AAAS for her efforts to "elevate the use of scientific cooperation as an instrument of peace, and as a pathway to better understand the role of science in addressing major societal challenges in the broader Middle East, despite the political barriers that exist at the official levels."
The Biennial Malta Conferences bring together scientists from Bahrain, Egypt, Iran, Iraq, Israel, Jordan, Kuwait, Lebanon, Libya, the Palestinian Authority, Qatar, Saudi Arabia, Syria, Turkey, and the United Arab Emirates to collaborate on shared science-based concerns such as regional water quality, solar-energy conversion and storage, science curricula, green chemistry, and chemistry safety and security.
AAAS Chief International Officer Vaughan Turekian said: "Many of the scientists who participate in the Malta Conferences could not otherwise meet face-to-face because of tensions between governments. Dr. Lerman has brought together scientists at all levels, from Nobel Prize winners, to early-career researchers and students, to build collaborative links that extend beyond scientific interactions."
Previously, the Biennial Malta Conferences were also recognized by the U.S. Congress. "Although acts of war and terrorism have destabilized the political and economic climate in the Middle East and around the world, it remains possible for scientists from opposing sides of the political and cultural conflict to meet in an attempt to forge relationships that bridge the deep chasms of distrust and intolerance," a congressional statement said. "In the Middle East, it is especially important that stable, mutually respectful, personal relationships be created that will enhance research interactions and collaborations, contribute to a more peaceful atmosphere, encourage international development, help establish a more favorable environment for regional peace and security, and foster further growth in regional scientific and technological cooperation. This is the goal of the Malta Conferences."
Lerman was nominated to receive the 2014 AAAS Award for Science Diplomacy by an advisory committee including Cathleen Campbell, president and CEO of CRDF Global; William Colglazier, past science and technology advisor to the U.S. Secretary of State; Romain Murenzi, executive director of The World Academy of Sciences (TWAS); and Bud Rock, president and CEO of the Association of Science and Technology Centers. Lerman's selection was approved by the AAAS Board of Directors.
In a letter of endorsement, American Chemical Society (ACS) Past President Elizabeth Ann Nalley praised Lerman's work, which has included six Biennial Malta Conferences serving 400 distinguished scientists since 2003. Lerman's efforts "have established new precedents in the use of science diplomacy and in the defense of the professional freedom of scientists and engineers," Nalley wrote.
Nalley cited a long list of positive outcomes of the Malta Conferences. For example, she noted, an Israeli participant has designed online courses in nanotechnology in Arabic and English. A scientist at Al-Quds University in Palestine spent a year sabbatical at the Weizmann Institute of Science in Israel. Researchers at Bethlehem University in Palestine are now collaborating with Weizmann Institute scientists on a water-purification project, and a diverse group representing five Middle East nations has been formed to work on a Drinking Water Quality Assessment.
Lerman studied at the Technion-Israel Institute of Technology, where she received her bachelor's and master's degrees in chemistry. She received her Ph.D. from the Weizmann Institute of Science. After completing research at Cornell University, Northwestern University, and ETH Zurich, Lerman in 1977 joined the faculty at Columbia College in Chicago. She founded and chaired Columbia's Department of Science and Mathematics in 1981, and ten years later, she became the first Distinguished Professor and Head of the newly established Institute for Science Education and Science Communication. She is a Fellow of the Royal Society of Chemistry (RSC), England, Fellow of AAAS, Fellow of the International Union of Pure and Applied Chemistry (IUPAC), and a Fellow of the ACS. Her many awards and honors have included the Parsons Award for outstanding public service in chemistry, bestowed by the ACS; CRDF Global's George Brown Award for International Scientific Collaboration; the José Vasconcelos World Award of Education, from the World Cultural Council; and the Presidential Award for Excellence in Science, Mathematics and Engineering Mentoring from President Clinton.
The AAAS Award for Science Diplomacy dates to 1992. It recognizes an individual or a small group working in the scientific and engineering or foreign affairs communities making an outstanding contribution to furthering science diplomacy. Renamed in 2010 by the AAAS Board of Directors, the Award consists of a plaque and an honorarium of $5,000.
The AAAS Award for Science Diplomacy will be bestowed upon Lerman during the 181st AAAS Annual Meeting in San Jose, California, 12-16 February 2015. A ceremony and reception will be held in Room 220C of the San Jose Convention Center on Friday, 13 February at 6:15 p.m.
###
The American Association for the Advancement of Science (AAAS) is the world's largest general scientific society, and publisher of the journal, Science as well as Science Translational Medicine and Science Signaling. AAAS was founded in 1848, and includes more than 250 affiliated societies and academies of science, serving 10 million individuals. Science has the largest paid circulation of any peer-reviewed general science journal in the world, with an estimated total readership of 1 million. The non-profit AAAS is open to all and fulfills its mission to "advance science and serve society" through initiatives in science policy, international programs, science education, and more. For the latest research news, log onto EurekAlert!, http://www.eurekalert.org, the premier science-news site, a service of AAAS.
For more information on AAAS awards, see http://www.aaas.org/aboutaaas/awards/.
---