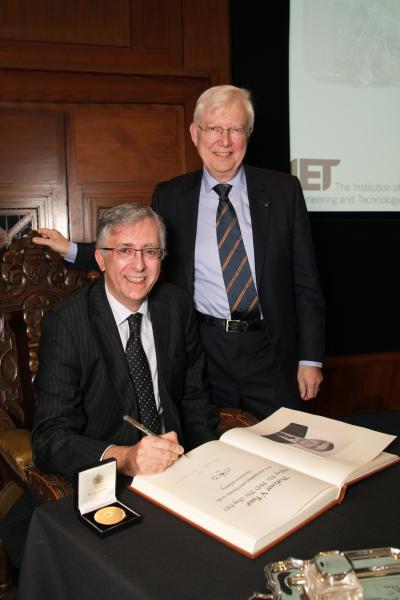 A Queen's University Professor has joined Sir Tim Berners-Lee, inventor of the world-wide-web, as one of only a small number of engineers worldwide to have been awarded the Mountbatten Medal.
Professor Vincent Fusco from Queen's has been recognised by the Institution of Engineering and Technology (IET), for his outstanding contribution to the promotion of electronics or information technology, and its application, that benefits the UK.
The North Belfast man who is Research Director of High Frequency at Queen's Institute of Electronics, Communications and Information Technology (ECIT), has been praised for his pioneering work on the science that lies behind modern mobile and wireless communications.
Professor Fusco's work has impacted upon the development of satellite communications and making cheaper, faster and more efficient terminals for next generation mobile broadband internet. His research has also provoked step change developments in high data rate wireless communications and has influenced many programmes in both industry and academia worldwide.
Speaking after receiving the award Professor Fusco said: "I am deeply honoured and humbled that the IET have awarded me the 2012 Mountbatten Medal. It is recognition of career achievements in the important topic of microwave wireless communications, a key economic driver for mobile radio systems. Many of these achievements would not have been possible without the help of research colleagues and students at Queen's and I would like to thank them also."
Suzanne Flynn FIET, Chair of the Awards and Prizes Committee of the IET said: "The IET is proud to award the Mountbatten Medal in collaboration with the British Computer Society and the Royal Academy of Engineering. Professor Fusco, of Queen's University Belfast, a pioneer researcher and talented communicator, is a very worthy winner and joins an illustrious list of recipients which includes Sir Tim Berners-Lee, Hermann Hauser and IET President, Professor Andy Hopper."
Commenting on the award Professor John McCanny, Director of the ECIT Institute said: "The award of the Mountbatten Medal by the Institution of Engineering and Technology reflects the many outstanding and pioneering contributions that Professor Fusco has made in the field of Microwave and Millimetre wave technology. This includes his research on self-tracking antennae that has resulted in a new class of wireless communication systems, and his research on semiconductor based antennas that are world-leading in terms of the performance they have achieved.
"This is also a very fitting tribute to the very high calibre research team that he leads here at Queen's. His work is in collaboration with major companies world-wide. These include the European Space Agency, Infineon Technologies (Austria) and OMMIC (France). It has also led to the creation of two new spin-out companies Lamhroe Ltd and Microsense Solutions Ltd here at the Northern Ireland Science Park, creating economic and employment opportunities locally."
Professor Fusco was presented with the medal at the Mountbatten Memorial Lecture at the IET London, Savoy Place.
###
---