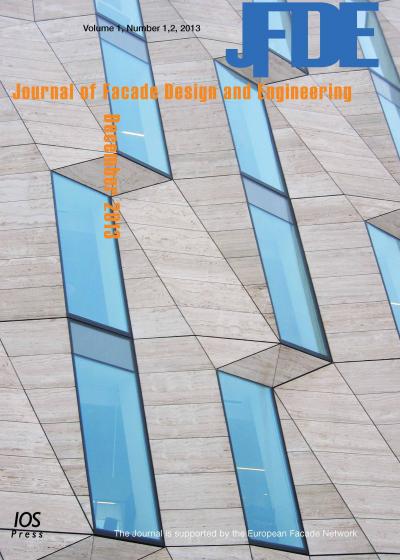 Amsterdam, January 16, 2014 - IOS Press is pleased to launch of the Journal of Facade Design and Engineering, an open access journal, edited by Prof.Dr.Ing. Ulrich Knaack and Dr. Ing. Tillmann Klein, from Delft Technical University, the Netherlands.
Ulrich Knaack, Editor-in-Chief, said: "We are delighted to announce the launch of the Journal of Facade Design and Engineering. It is the result of an ongoing discussion with colleagues from our discipline about the need for a scientific platform that focusses on the building envelope".
The journal is primarily a scientific journal, but explicitly invites papers which focus on the dissemination of science into practice and industrial innovations. In this way, readers can explore the interaction between scientific developments, technical considerations and management issues. The goal is to improve building technologies, as well as process management and architectural design. The Journal of Facade Design and Engineering is a peer reviewed, open access journal, funded by The Netherlands Organisation for Scientific Research NWO.
Knaack: "Since we founded the Facade Research Group at the TU Deft in 2005, we observed a growing demand for facade design and engineering in the building field. One obvious reason is the importance of the facade related to the energy consumption of buildings, as well as the user comfort. This development is also reflected in the scientific field; with many questions yet to be answered. They concern technologies, methods and tools to reach the above mentioned energy savings of buildings. We need to investigate constructional, functional and formal developments of the building envelope and we need more fundamental and in-depth knowledge about facade building materials and structural aspects".
###
About the journal
http://www.iospress.nl/journal-of-facade-design-and-engineering
ISSN 2213-302X
Volume 1, 2 issues.
Editor-in-Chief
Ulrich Knaack, Delft Technical University, The Netherlands
Editor
Tillmann Klein, Delft Technical University, The Netherlands
Contact editorial office
About IOS Press
Commencing its publishing activities in 1987, IOS Press serves the information needs of scientific and medical communities worldwide. IOS Press now (co-)publishes over 100 international journals and about 130 book titles each year on subjects ranging from computer sciences and mathematics to medicine and the natural sciences.
IOS Press continues its rapid growth, embracing new technologies for the timely dissemination of information. All journals are available electronically and an e-book platform was launched in 2005.
Headquartered in Amsterdam with satellite offices in the USA, Germany, India and China, IOS Press has established several strategic co-publishing initiatives. Notable acquisitions included Delft University Press in 2005 and Millpress Science Publishers in 2008.
About TU Delft
TU Delft cooperates with many other educational and research institutions, both in the Netherlands and abroad. The high quality of research and teaching is renowned. TU Delft has numerous contacts with governments, trade associations, consultancies, industry and small and medium-sized companies.
---
Journal
Journal of Facade Design and Engineering