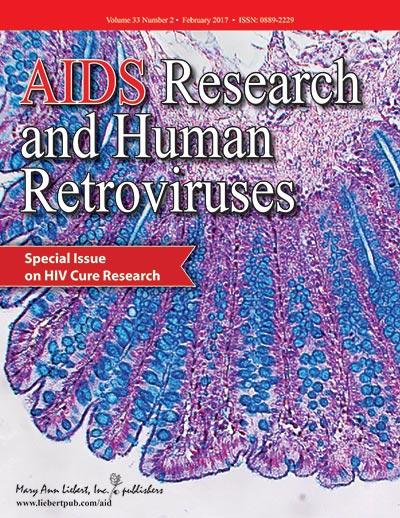 New Rochelle, NY, February 14, 2017--A special issue on progress toward a cure for HIV includes a description of a previously unreported study started in the early 2000s that describes AIDS patients currently ages 51-67 in good health. These nine individuals were treated with a unique formula of traditional Chinese herbal medicine (TCM) from 2001-2006 or longer, with or without occasional antiviral therapy added later. The fact that the patients currently have low or undetectable HIV in their systems is unexpected and intriguing, and suggests a potential promise of TCM as a functional cure for HIV/AIDS, as discussed in a Letter to the Editor in the special issue of AIDS Research and Human Retroviruses, a peer-reviewed journal from Mary Ann Liebert, Inc., publishers. The Letter to the Editor is available open access on the AIDS Research and Human Retroviruses website.
In "Long-Term Survival of AIDS Patients Treated with Only Traditional Chinese Medicine," Yifei Wang, Fujun Jin, Qiaoli Wang, and Zucai Suo, Jinan University (Guangdong, China) and The Ohio State University (Columbus), report that most of the individuals in this small study have undetectable viral loads, with one patient having a low viral load. Their CD4+ counts and CD4+/CD8+ ratios are all excellent.
In an accompanying Editorial entitled "Can a Traditional Chinese Medicine Contribute to a Cure for HIV?" Thomas Hope, PhD, Editor-in-Chief of AIDS Research and Human Retroviruses and Professor of Cell and Molecular Biology at Northwestern University, Feinberg School of Medicine (Chicago, IL), while pointing out the limitations in interpreting the outcome of this small, non-placebo-controlled study, comments on the importance of putting "these observations into the hands of the HIV research community." He writes, "I believe there should be some effort to further explore this phenomenon."
Both the Letter to the Editor and Editorial are part of a new Special Issue on HIV Cure Research published in AIDS Research and Human Retroviruses.
###
About the Journal
AIDS Research and Human Retroviruses, published monthly online with open access options and in print, presents papers, reviews, and case studies documenting the latest developments and research advances in the molecular biology of HIV and SIV and innovative approaches to HIV vaccine and therapeutic drug research, including the development of antiretroviral agents and immune-restorative therapies. Content also explores the molecular and cellular basis of HIV pathogenesis and HIV/HTLV epidemiology. The Journal features rapid publication of emerging sequence information, reports on clinical trials of emerging HIV therapies, and images in HIV research. Tables of content and a sample issue may be viewed on the AIDS Research and Human Retroviruses website.
About the Publisher
Mary Ann Liebert, Inc., publishers is a privately held, fully integrated media company known for establishing authoritative peer-reviewed journals in many promising areas of science and biomedical research, including AIDS Patient Care and STDs, Viral Immunology, and Journal of Interferon and Cytokine Research. Its biotechnology trade magazine, GEN (Genetic Engineering & Biotechnology News), was the first in its field and is today the industry's most widely read publication worldwide. A complete list of the firm's 80 journals, books, and newsmagazines is available on the Mary Ann Liebert, Inc., publishers website.
Mary Ann Liebert, Inc. 140 Huguenot St., New Rochelle, NY 10801-5215 http://www.liebertpub.com Phone: (914) 740-2100 (800) M-LIEBERT Fax: (914) 740-2101
---
Journal
AIDS Research and Human Retroviruses