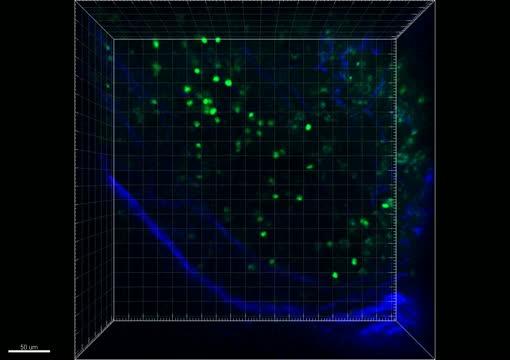 Immune checkpoint inhibitors are revolutionizing the treatment of cancer, but new research challenges the central dogma of how these drugs work. This research, published in the prestigious Journal of Clinical Investigation, shows for the first time that often-overlooked immune cells called Natural Killer (NK) cells play a crucial role in responding to checkpoint inhibitors.
"Checkpoint inhibitors work by waking up the body's own immune system and unleashing an immune attack on cancer cells," explained co-senior author Dr. Michele Ardolino, a scientist at The Ottawa Hospital and assistant professor at the University of Ottawa. "For many years, everyone assumed that checkpoint inhibitors targeted immune cells called T cells. But our research shows that they also target Natural Killer cells and these cells play a key role in the how this treatment works."
Dr. Ardolino led the study together with Dr. David Raulet, professor at the University of California at Berkeley.
"In the cancer immunotherapy field there has been a singular focus on mobilizing anti-tumor T cells, said Dr. Raulet. "We believe that NK cells have an important place at the table. Checkpoint therapy combined with other NK-directed immunotherapies may enable us to target many types of tumors that are currently non-responsive to available therapies."
T cells and NK cells can both recognize and kill cancer cells, but they do so in very different ways. NK cells recognize patterns of changes on cancer cells and are the immune system's first line of defense. A T cell, on the other hand, recognizes a single abnormal molecule on a cancer cell and initiates a more focused attack.
In the current study, Dr. Ardolino and Dr. Raulet and their colleagues investigated the effect of checkpoint inhibitors in various mouse models of cancer. They found that checkpoint inhibitors could shrink tumours even in mice with no anti-cancer T cells, meaning that some other kind of cell must be responding to the checkpoint inhibitors. When the mice were depleted of NK cells, it greatly reduced or eliminated the anti-cancer effect of the checkpoint inhibitors. They also showed that NK cells produce the same checkpoint receptor molecules that T cells do, meaning they can respond directly to checkpoint inhibitors.
"This research helps solve a mystery that's been seen in the clinic, where certain cancers are very susceptible to checkpoint inhibitors even though their T cells don't seem to be activated," said co-lead author Jonathan Hodgins, a PhD student at The Ottawa Hospital and the University of Ottawa. "If we're right, NK cells are probably being activated in these patients."
The researchers are now investigating approaches to further enhance the cancer-killing ability of NK cells.
"My dream is that when people come to the hospital with cancer, we'll be able to take a biopsy and determine not only the mutations in their cancer, but also profile how their immune system is interacting with their cancer," said Dr. Ardolino. "Then we would give the patient the immunotherapy treatments that is most likely to work for them."
###
Acknowledgements and additional information
This study was supported by the National Institutes of Health, the Canadian Institutes of Health Research, the Prostate Cancer Fight Foundation, Istituto Pasteur, the Cancer Research Institute, Rose Hill, the Leukemia and Lymphoma Society, Innate Pharma and Aduro Biotech. Dr. Ardolino's research is also supported by generous donations to cancer research at The Ottawa Hospital.
The Ottawa Hospital: Inspired by research. Driven by compassion.
The Ottawa Hospital is one of Canada's largest learning and research hospitals with over 1,100 beds, approximately 12,000 staff and an annual budget of over $1.2 billion. Our focus on research and learning helps us develop new and innovative ways to treat patients and improve care. As a multi-campus hospital, affiliated with the University of Ottawa, we deliver specialized care to the Eastern Ontario region, but our techniques and research discoveries are adopted around the world. We engage the community at all levels to support our vision for better patient care. See http://www.ohri.ca for more information about research at The Ottawa Hospital.
University of Ottawa: A crossroads of cultures and ideas
The University of Ottawa is home to over 50,000 students, faculty and staff, who live, work and study in both French and English. Our campus is a crossroads of cultures and ideas, where bold minds come together to inspire game-changing ideas. We are one of Canada's top 10 research universities--our professors and researchers explore new approaches to today's challenges. One of a handful of Canadian universities ranked among the top 200 in the world, we attract exceptional thinkers and welcome diverse perspectives from across the globe. http://www.uottawa.ca
Media Contacts
Jennifer Ganton
Director, Communications and Public Relations
Ottawa Hospital Research Institute
Office: 613-798-5555 x 73325
Cell: 613-614-5253
jganton@ohri.ca
Bob Sanders
Manager, Science communications
UC Berkeley Media Relations
510-643-6998
rlsanders@berkeley.edu
---
Journal
Journal of Clinical Investigation
DOI