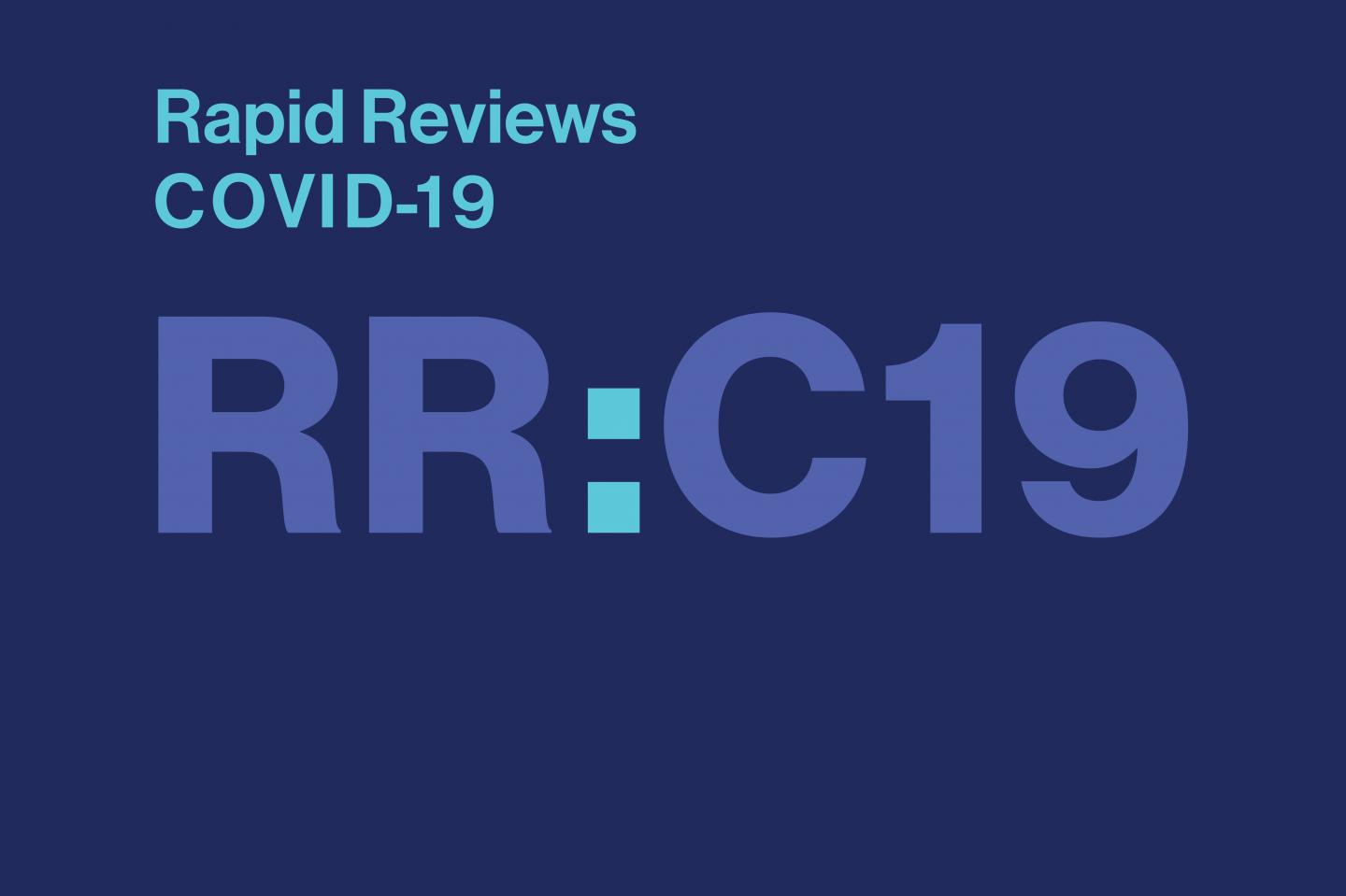 Today, open access journal Rapid Reviews: COVID-19 (RR:C19), published by the MIT Press, posted peer reviews of eight COVID-19 preprint studies in an effort to reduce misinformation and to elevate noteworthy and useful research for scientists, public health officials, journalists, and the public.
These authoritative reviews cover a wide range of subjects, including:
COVID-19 research often outpaces traditional peer-reviewed publishing, and with more than 20,000 preprints available across a variety of preprint servers, including medRxiv, bioRxiv, and SSRN, there is an urgent need for scholarly peer review to validate--or debunk--information before it is widely circulated.
For the editorial team, led by editor-in-chief, Stefano M. Bertozzi, Professor of Health Policy and Management and Dean Emeritus of the School of Public Health at University of California Berkeley, it is gratifying to see a mix of papers that are representative of the mission of RR:C19.
"One important aspect of our mission is its disciplinary inclusivity--and that is reflected in the first round of papers we have reviewed," explains Bertozzi. "They range from legal/bioethical perspectives to papers across the basic sciences, clinical medicine, and public health. Most of the papers are also quite recent, and thus, would have taken many more weeks to undergo peer review under more traditional models."
Bertozzi credits this speed, in part, to an academic network of preprint screeners and a new Natural Language Processing tool developed by COVIDScholar, an initiative of UC Berkeley and Lawrence Berkeley National Lab that can quickly scan a large number of preprint repositories and identify relevant items to be peer reviewed. Once two or more reviews are available for a preprint, RR:C19 publishes them on an open access platform in a completely transparent process to make them readily available to journalists writing about promising COVID-19 research and to the public seeking information.
RR:C19 is made possible by a $350,000 grant from the Patrick J. McGovern Foundation and hosted on PubPub, an open-source publishing platform from the Knowledge Futures Group.
The editorial board for RR:C19 currently includes Paulin Basinga, Gates Foundation; Nancy Birdsall, Center for Global Development; Jeanine Condo, National University of Rwanda; Robert Gallo, University of Maryland School of Medicine, Global Virus Network; Patty Garcia, Cayetano Heredia University, Peru, University of Washington; Dean Jamison, UCSF Institute for Global Health Sciences, Disease Control Priorities Network; Jerome Kim, International Vaccine Institute; Ramanan Laxminarayan, Center for Disease Dynamics, Economics, and Policy, Princeton University; Santiago Levy, The Brookings Institution; Fenyong Liu, UC Berkeley School of Public Health; Felix Masiye, University of Zambia, University of Washington; Jonna Mazet, One Health Institute, UC Davis, UCSF; Michael Merson, Duke University; Art Reingold, UC Berkeley School of Public Health; Shankar Sastry, UC Berkeley; Mauro Schechter, Federal University of Rio de Janeiro, University of Pittsburgh, Johns Hopkins University; and Kathleen Sikkema, Columbia University School of Public Health. RR:C19 is actively recruiting potential reviewers and contributors.
###
To learn more about this project and to sign up for future news and alerts, visit rapidreviewscovid19.mitpress.mit.edu
Media Contacts
Jessica Pellien
Associate Director of Publicity
Fortier Public Relations
jessica@fortierpr.com
Emily Paquin Abbas
Communications Coordinator
The MIT Press
epabbas@mit.edu
About the MIT Press
Established in 1962, the MIT Press is one of the largest and most distinguished university presses in the world and a leading publisher of books and journals at the intersection of science, technology, art, social science, and design. MIT Press books and journals are known for their intellectual daring, scholarly standards, interdisciplinary focus, and distinctive design.
About the UC Berkeley School of Public Health
For 75 years and counting, the UC Berkeley SPH has been dedicated to making a transformative impact on the health of populations through its values of health as a right, strength through diversity, think forward, and impact first. To eliminate inequity and injustice that affects the health and dignity of all people, SPH is committed to radical public health collaborations that challenge conventional thinking, leverage technology, and build bridges between research, public policy, education, and action.
About the Patrick J. McGovern Foundation
The Patrick J. McGovern Foundation is dedicated to improving lives globally with technology, data and AI. The Foundation is the legacy of IDG founder Patrick J. McGovern, who believed in the potential for technology to democratize information, improve the human condition and advance social good.
About the Knowledge Futures Group
The Knowledge Futures Group, a nonprofit originally founded as a partnership between the MIT Press and MIT Media Lab, builds and sustains technology for the production, curation, and preservation of knowledge in service of the public good.
---