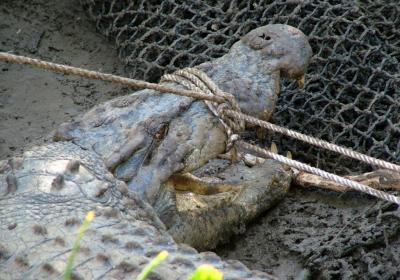 Three crocodiles relocated from their homes in Far North Queensland have been tracked swimming between 10 and 30 kilometres per day according to a collaborative research project by The University of Queensland, Australia Zoo and Queensland Parks and Wildlife Service.
Professor Craig Franklin, from the University's School of Integrative Biology, said one relocated crocodile swam around the northern tip of Australia to reach home — covering more than 400 kilometres in 20 days.
"We often thought crocodiles tired very quickly but here we show very clearly that they are capable of moving long distances for days on end," Franklin said.
The results come from the first satellite tracking study of wild crocodiles undertaken by the collaboration and led by Dr Mark Read (QPWS), Professor Franklin and Steve Irwin and funded in part by a generous bequest from the late Charles Tanner, a herpetologist who lived most of his life in Cooktown, and a grant from the Australian Research Council.
The crocodiles were tracked using a specially-designed transmitter attached to the back of their heads that collected the data and relayed it via satellite back to the scientists.
The results highlighted the success of satellite tracking for crocodiles allowing continuous tracking without human interference.
Professor Franklin said "Satellite technology is a great way of tracking these really cryptic animals which are difficult to follow.
"The success of the study was also recognition of the skills and knowledge that Steve Irwin brought to the project."
He said Steve Irwin was a major driving force behind the study, and his intellectual and logistical support complimented the knowledge, experience and contributions made by the other team members.
"He also gave us the assistance of the croc team from Australia Zoo, who are highly skilled in the capture and care of crocodiles."
All three monitored crocodiles were moved by helicopter between 52 and 130 kilometres away but still found their way back to their capture sites. One crocodile was flown across Cape York Peninsula from the west to east coast, and then circumnavigated the peninsula to return home.
He said crocodiles probably used many factors such as its position to the sun, magnetic fields, sight, and smell to navigate.
"Crocodiles are more closely related to birds than they are any other reptile so they are possibly using navigation systems similar to birds""
He said the data showed that estuarine crocodiles were oceanic animals which could move phenomenal distances over a prolonged period of time.
He said further satellite and acoustic tracking studies would reveal even more impressive results about crocodile behaviour in coming months and years.
###
Citation: Read MA, Grigg GC, Irwin SR, Shanahan D, Franklin CE (2007) Satellite Tracking Reveals Long Distance Coastal Travel and Homing by Translocated Estuarine Crocodiles, Crocodylus porosus. PLoS ONE 2(9): e949. doi:10.1371/journal.pone.0000949
The team's results will be published in the open access online journal, PLoS ONE: http://www.plosone.org/doi/pone.0000949
PLEASE ADD THE LINK TO THE PUBLISHED ARTICLE IN ONLINE VERSIONS OF YOUR REPORT (URL live from September 26):
http://www.plosone.org/doi/pone.0000949
PRESS ONLY PREVIEW: http://www.plos.org/press/pone-02-09-Franklin.pdf
Disclaimer
The above press release refers to an upcoming article in PLoS ONE. The release has been provided by the article authors and/or their institutions. Any opinions expressed in this are the personal views of the contributors, and do not necessarily represent the views or policies of PLoS. PLoS expressly disclaims any and all warranties and liability in connection with the information found in the release and article and your use of such information.
---