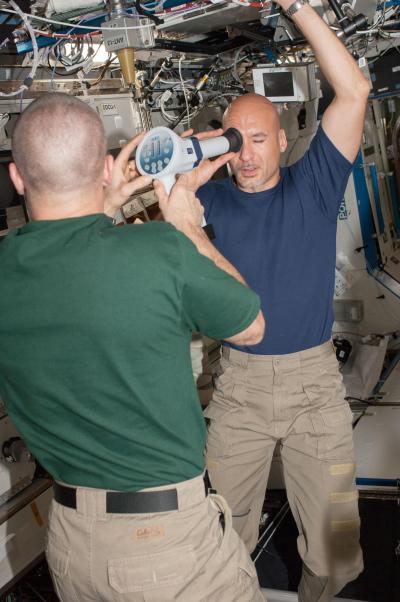 HOUSTON, Aug. 26, 2014 – To reduce and better treat spaceflight-induced visual impairment, University of Houston (UH) optometrists are collaborating on a NASA study that examines ocular changes seen in a number of astronauts.
The research, developed by Heidelberg Engineering, uses Spectralis® Optical Coherence Tomography (OCT), which is a technique for obtaining subsurface images of translucent or opaque materials at a resolution equivalent to a low-power microscope. OCT effectively images reflections from within tissue to provide cross-sectional views. This technology is being used to investigate changes in visual acuity, intraocular pressure, the optic nerve and retinal structures in astronauts exposed to long-duration microgravity aboard the International Space Station (ISS).
"With the Spectralis instrument, changes in retinal and optic nerve head anatomy can be monitored in astronauts on the ISS," said Dr. Nimesh Patel, an assistant professor at the UH College of Optometry (UHCO) and a consultant to NASA. "Although there is inter-individual variability, the trends are similar and will provide important insights into the mechanisms involved."
Working with Dr. Anastas Pass, an associate professor at UHCO, and Dr. Robert Gibson, a UHCO alum and NASA optometrist, Patel says he and his colleagues have found that 21 U.S. astronauts who have endured long-duration spaceflight aboard the ISS have developed a variety of visual changes, ranging from hyperopic shift, scotoma and choroidal folds to cotton wool spots, optic nerve sheath distension, globe flattening and edema of the optic nerve.
Patel recently presented a lecture in conjunction with the NASA Ocular Health Study receiving Heidelberg Engineering's annual 2014 Xtreme Research Award. The award honors a scientific collaboration in ophthalmology each year that has an "extreme" flavor in a scientific way – whether it advances research into new diagnostic spheres, explores new technologies that expand the borders of ophthalmic knowledge or is completed under remarkable circumstances. Patel's lecture, titled "OCT in Zero G," included preliminary data from the NASA study, which uses protocols and algorithms developed by Patel and Pass.
The Ocular Health Study investigates the changes with pre-flight, in-flight and post-flight exams. This will be useful in developing and evaluating countermeasures for longer duration missions, as well as helping to understand terrestrial-based changes associated with increased intracranial pressure, which is thought to play a significant role in spaceflight-induced visual impairment. The study of visual changes being related to intracranial pressure in astronauts is a relatively recent topic of interest in the field of space medicine.
NASA is seeking to collect further evidence to characterize the risk and define the visual, vascular and central nervous system changes that then can be used to assess the risk of visual impairment and intracranial pressure in microgravity environments. This, they say, will guide future research needs, such as the development of possible countermeasures to mitigate space-induced ocular impairments.
###
About the University of Houston
The University of Houston is a Carnegie-designated Tier One public research university recognized by The Princeton Review as one of the nation's best colleges for undergraduate education. UH serves the globally competitive Houston and Gulf Coast Region by providing world-class faculty, experiential learning and strategic industry partnerships. Located in the nation's fourth-largest city, UH serves more than 39,500 students in the most ethnically and culturally diverse region in the country. For more information about UH, visit the university's newsroom at http://www.uh.edu/news-events/.
About the UH College of Optometry
Since 1952, the University of Houston College of Optometry (UHCO) has educated and trained optometrists to provide the highest quality vision care. One of only 22 optometry schools in the country, UHCO offers a variety of degree programs, including Doctor of Optometry (O.D.), a combined Doctor of Optometry/Doctor of Philosophy (O.D./Ph.D.), Master of Science (M.S.) and Doctor of Philosophy (Ph.D.). UHCO serves an average of 50,000 patients a year through The University Eye Institute and its external clinics located in the Houston and Dallas-Fort Worth regions.
To receive UH science news via email, sign up for UH-SciNews at http://www.uh.edu/news-events/mailing-lists/sciencelistserv/index.php.
For additional news alerts about UH, follow us on Facebook at http://www.facebook.com/UHNewsEvents and Twitter at http://twitter.com/UH_News.
---