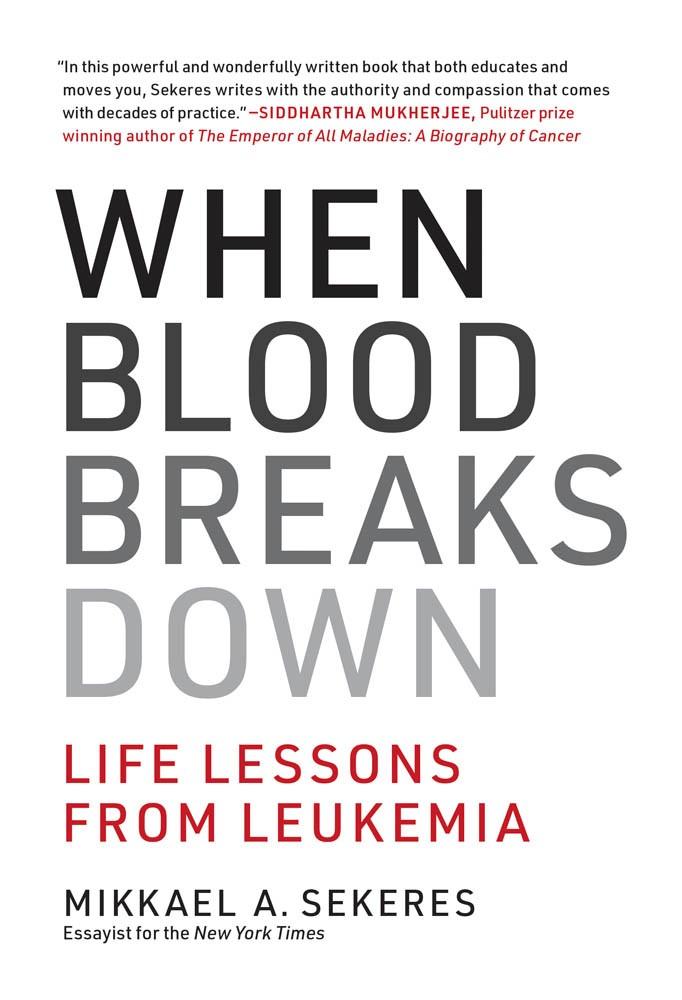 When you are told that you have leukemia, everything stops. Your brain can't function. You are asked to make decisions about treatment almost immediately, when you are not in your right mind. And yet you pull yourself together and start asking questions. Beside you is your doctor, whose job it is to solve the awful puzzle of bone marrow gone wrong. The two of you are in it together.
In "When Blood Breaks Down: Life Lessons from Leukemia" (on sale: 04/21/20, The MIT Press), Mikkael Sekeres takes readers on his journey as a leading cancer specialist treating three different leukemia patients; Joan, a 48-year-old surgical nurse and mother; David, a 68-year-old husband, father, and grandfather; and Sarah, a 36-year-old pregnant mother and wife. "The drama of the moment in which you are told you have leukemia can't be overstated," he writes. "The world stops spinning. Priorities shift. Your brain can't function. Your rawest emotions, your worst fears, are laid bare, and yet somehow you have to regain your footing enough to make decisions about treatment and to define a new normal; if not for yourself, then for your partner and children."
We join the intimacy of the conversations Sekeres has with his patients, and watch as he teaches trainees. Along the way, Sekeres also explores leukemia in its different forms and the development of drugs to treat it--describing, among many other fascinating details, the invention of the bone marrow transplant (first performed experimentally on beagles) and a treatment that targets the genetics of leukemia. Bridging medical information with real-world examples of the people undergoing care, Sekeres shows that the lessons to be learned from leukemia aren't just about the treatment; they teach us about courage and grace and defying the odds.
###
Mikkael A. Sekeres, MD, is Director of the Leukemia Program at the Cleveland Clinic, where he is also Professor of Medicine and Vice Chair for Clinical Research at the Taussig Cancer Institute. He writes regularly for the Well section of the New York Times.
Advance Praise:
"This powerful and wonderfully written book that both educates and moves you, Sekeres writes with the authority and compassion that comes with decades of practice."--Siddhartha Mukherjee, Pulitzer Prize winning author of The Emperor of All Maladies: A Biography of Cancer
"[A] fascinating debut...This is a powerful look at a disease that forces patients to make 'decisions that no person should ever have to make."--Publishers Weekly
"What makes this narrative so compelling is the author's ability to bring readers with him on his rounds as he meets each patient and family member, discusses treatment options, and follows them through weeks of treatment, reviewing lab results and bone marrow biopsies, and, when necessary, discussing next steps such as bone marrow transplants...That three patient narratives should prove so effective a lesson is a tribute to Sekeres as both storyteller and physician."--Kirkus Reviews
---