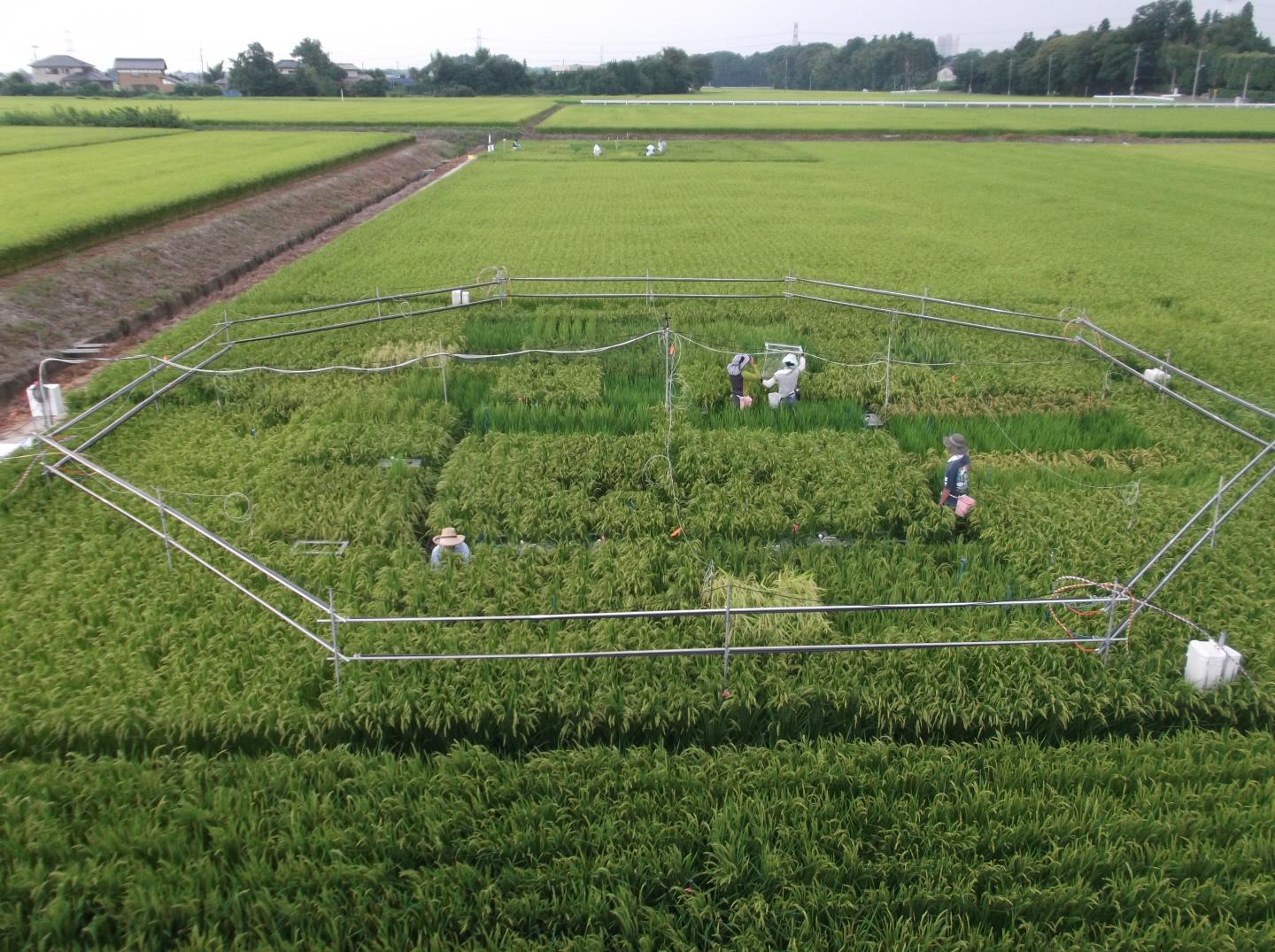 Increased carbon dioxide in the atmosphere will reduce the nutritional value of rice, according to an international research team that analyzed rice samples from field experiments started by a University of Tokyo professor. Specifically, iron, zinc, protein, and vitamins B1, B2, B5, and B9, were reduced in rice grown under higher carbon dioxide concentrations expected in the second half of this century (568 to 590 parts per million).
"Rice is not just a major source of calories, but also proteins and vitamins for many people in developing countries and for poorer communities within developed countries," said Professor Kazuhiko Kobayashi of the University of Tokyo, co-author of the recent study and expert in effects of air pollution on agriculture.
Populations in countries with both the highest rice consumption and lowest gross domestic product may experience more malnutrition as the nutritional value of low-cost staple foods like rice declines. Not all varieties of rice responded in the same way, so future research projects may examine the possibility of finding varieties of rice that can remain nutritious despite the change in the atmosphere.
The rice was grown at research sites in China and Japan using an open-field method where researchers build 17-meter-wide (56-foot-wide) plastic pipe octagons elevated about 30 centimeters (1 foot) above the tops of plants within standard rice fields. A network of sensors and monitors measure wind speed and direction to determine how much carbon dioxide is released out of the pipes to raise the local carbon dioxide concentration to the desired experimental level. The technique is known as Free-Air Carbon dioxide Enrichment (FACE).
"I first started using this technique in 1998, because we knew that plants raised in a plastic or glass house do not grow the same as plants in normal, open field conditions. This technique allows us to test the effects of higher carbon dioxide concentrations on plants growing in the same conditions that farmers really will grow them some decades later in this century," said Kobayashi.
Local wildlife has sometimes added an additional challenge to the research. "At our first field site, we learned we have to keep all of the pipes and tubes above the ground because raccoons kept chewing through everything and jeopardized the experiment," said Kobayashi.
Researchers analyzed a total of 18 different varieties of rice for protein, iron, and zinc levels. Nine varieties of rice grown in China were used for the vitamin B1, B2, B5, and B9 analyses. Other common names for the vitamins are thiamine (B1), riboflavin (B2), pantothenic acid (B5), and folate (B9).
Six hundred million people primarily in Bangladesh, Cambodia, Indonesia, Lao People's Democratic Republic, Myanmar, Vietnam, and Madagascar consume at least 50 percent of their daily energy and/or protein directly from rice. This was also true in Japan during the 1960s, but current Japanese receive only about 20 percent of their daily food energy from rice.
###
The study authors include scientists affiliated with the Centre for Crop Health at the University of Southern Queensland, the Chinese Academy of Sciences, Bryan Medical Center (USA), and University of Washington (USA), and the United States Department of Agriculture.
Journal Article
C. Zhu, K. Kobayashi, I. Loladze, J. Zhu, Q. Jiang, X. Xu, G. Liu, S. Seneweera, K. L. Ebi, A. Drewnowski, N. Fukagawa, L. H. Ziska, Carbon dioxide (CO2) levels this century will alter the protein, micronutrients, and vitamin content of rice grains with potential health consequences for the poorest rice dependent countries. Sci. Adv. 4, eaaq1012 (2018).
Funders
National Basic Research Program of China, Natural Science Foundation of Jiangsu Province in China, Youth Innovation Promotion Association of Chinese Academy of Sciences
Research Contact
Kazuhiko Kobayashi
Graduate School of Agricultural and Life Sciences, The University of Tokyo, Yayoi 1-1-1, Bunkyo-ku, Tokyo 113-8657, JAPAN
(Present address: College of Agriculture, Ibaraki University, Chuuo 3-21-1, Ami, Inashiki, Ibaraki 300-0393, JAPAN)
Tel: +81-29-888-8628
Email: k.kobayashi.ut@gmail.com
Public Relations Contact
Caitlin Devor
The University of Tokyo, Hongo 7-3-1, Bunkyo-ku, Tokyo 133-0864, JAPAN
Tel: +81-3-5841-0876
Email: caitlin.devor@mail.u-tokyo.ac.jp
About the University of Tokyo
The University of Tokyo is Japan's leading university and one of the world's top research universities. The vast research output of some 6,000 researchers is published in the world's top journals across the arts and sciences. Our vibrant student body of around 15,000 undergraduate and 15,000 graduate students includes over 2,000 international students. Find out more at http://www.u-tokyo.ac.jp/en/ or follow us on Twitter at @UTokyo_News_en.
---