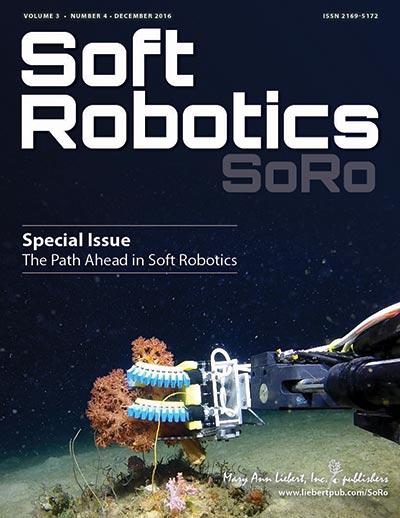 New Rochelle, NY, January 16, 2017--Commercializing a new, innovative product is often the greatest challenge across the research and development landscape, as is evident in the failed attempt to bring jamming-based robotic gripper technology to market. The company developing the VERSABALL® tells the story of its demise and the valuable lessons learned in a compelling article published in Soft Robotics, a peer-reviewed journal from Mary Ann Liebert, Inc., publishers. The article is available free on the Soft Robotics website until February 13, 2017.
In "Soft Robotics Commercialization: Jamming Grippers from Research to Product," John Amend, Nadia Cheng, Sami Fakhouri, and Bill Culley, Empire Robotics, Inc., Belmont, MA, describe their attempt to develop a sustainable business around jamming-based robotic gripper technology. The authors discuss many aspects of their research and product development efforts including product design, product features such as speed and pneumatics, the shape, composition, and durability of the membrane, and the product characteristics most likely to influence a customer's purchasing decisions.
"This is a really good example of how cutting-edge soft technology is stimulating new businesses and changing the way people think about robots," says Editor-in-Chief Barry A. Trimmer, PhD, who directs the Neuromechanics and Biomimetic Devices Laboratory at Tufts University (Medford, MA).
###
Research reported in this publication was supported by the National Institutes of Health under SBIR Award Number 1R43 HD081832-01. The content is solely the responsibility of the authors and does not necessarily represent the official views of the National Institutes of Health.
About the Journal
Soft Robotics, a peer-reviewed journal published quarterly online with Open Access options and in print, combines advances in biomedical engineering, biomechanics, mathematical modeling, biopolymer chemistry, computer science, and tissue engineering to present new approaches to the creation of robotic technology and devices that can undergo dramatic changes in shape and size in order to adapt to various environments. Led by Editor-in-Chief Barry A. Trimmer, PhD, and a distinguished team of Associate Editors, the Journal provides the latest research and developments on topics such as soft material creation, characterization, and modeling; flexible and degradable electronics; soft actuators and sensors; control and simulation of highly deformable structures; biomechanics and control of soft animals and tissues; biohybrid devices and living machines; and design and fabrication of conformable machines. Tables of content and a sample issue can be viewed on the Soft Robotics website.
About the Publisher
Mary Ann Liebert, Inc., publishers is a privately held, fully integrated media company known for establishing authoritative peer-reviewed journals in many promising areas of science, technology, and biomedical research, including 3D Printing and Additive Manufacturing and Tissue Engineering. Its biotechnology trade magazine, Genetic Engineering News (GEN), was the first in its field and is today the industry's most widely read publication worldwide. A complete list of the firm's 80 journals, books, and newsmagazines is available on the Mary Ann Liebert, Inc., publishers website.
---
DOI
10.1089/soro.2016.0021