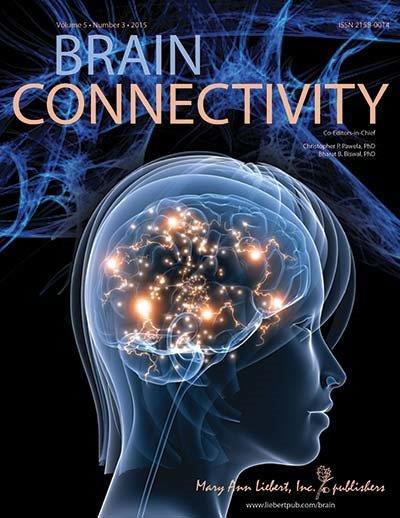 New Rochelle, NY, April 29, 2015--Epilepsy, a disorder characterized by abnormal neuronal activity in certain regions of the brain, leads to organizational changes that can alter brain efficiency at the level of the whole brain. This occurs across functional networks that connect different brain regions and within individual brain regions, as described in an article in Brain Connectivity, a peer-reviewed journal from Mary Ann Liebert, Inc., publishers. The article is available free on the Brain Connectivity website until May 29, 2015.
Using data obtained from functional magnetic resonance imaging (fMRI) studies of the brains of two groups of age- and gender-matched individuals--one group with epilepsy and one without--Jie Song, PhD and coauthors, University of Wisconsin-Madison, developed a model of the functional networks and connectivity in the resting-state brain. They found distinct patterns of brain reorganizational changes in epilepsy, with functional connections between brain networks being either increased or decreased. In the article "Disrupted Brain Functional Organization in Epilepsy Revealed by Graph Theory Analysis," the authors conclude that epilepsy alters brain efficiency at the whole-brain level.
"Epilepsy is a neurological disorder characterized by extreme brain dysfunction. The work by Dr. Song and her colleagues provides significant insight into the brain structures that are affected by the disorder," says Christopher Pawela, PhD, Co-Editor-in-Chief of Brain Connectivity and Assistant Professor, Medical College of Wisconsin. "This work is central to large scale brain initiatives recently launched by the National Institutes of Health such as the 'Connectomes Related to Human Disease' funding mechanism."
###
About the Journal
Brain Connectivity is the essential peer-reviewed journal covering groundbreaking findings in the rapidly advancing field of connectivity research at the systems and network levels. Published 10 times per year in print and online, the Journal is under the leadership of Founding and Co-Editors-in-Chief Christopher Pawela, PhD, Assistant Professor, Medical College of Wisconsin, and Bharat Biswal, PhD, Chair of Biomedical Engineering, New Jersey Institute of Technology. It includes original peer-reviewed papers, review articles, point-counterpoint discussions on controversies in the field, and a product/technology review section. To ensure that scientific findings are rapidly disseminated, articles are published Instant Online within 72 hours of acceptance, with fully typeset, fast-track publication within 4 weeks. Tables of content and a sample issue may be viewed on the Brain Connectivity website.
About the Publisher
Mary Ann Liebert, Inc., publishers is a privately held, fully integrated media company known for establishing authoritative medical and biomedical peer-reviewed journals, including Journal of Neurotrauma and Therapeutic Hypothermia and Temperature Management. Its biotechnology trade magazine, Genetic Engineering & Biotechnology News (GEN), was the first in its field and is today the industry's most widely read publication worldwide. A complete list of the firm's 80 journals, newsmagazines, and books is available on the Mary Ann Liebert, Inc., publishers website.
---
Journal
Brain Connectivity