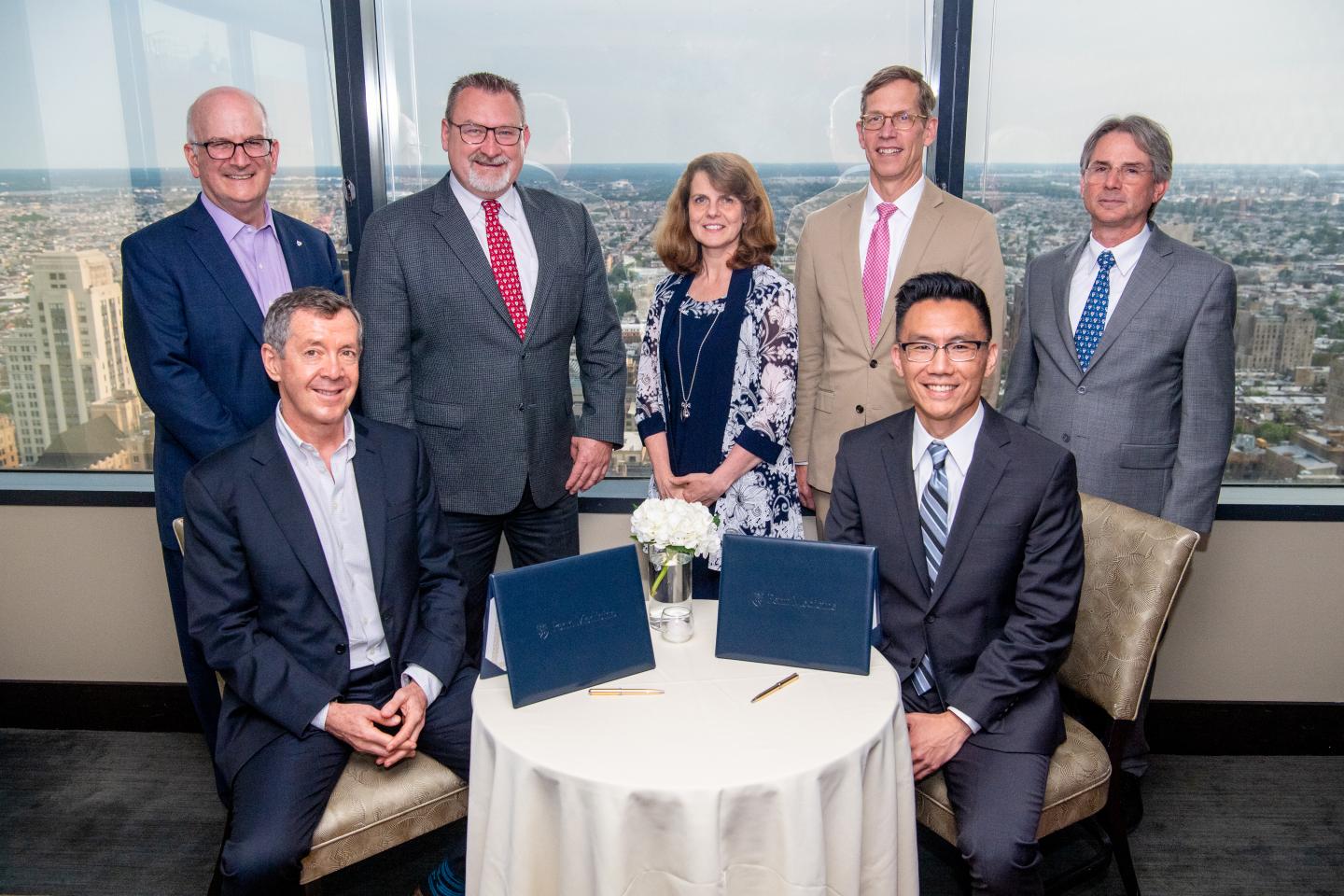 PHILADELPHIA - From understanding the genetics of cancer cells to improving cellular therapies and incorporating new methods of radiation therapy, a $12 million grant will help researchers at the Abramson Cancer Center at the University of Pennsylvania pursue the next generation of cancer treatments. The grant from The Mark Foundation for Cancer Research will establish The Mark Foundation Center for Immunotherapy, Immune Signaling, and Radiation at the University of Pennsylvania, which will seek to better understand the interconnected relationship between novel forms of radiation therapy, important signaling pathways between cancer and immune cells, and the immune system's ability to kill cancer. Five specific projects will bring together multidisciplinary teams of basic science and clinical researchers to answer these key questions.
"These projects have the chance to change the paradigm when it comes to cancer treatment," said the center's director Andy J. Minn, MD, PhD, an associate professor of Radiation Oncology in Penn's Perelman School of Medicine. "Understanding important and potentially targetable mechanisms of immunotherapy resistance and how to use novel radiation therapies to enhance immunotherapies carries enormous benefits for patients."
Each of the five projects will converge on understanding the role of interferon (IFN) and pattern recognition receptor (PRR) signaling in enabling the immune system to fight cancer. IFNs normally protect cells from viruses - named for their ability to literally interfere with a virus' ability to spread. PRRs are molecules that act as an alarm system that typically recognizes invaders. Two projects will identify the genetics behind IFNs and PRRs, including how they signal in cancer and immune cells, how they can be corrupted to do the bidding of cancer cells, and how vulnerabilities can be manipulated to improve response to immunotherapy.
Two other projects involve a concept called FLASH radiation, a super-concentrated form of radiation that can deliver an entire course of radiation therapy - which would typically be given over the course of weeks - in less than a second. Researchers will determine whether FLASH can more favorably impact IFN and PRR signaling compared to traditional radiation. They will then study whether FLASH makes a tumor more susceptible to attack by the immune system, yet decreases side effects normally associated with conventional radiation therapy.
The fifth project seeks to engineer chimeric antigen receptor (CAR) T cells capable of influencing IFN signaling in the tumor. The aim is to improve both the CAR T cells themselves as well as initiate something called the "bystander effect" - engaging other immune cells that have not yet jumped into the fight against the tumor.
"When you combine Penn's expertise in radiation oncology with our pioneering work in CAR T and immunotherapy, it's clear these projects bring together the joint expertise of the Abramson Cancer Center in a way very few other institutions anywhere in the world can match," said James M. Metz, MD, chair of Radiation Oncology.
Leaders of Penn Medicine and The Mark Foundation officially signed the grant establishing the center on May 31. The Foundation's chief executive officer points out grants like this are what make ambitious, high-reward projects possible.
"The results of this exciting project could have enormous significance for cancer patients," said The Mark Foundation CEO Michele Cleary, PhD. "This multidisciplinary effort is well positioned for success, and we expect these leading researchers will uncover novel insights into cancer biology that will substantially expand the options for treatments with better efficacy and minimal toxicities. We look forward to working with this powerhouse team over the next five years and beyond."
###
Other investigators for the Penn projects are Junwei Shi, PhD; E. John Wherry, PhD; Nancy Zhang, PhD; Jorge Henao-Mejia, MD, PhD; Roger Greenberg, MD, PhD; Sara Cherry, PhD; Constantinos Koumenis, PhD; Igor Brodsky, PhD; and Carl June, MD.
Penn Medicine is one of the world's leading academic medical centers, dedicated to the related missions of medical education, biomedical research, and excellence in patient care. Penn Medicine consists of the Raymond and Ruth Perelman School of Medicine at the University of Pennsylvania (founded in 1765 as the nation's first medical school) and the University of Pennsylvania Health System, which together form a $7.8 billion enterprise.
The Perelman School of Medicine has been ranked among the top medical schools in the United States for more than 20 years, according to U.S. News & World Report's survey of research-oriented medical schools. The School is consistently among the nation's top recipients of funding from the National Institutes of Health, with $425 million awarded in the 2018 fiscal year.
The University of Pennsylvania Health System's patient care facilities include: the Hospital of the University of Pennsylvania and Penn Presbyterian Medical Center--which are recognized as one of the nation's top "Honor Roll" hospitals by U.S. News & World Report--Chester County Hospital; Lancaster General Health; Penn Medicine Princeton Health; and Pennsylvania Hospital, the nation's first hospital, founded in 1751. Additional facilities and enterprises include Good Shepherd Penn Partners, Penn Home Care and Hospice Services, Lancaster Behavioral Health Hospital, and Princeton House Behavioral Health, among others.
Penn Medicine is powered by a talented and dedicated workforce of more than 40,000 people. The organization also has alliances with top community health systems across both Southeastern Pennsylvania and Southern New Jersey, creating more options for patients no matter where they live.
Penn Medicine is committed to improving lives and health through a variety of community-based programs and activities. In fiscal year 2018, Penn Medicine provided more than $525 million to benefit our community.
---