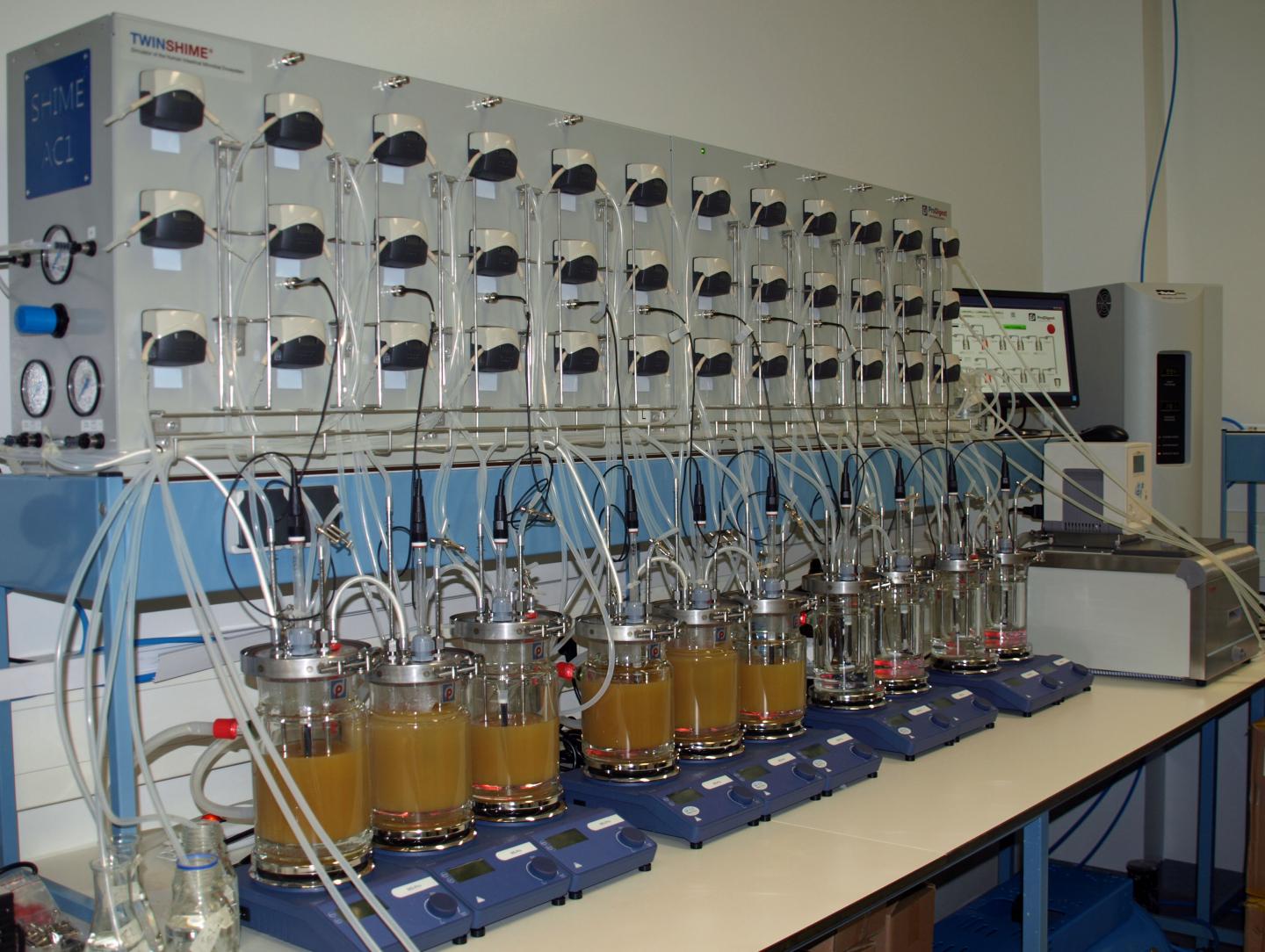 Farnham, UK [20.11.2018] - New research published in the International Journal of Pharmaceutics demonstrates that 'good' bacteria in the live probiotic SymproveTM can successfully reach and colonise the gut, where they go on to change the existing gut flora. They are also capable of modifying immune response.1
Researchers found that all bacteria in Symprove survived the stomach acid to reach and colonise the gut. The activity of the bacteria in this study were observed using a novel Simulator of the Human Intestinal Microbial Ecosystem (SHIME) and used donor bacteria from healthy humans. This allows researchers to closely monitor bacteria through in-vitro simulation of the human gut, without the need for invasive procedures and measurements.
The bacteria in Symprove were tested to see if their colonisation would help feed the gut microbiome through the production of lactate. The microbiome has been identified as a disease modifier and an essential part of immunity.2
Simon Gaisford, Professor of Pharmaceutics at University College London says, "We've been able to show that delivering viable and active bacteria to the gut impacts the healthy bacteria in our bodies in a way that we've not seen before. The diversity of the donor microbiotas clearly changed for the better and importantly the effect was sustained week-on-week. We saw that the addition of Symprove reduced inflammatory markers and raised butyrate levels. If we can make a healthy microbiome healthier, the potential to improve conditions of dysbiosis is incredibly exciting."
The addition of the probiotics in Symprove to the microbiotas of healthy human donors changed the proportion of bacterial groups in the gut flora, which generated a significant increase in butyrate - a short chain fatty acid (SCFA) which is critical to health and wellbeing.
Addition of Symprove also increased the anti-inflammatory cytokines IL-6 and IL-10, while reducing the inflammatory chemokines IL-8, MCP-1 and CXCL10, which are associated with inflammatory conditions and viral infections.1,3, The data showed that feeding the microbiome results in changes to the gut flora as well as a positive anti-inflammatory and immuno-modulatory effect.1
An increased abundance in beneficial bacteria such as firmicutes and actinobacteria were also observed after adding Symprove bacteria into the simulation containers. A lack of these bacteria in the gut is associated with several health conditions, including irritable bowel syndrome.4
"As more research looks at the microbiome and its relationship with general health, the positive impact of specialised water-based probiotics will become more widely acknowledged. The data suggest that the main benefit of probiotics is their ability to support the existing flora within the microbiome to help 're-balance' it," says Barry Smith, Symprove Limited Founder and Chairman. "Our research over the last 20 years has pushed to understand more about the microbiome and the essential role it plays in our overall health. This new research demonstrates the impact live and active probiotics can have on the body beyond the gut. It is incredibly exciting that leading academics are recognising the impact of feeding the microbiome. We all have a microbiome, and in many cases, we just need to help the bacteria that are already there."
###
Notes to Editors:
About Symprove:
Symprove is a water-based multi-strain supplement containing four unique strains of live activated 'good' bacteria: L rhamnosus, L. acidophilus, L. plantarum and E. faecium. It's recommended that Symprove is taken first thing in the morning, 10 minutes before eating or drinking and before the stomach has 'woken up' and become active. This allows the delivery system to work at its best. Symprove is gluten, dairy and soya-free and suitable for vegans and is available in two flavours, Original and Mango and Passion Fruit. Symprove is available to buy via https://www.symprove.com/ or by calling 01252 413600. It is also stocked at select pharmacies and health stores around the UK and the Republic of Ireland. Symprove Ltd is a privately-owned company based in Surrey. Information for consumers is at https://www.symprove.com/faqs
Symprove is a food supplement and is not intended to cure any diseases. It should be used as an adjunctive to a healthy diet and lifestyle and is not intended to replace any treatment plans. Symprove Ltd. An ISO 9001:2015 certified company.
About ProDigest and SHIME:
ProDigest originated from the Laboratory of Microbial Ecology and Technology (LabMET), located at Ghent University, Belgium. ProDigest offers research services in the field of gastrointestinal transit, bioavailability and metabolism using the Simulator of the Human Intestinal Microbial Ecosystem (SHIME). The SHIME is an in-vitro simulation model of the gastrointestinal tract and along with ProDigest's additional research capabilities can produce insights into how human digestion works.
About the gut microbiome:
The gut microbiome is the name given to the trillions of microorganisms living in the human the intestine. It is estimated that between 500 and 1000 different species of bacteria live in the gut. The microbiome helps the body to digest certain foods that the stomach and small intestine have not been able to digest, as well as playing an important role in the immune system and helping with the production of some vitamins. A healthy and balanced gut microbiome is key to ensuring proper digestive functioning. Intestine colonisation starts right after birth and the microbiome is now considered to be an 'acquired organ'.2,
Media enquires:
Cello Health Communications
CommsCA-Symprove@ch-corporateAffairs.co.uk
0203 434 3836
Symprove enquiries:
Carol McEvoy, PR & Social Media Manager
Carol@Sympove.com
01252 413600
Social Media
Twitter: @Symprove
Instagram: https://www.instagram.com/symproveyourlife/
Facebook: https://www.facebook.com/Symprove/
References
1. Moens F et al. A four-strain probiotic exerts positive immunomodulatory effects by enhancing colonic butyrate production in vitro. International Journal of Pharmaceutics, 2018: https://www.sciencedirect.com/science/article/pii/S037851731830838X?via%3Dihub
2. Grice, E. A., & Segre, J. A. (2012). The human microbiome: our second genome. Annual review of genomics and human genetics, 13, 151-170.
3. Proost, P., Wuyts, A., & Van Damme, J. (1996). The role of chemokines in inflammation. International Journal of Clinical and Laboratory Research, 26(4), 211-223.
4. Tap, Julien, et al. "Identification of an intestinal microbiota signature associated with severity of irritable bowel syndrome." Gastroenterology 152.1 (2017): 111-123.
5. National Human Genome Research Institute. https://www.genome.gov/27549144/
---
Journal
International Journal of Pharmaceutics