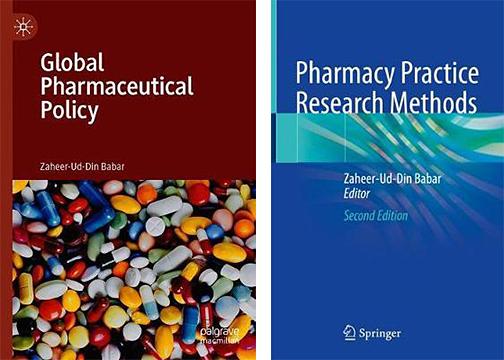 THE pandemic has stressed the need for rigorous, evidence-based pharmaceutical research and for populations to have ready access to the medicines that result. Two new books from a University of Huddersfield expert help to lay the groundwork and will aid the decision process for policy makers around the world.
Zaheer-Ud-Din Babar is Professor in Medicines and Healthcare at the University and is the editor of the all-new publication Global Pharmaceutical Policy. Also issued recently is an updated edition of his Pharmacy Practice Research Methods.
Both books were completed before COVID-19 struck, but the topics they cover have acquired extra relevance for the whole world, said Professor Babar.
"Previously, we thought that many issues such as access to medicines were mainly for developing countries. But now we see that health systems, even in developed countries, are confronted by similar problems. They were not ready for the pandemic."
The new edition of Pharmacy Practice Research Methods - first issued in 2015 - has been updated to cover a wide range of recent developments and has chapters on topics such as how to improve the use of medicines plus different pharmaceutical research methods and trials of new medicines.
"Safety is a big issue and the book strengthen the research methods used to investigate the use of new medicines," says Professor Babar.
His newest book is Global Pharmaceutical Policy. It has contributions from some 25 experts around the world and, in addition to his role as editor, Professor Babar has contributed four chapters himself - on topics such as medicine safety in a globalised context, pharmacy policy making and the key issue of access to medicines.
The book is the only text that provides an up-to-date account of international pharmaceutical research policy, filling a gap in the available literature with its global point of view. Its chapters cover subjects that include generic medicines, access to vaccines and immunisation programmes, global antibiotic use and resistance and sustainable management of the pharmaceutical supply chain.
Professor Babar states that the potential readership of the new book goes beyond pharmacy specialists to include all healthcare professionals, members of think tanks and policy makers around the world.
###
---