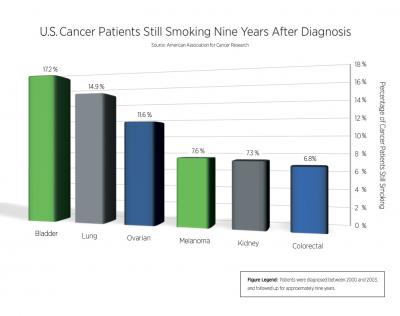 PHILADELPHIA — Nine years after diagnosis, 9.3 percent of U.S. cancer survivors were current smokers and 83 percent of these individuals were daily smokers who averaged 14.7 cigarettes per day, according to a report in Cancer Epidemiology, Biomarkers & Prevention, a journal of the American Association for Cancer Research (AACR).
"We need to follow up with cancer survivors long after their diagnoses to see whether they are still smoking and offer appropriate counseling, interventions, and possible medications to help them quit," said Lee Westmaas, PhD, director of tobacco research at the American Cancer Society (ACS) and lead author of the study.
Roy Herbst, MD, PhD, chief of medical oncology at Yale University and chair of the AACR Tobacco and Cancer Subcommittee, who was not involved with the study, said in an interview that the findings illustrate the scope of the problem.
"Smoking can cause new mutations among cancer survivors that can lead to secondary and additional primary cancers. It can also affect physical function and interfere with the efficacy of therapies," Herbst said. "We need to take note of this and target this population for intervention."
In the study, researchers at the ACS analyzed data on 2,938 patients nine years after their diagnoses.
Smoking prevalence by cancer type:
bladder cancer (17.2 percent)
lung cancer (14.9 percent)
ovarian cancer (11.6 percent)
melanoma (7.6 percent)
kidney cancer (7.3 percent)
colorectal cancer (6.8 percent)
Survivors were more likely to smoke if they were younger, had less education and income, or drank more alcohol.
About 40 percent of smokers said they planned to quit within the next month, but this intention was lower among survivors who were married, older, or smoked more.
"Smoking is addictive and having cancer does not guarantee that you will stop, even if that cancer was directly tied to your smoking," said Westmaas. "We need to do more to intervene with these patients."
###
EDITOR'S NOTE: In a 2012 policy statement, published in Clinical Cancer Research, the AACR said that assessing tobacco use should be part of any standard cancer care plan and oncologists should receive cessation training. Herbst chaired the committee that wrote that report.
Follow us: Cancer Research Catalyst http://blog.aacr.org; Twitter @AACR; and Facebook http://www.facebook.com/aacr.org
About the American Association for Cancer Research
Founded in 1907, the American Association for Cancer Research (AACR) is the world's oldest and largest professional organization dedicated to advancing cancer research and its mission to prevent and cure cancer. AACR membership includes more than 34,000 laboratory, translational, and clinical researchers; population scientists; other health care professionals; and cancer advocates residing in more than 90 countries. The AACR marshals the full spectrum of expertise of the cancer community to accelerate progress in the prevention, biology, diagnosis, and treatment of cancer by annually convening more than 20 conferences and educational workshops, the largest of which is the AACR Annual Meeting with more than 18,000 attendees. In addition, the AACR publishes eight peer-reviewed scientific journals and a magazine for cancer survivors, patients, and their caregivers. The AACR funds meritorious research directly as well as in cooperation with numerous cancer organizations. As the Scientific Partner of Stand Up To Cancer, the AACR provides expert peer review, grants administration, and scientific oversight of team science and individual grants in cancer research that have the potential for near-term patient benefit. The AACR actively communicates with legislators and policymakers about the value of cancer research and related biomedical science in saving lives from cancer. For more information about the AACR, visit http://www.AACR.org.
---