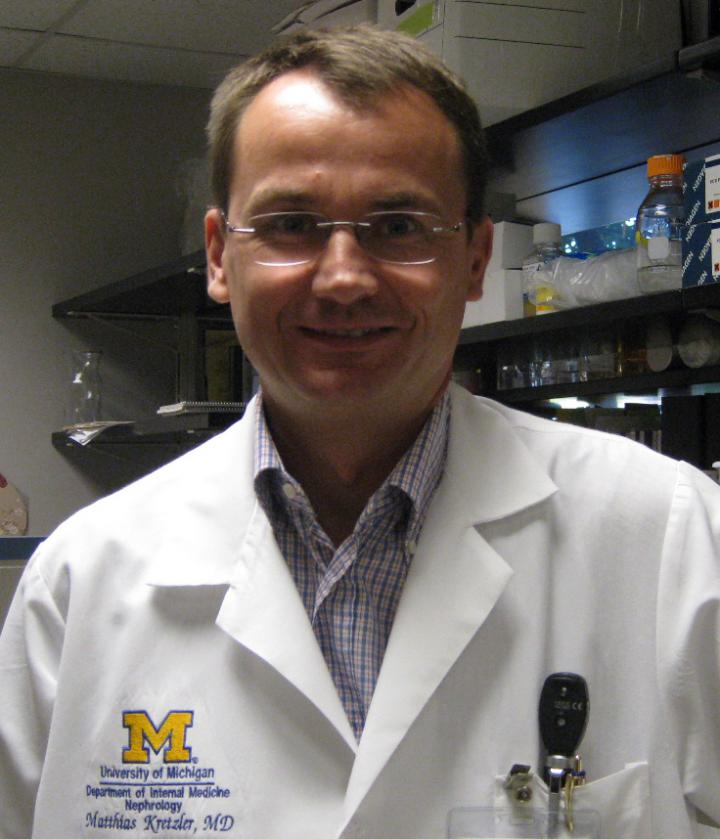 ANN ARBOR, Mich. - The saying "two heads are better than one" is taking on new meaning for the University of Michigan.
U-M has established the Renal Pre-Competitive Consortium (RPC2), with several pharmaceutical companies, including AstraZeneca and Eli Lilly and Company. The consortium will develop and use large-scale data exploration to identify new treatment targets for chronic kidney disease.
Chronic kidney disease is a group of conditions in which damaged kidneys cannot filter blood as well as healthy kidneys. Currently, it is estimated that over 10 million individuals in the U.S. suffer from chronic kidney disease, with the number of those affected continuing to rise due to increased incidences of diabetes and obesity.
The RPC2 is led by U-M nephrologist Matthias Kretzler, M.D. and brings together subject-matter experts and scientific leaders, as well as support from across the industry.
"We have to find ways to bring new therapies to our patients faster," Kretzler says. "The RPC2 gives us the opportunity to combine large-scale clinical and molecular data exploration with the development expertise of the pharmaceutical industry."
The consortium will combine expertise in bioinformatics and kidney disease with the goal of identifying key drivers of progression in chronic kidney disease. The RPC2 will then analyze that data to identify potential new targets of treatments for the disease.
The RPC2 is a new model for research and development. It is one of the first times multiple pharmaceutical companies have agreed to collaborate on therapeutic target identification.
Members of the consortium will each contribute to the research strategy and implementation of the overall group in a precompetitive space. They will be able to use the molecular networks identified by the RPC2 to continue individual company discovery efforts outside of the consortium, including developing drugs to interfere with the disease pathways.
"For AstraZeneca, joining this consortium represents a great step forward in our aspiration to become a leader in the treatment of chronic kidney disease," says Marcus Schindler, head of the Cardiovascular and Metabolic Diseases (CVMD) Innovative Medicines Unit at AstraZeneca. "We believe that knowledge generated in the consortium will lead to an expansion of our portfolio with targets that have a strong patient-based foundation."
Membership in the consortium can be renewed annually by current participants and/or expanded to include new industry participants and pharmaceutical companies.
"I know I speak for the group when I say we're very excited the RPC2 will allow us to combine the expertise from both academia and industry in exploring innovative therapies for renal disease," Kretzler says. "New therapies for patients are waiting to be discovered among the vast amount of information now available. I'm confident this is an effective route in getting better medicines to people with failing kidneys."
###
About University of Michigan Health System
For more than 160 years, the University of Michigan Health System has been a national leader in advanced patient care, innovative research to improve human health and comprehensive education of physicians and medical scientists. The three U-M hospitals have been recognized numerous times for excellence in patient care, including a #1 ranking in Michigan and national rankings in many specialty areas by U.S. News & World Report.
About AstraZeneca
AstraZeneca is a global, innovation-driven biopharmaceutical business that focuses on the discovery, development and commercialization of prescription medicines, primarily for the treatment of diseases in three therapy areas -- respiratory, inflammation, autoimmune disease (RIA), cardiovascular and metabolic disease (CVMD) and oncology -- as well as infection and neuroscience diseases. AstraZeneca operates in over 100 countries and its innovative medicines are used by millions of patients worldwide.
About Eli Lilly and Company
Lilly is a global healthcare leader that unites caring with discovery to make life better for people around the world. To learn more about Lilly, please visit http://www.lilly.com and newsroom.lilly.com/social-channels.
Disclosure: Dr. Kretzler has served as a consultant to AstraZeneca and Eli Lilly in his U-M role, with all payments made to the University.
---