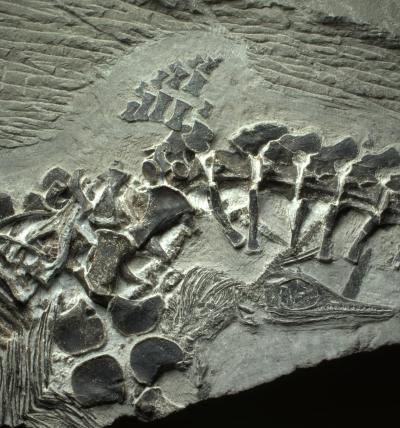 Ichthyosaur fossil may show the earliest live birth from an ancient Mesozoic marine reptile, according to a study published February 12, 2014 in PLOS ONE by Ryosuke Motani from the University of California, Davis, and colleagues.
Ichthyosaurs were giant marine reptiles that evolved from land reptiles and moved to the water. Scientists report a new fossil specimen that belongs to Chaohusaurus (Reptilia, Ichthyopterygia), the oldest of Mesozoic marine reptiles that lived approximately 248 million years ago. The partial skeleton was recovered in China and may show a live birth. The maternal skeleton was associated with three embryos and neonates: one inside the mother, another exiting the pelvis-with half the body still inside the mother-and the third outside of the mother. The headfirst birth posture of the second embryo indicates that live births in ichthyosaurs may have taken place on land, instead of in the water, as some studies have previously suggested.
The new specimen may contain the oldest fossil embryos of Mesozoic marine reptile, about 10 million years older than those indicated on previous records. The authors also suggest that live births in land reptiles may have appeared much earlier than previously thought.
Dr. Motani added, "The study reports the oldest vertebrate fossil to capture the 'moment' of live-birth, with a baby emerging from the pelvis of its mother. The 248-million-year old fossil of an ichthyosaur suggests that live-bearing evolved on land and not in the sea."
###
Citation: Motani R, Jiang D-y, Tintori A, Rieppel O, Chen G-b (2014) Terrestrial Origin of Viviparity in Mesozoic Marine Reptiles Indicated by Early Triassic Embryonic Fossils. PLoS ONE 9(2): e88640. doi:10.1371/journal.pone.0088640
Financial Disclosure: National Geographic Society Committee for Research and Exploration (#8669-09, http://www.nationalgeographic.com/) to RM, Project 40920124002 from the National Natural Science Foundation of China to DJ, Project 123102 from State Key Laboratory of Palaeobiology and Stratigraphy (Nanjing Institute of Geology and Palaeontology, CAS) to DJ, Project 20120001110072 from the Research Fund for the Doctoral Program of Higher Education to DJ. The funders had no role in study design, data collection and analysis, decision to publish, or preparation of the manuscript.
Competing Interest Statement: The authors have declared that no competing interests exist.
PLEASE LINK TO THE SCIENTIFIC ARTICLE IN ONLINE VERSIONS OF YOUR REPORT (URL goes live after the embargo ends): http://dx.plos.org/10.1371/journal.pone.0088640
---