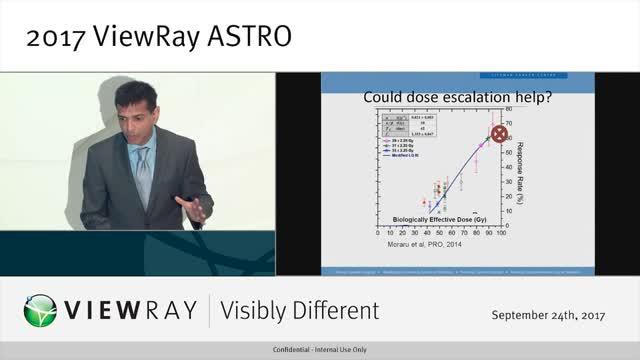 ViewRay, Inc. (Nasdaq: VRAY), maker of the world's first and only clinical MRI-guided radiation therapy system, announced today outcomes data presented during the recent 2017 Annual Meeting of the American Society for Radiation Oncology (ASTRO). This data highlighted compelling early results using the company's MRIdian system for the treatment of inoperable, locally advanced pancreatic cancer.
Unlike any other system on the market today, MRIdian allows clinicians to see the tumor and nearby soft-tissue anatomy throughout radiation treatments using real-time diagnostic MR-visualization. As a result, MRIdian's on-table adaptive radiation therapy allows doctors to respond to subtle anatomical changes observed on a day-to-day basis and reshape the dose to better match the current contours of the tumor. By more accurately targeting the tumor, and reducing treatment radiation dose to surrounding organs such as the duodenum, small bowel, stomach and liver, a higher and potentially more effective radiation dose may be delivered without increasing the risks of side effects and complications for the patient.
As featured in the ASTRO Scientific Session poster titled "High Dose Adaptive MRI Guided Radiation Therapy Improves Overall Survival of Inoperable Pancreatic Cancer," key data points and findings from the presentation include the following:
The study detailed a retrospective review of 42 locally-advanced pancreatic cancer patients treated with MRIdian at four institutions (University of California Los Angeles, University of Wisconsin, VU University Medical Center, Washington University).
The authors examined survival and toxicity rates for two unique cohorts of patients. One sample received a higher biologically effective dose (maxBED10 >90), primarily enabled by MRIdian MR-guided on-table adaptive radiotherapy. The other sample received a lower, more conventional biologically effective dose (maxBED10 <90), using non-adaptive therapy.
The cohort receiving a higher dose demonstrated a near doubling of median overall survival (Kaplan-Meier estimated median overall survival of 27.8 months compared to 14.8 months).
Patients treated with higher radiation doses reported no grade 3 or higher toxicities (0 percent). In comparison, those patients receiving lower doses via non-adaptive treatments experienced 15.8 percent grade 3 or higher toxicities.
"High-definition MR now enables oncologists to detect the slightest anatomical changes that occur from one day to the next and in real-time while the patient is being treated. Coupled with new adaptive radiation therapy software tools, we create new customized plans in minutes, all while the patient is on the treatment table," said Percy Lee, M.D., senior author and Associate Professor and Vice Chair of Education for the Department of Radiation Oncology at the David Geffen School of Medicine at UCLA. "The data presented at the 2017 ASTRO Annual Meeting suggests that higher radiation doses with adaptive MR guided radiation therapy may improve survival in pancreatic cancer while maintaining a very favorable toxicity profile. These outcomes warrant further investigations."
The early results highlighted above, along with other data obtained using MRIdian will be tested in a multi-center, prospective, single-arm clinical trial for inoperable, locally advanced or borderline resectable pancreatic cancer. The trial will be conducted by ViewRay's Clinical Cooperative Think Tank (C2T2), a group of MRIdian medical institutions focused on evidence gathering to support MR-guided radiation therapy.
###
For more information regarding this clinical trial, please visit http://go.viewray.com/pancreatic_cancer_trial_info.
Presentations discussing the multi-institutional poster in ViewRay's ASTRO booth are available on the company's website at http://www.viewray.com/ASTRO_2017.
About ViewRay
ViewRay®, Inc. (Nasdaq: VRAY), designs, manufactures and markets the MRIdian® radiation therapy system. MRIdian is built upon a proprietary high-definition MR imaging system designed from the ground up to address the unique challenges and clinical workflow for advanced radiation oncology. Unlike MR systems used in diagnostic radiology, MRIdian's high-definition MR was purposely built to deliver high-precision radiation without unnecessary beam distortion, and consequently, help to mitigate skin toxicity and other safety concerns that may otherwise arise when high magnetic fields interact with radiation beams. ViewRay and MRIdian are registered trademarks of ViewRay, Inc.
This press release contains forward-looking statements. Statements in this press release that are not purely historical are forward-looking statements. Such statements are subject to risks and uncertainties that could cause future results to differ materially from those referenced. Forward looking statements with respect to predicted improved survival described in the poster presentation and video, are based on current expectations from the presented retroactive study and involve inherent risks and uncertainties about the potential health and medical benefits of MR-guided Radiation Therapy for the treatment of patients with locally advanced pancreatic cancer. Further studies, including the planned prospective multi-institutional study referenced in this press release, as well as patient data covering longer periods of time post-treatment, could lead to different or contrary results from those expressed during ASTRO or in the poster presentation. Given these uncertainties, the reader is advised not to place any undue reliance on any forward-looking statements. Additional risk factors include, among others, the ability to raise the additional funding needed to continue to pursue ViewRay's business and product development plans, the inherent uncertainties associated with developing new products or technologies, competition in the industry in which ViewRay operates and overall market conditions. These forward-looking statements are made as of the date of this press release, and ViewRay assumes no obligation to update the forward-looking statements, or to update the reasons why actual results could differ from those projected in the forward-looking statements, except as required by law. Investors should consult all of the information set forth herein and should also refer to the risk factor disclosure set forth in the reports and other documents ViewRay files with the SEC available at http://www.sec.gov.
---