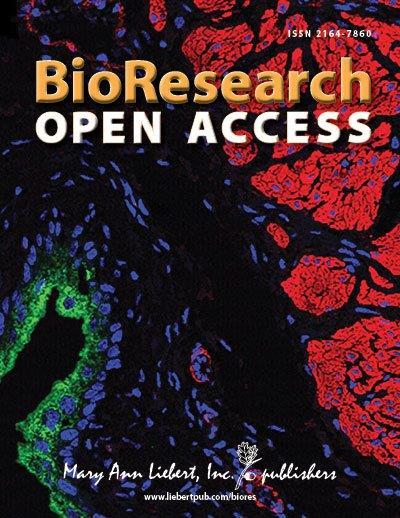 New Rochelle, NY, July 14, 2015 --A new study showing the ability to apply a thin coating of viable respiratory epithelial cells to tissue engineered constructs using a commercially available spray device is especially promising for therapeutic approaches in development to repair or replace challenging structures such as trachea or bronchi. The effects of factors such as air pressure and nozzle diameter on cell survival and the ability of the respiratory cells to differentiate and proliferate are described in an article in BioResearch Open Access, a peer-reviewed journal from Mary Ann Liebert, Inc., publishers. The article is available on the BioResearch Open Access website.
In "Spraying Respiratory Epithelial Cells to Coat Tissue-Engineered Constructs," Anja Lena Thiebes, Stefanie Albers, Dr. Med. Stefan Jockenhoevel, and Christian Cornelissen, RWTH Aachen University, and Christian Klopsch, University of Rostock, Germany, compared the results for spray application of vascular smooth muscle cells or respiratory epithelial cells, with and without fibrin gel. Fibrin acts like a glue to hold cells and tissues together, helping to keep the cells in place until it slowly degrades over a few days, allowing the cells to differentiate.
"The work presented here is of significant importance to regenerative medicine therapeutics, providing a highly promising approach to coating tissue engineered constructs," says BioResearch Open Access Editor Jane Taylor, PhD, MRC Centre for Regenerative Medicine, University of Edinburgh, Scotland.
###
About the Journal
BioResearch Open Access is a peer-reviewed open access journal led by Editor-in-Chief Robert Lanza, MD, Chief Scientific Officer, Advanced Cell Technology, Inc. and Editor Jane Taylor, PhD. The Journal provides a new rapid-publication forum for a broad range of scientific topics including molecular and cellular biology, tissue engineering and biomaterials, bioengineering, regenerative medicine, stem cells, gene therapy, systems biology, genetics, biochemistry, virology, microbiology, and neuroscience. All articles are published within 4 weeks of acceptance and are fully open access and posted on PubMed Central. All journal content is available on the BioResearch Open Access website.
About the Publisher
Mary Ann Liebert, Inc., publishers is a privately held, fully integrated media company known for establishing authoritative peer-reviewed journals in many areas of science and biomedical research, including DNA and Cell Biology, Tissue Engineering, Stem Cells and Development, Human Gene Therapy, HGT Methods, and HGT Clinical Development, and AIDS Research and Human Retroviruses. Its biotechnology trade magazine, Genetic Engineering & Biotechnology News (GEN), was the first in its field and is today the industry's most widely read publication worldwide. A complete list of the firm's 80 journals, books, and newsmagazines is available on the Mary Ann Liebert, Inc., publishers website.
---
Journal
BioResearch Open Access