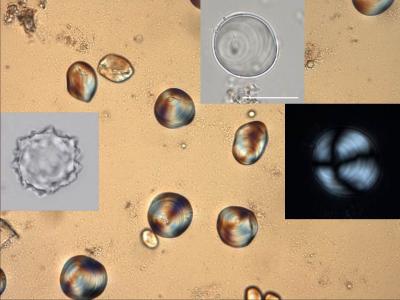 Before rice cultivation became prevalent, ancient populations on the southern coast of China likely relied on sago palms as staple plant foods, according to research published May 8 in the open access journal PLOS ONE by Xiaoyan Yang and colleagues from the Chinese Academy of Sciences in Beijing, China.
Little is known about prehistoric diets of those who lived in southern subtropical China, as the acidic soils and humid climate of the region cause poor preservation of plant remains. Though literature and archaeological discoveries have suggested that roots and tubers were the staple foods in this region, no direct evidence has so far been found. In this study, researchers analyzed starch granules recovered from Neolithic stone tools used approximately 3,350-2,470 BC, and found these to resemble starches typically found in sago-type palms. They found that people at this time also likely relied on bananas, acorns and freshwater roots and tubers as important plant foods prior to the cultivation of rice.
###
Citation: Yang X, Barton HJ, Wan Z, Li Q, Ma Z, et al. (2013) Sago-type Palms Were an Important Plant Food Prior to Rice in Southern Subtropical China. PLoS ONE 8(5): e63148. doi:10.1371/journal.pone.0063148
Financial Disclosure: Funding for this research was provided in part by the Royal Society (UK)-China NSFC International Joint Projects (Grant No. 41011130159), the National Natural Science Foundation of China (Grant No. 41072140), and the CAS Strategic Priority Research Program (Grant No. XDA05130603). The funders had no role in study design, data collection and analysis, decision to publish, or preparation of the manuscript.
Competing Interest Statement: The authors have decared that no competing interests exist.
PLEASE LINK TO THE SCIENTIFIC ARTICLE IN ONLINE VERSIONS OF YOUR REPORT (URL goes live after the embargo ends): http://dx.plos.org/10.1371/journal.pone.0063148
Disclaimer: This press release refers to upcoming articles in PLOS ONE. The releases have been provided by the article authors and/or journal staff. Any opinions expressed in these are the personal views of the contributors, and do not necessarily represent the views or policies of PLOS. PLOS expressly disclaims any and all warranties and liability in connection with the information found in the release and article and your use of such information.
About PLOS ONE: PLOS ONE is the first journal of primary research from all areas of science to employ a combination of peer review and post-publication rating and commenting, to maximize the impact of every report it publishes. PLOS ONE is published by the Public Library of Science (PLOS), the open-access publisher whose goal is to make the world's scientific and medical literature a public resource.
All works published in PLOS ONE are Open Access. Everything is immediately available—to read, download, redistribute, include in databases and otherwise use—without cost to anyone, anywhere, subject only to the condition that the original authors and source are properly attributed. For more information about PLOS ONE relevant to journalists, bloggers and press officers, including details of our press release process and our embargo policy, see the everyONE blog at http://everyone.plos.org/media.
---