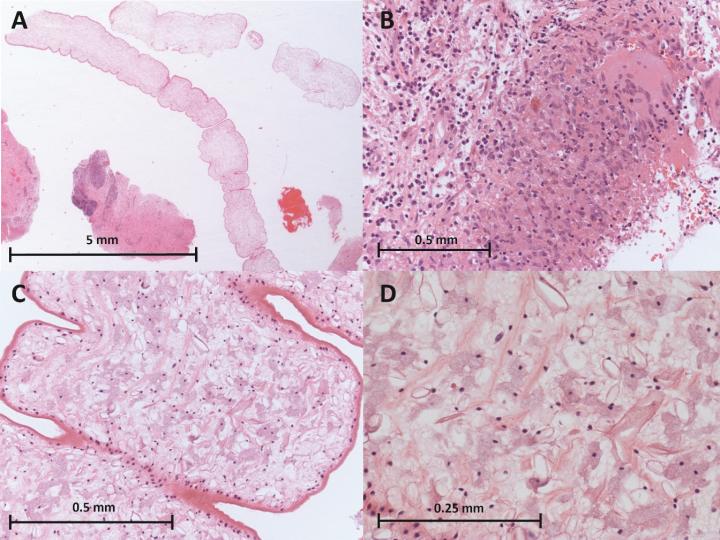 A genome of a rare species of tapeworm found living inside a patient's brain has been sequenced for the first time, in research published in the open access journal Genome Biology. The study provides insights into potential drug targets within the genome for future treatments.
Tapeworms are parasites that are most commonly found living in the gut, causing symptoms such as weakness, weight loss and abdominal pain. However, the larvae of some species of tapeworm are able to travel further afield to areas such as the eyes, the brain and spinal cord.
A 50-year-old man of Chinese ethnicity was admitted to hospital in the East of England after reporting symptoms of headaches, seizures, altered smell and memory impairment. The patient had lived in the UK for 20 years but visited his homeland often. After testing negative for a range of diseases and not presenting any other abnormalities, doctors began to take a series of MRI images of his brain. Over the course of four years, they noticed a lesion migrate at least 5 cm across his brain, and after taking a biopsy from his left thalamus, they discovered a 1 cm long ribbon-shaped larval worm. The patient, who remains anonymous, was cured of his infection by the operation and is now recovering.
Small samples of the worm were sent to researchers at the Wellcome Trust Sanger Institute, where they began to investigate its genome. Through sequencing its DNA, they identified it as Spirometra erinaceieuropaei, a rare tapeworm species typically found in China, South Korea, Japan and Thailand, and known to cause infection by ingesting undercooked frogs or snakes, using frog meat for treating wounds, and ingesting contaminated water.
The researchers sequenced the worm's entire genome for the first time, measuring it as 1.26 billion base pairs long, which is currently the largest reported genome for any flatworm. This was despite the fact they had such a small sample to work from after removal from the patient's brain. By investigating specific sections of the worm's genome, they were also able to identify genes for resistance to certain treatments, and other potential drugs targets.
Lead author Hayley Bennett from the Wellcome Trust Sanger Institute said: "This infection is so rare worldwide and completely unexpected in this country that the patient was not diagnosed with sparganosis until the worm was pulled out from the brain. We were also surprised at how large the genome was, it is much bigger than those of other known flatworms, and roughly a third of the size of the human genome. By comparing the genome to other tapeworms we can see that certain gene families are expanded - these possibly underpin this worm's success in a large variety of host species. The data gave us a first look at a whole group of tapeworms that have not been sequenced before."
Through investigating specific parts of the genome for sensitivity to known tapeworm treatments, the researchers found that the tapeworm had genes providing resistance to benzimidazole, but possible sensitivity to another tapeworm drug praziquantel.
The team also investigated the genome to find potential targets which could be exploited by drugs already on the market but known for treating other diseases. They found a number of genes which are targets for known cancer drugs, suggesting that these treatments could be re-purposed for treating this type of infection.
The researchers also identified twenty expanded gene families with unknown function, which they say demonstrates how little is known about this order of tapeworms, and could explain its ability to live in a wide range of hosts (crustaceans, reptiles, amphibians and mammals) as well as in aquatic environments. They have made all their data publicly available so as to help other researchers.
Hayley Bennett said: "We think that it is important to make the genomic data available as is it offers a resource predicting whether other drugs can be repurposed for use in really rare infections such as in this case."
###
To request an embargoed copy of the paper or to arrange interviews, please contact:
Joel Winston
Media Officer
BioMed Central
T: +44 (0)20 3192 2081
E: Joel.Winston@biomedcentral.com
Notes to editor:
1. Study images are available at: https://www.dropbox.com/sh/xvxzdai8lyyfg7z/AAD2ukz9wPbNBU7Gf6UZeTrKa?dl=0
Please credit images as provided in the file names
2. Research article
The genome of the sparganosis tapeworm Spirometra erinaceieuropaei isolated from the biopsy of a migrating brain lesion
Hayley M Bennett, Hoi Ping Mok, Effrossyni Gkrania-Klotsas, Eleanor J Stanley, Isheng J Tsai, Nagui M Antoun, Avril Coghlan, Bhavana Harsha, Alessandra Traini, Diogo M Ribeiro, Sascha Steinbass, Sebastian B Lucas, Kieren S.J Allinson, Stephen J Price, Thomas S Santarius, Andrew J Carmichael, Peter L Chiodini, Nancy Holroyd, Andrew F Dean and Matthew Berriman
Genome Biology 2014, 15:510
After embargo, article available at journal website here: http://genomebiology.com/2014/15/11/510
Please name the journal in any story you write. If you are writing for the web, please link to the article. All articles are available free of charge, according to BioMed Central's open access policy.
3. Genome Biology serves the biological research community as an international forum for the dissemination, discussion and critical review of information about all areas of biology informed by genomic research. Key objectives are to provide a guide to the rapidly developing resources and technology in genomics and its impact on biological research, to publish large datasets and extensive results that are not readily accommodated in traditional journals, and to help establish new standards and nomenclature for post-genomic biology.
Genome Biology publishes research articles, new methods and software tools, in addition to reviews and opinions, from the full spectrum of biology, including molecular, cellular, organism or population biology studied from a genomic perspective, as well as sequence analysis, bioinformatics, proteomics, comparative biology and evolution.
4. BioMed Central is an STM (Science, Technology and Medicine) publisher which has pioneered the open access publishing model. All peer-reviewed research articles published by BioMed Central are made immediately and freely accessible online, and are licensed to allow redistribution and reuse. BioMed Central is part of Springer Science+Business Media, a leading global publisher in the STM sector. http://www.biomedcentral.com
---