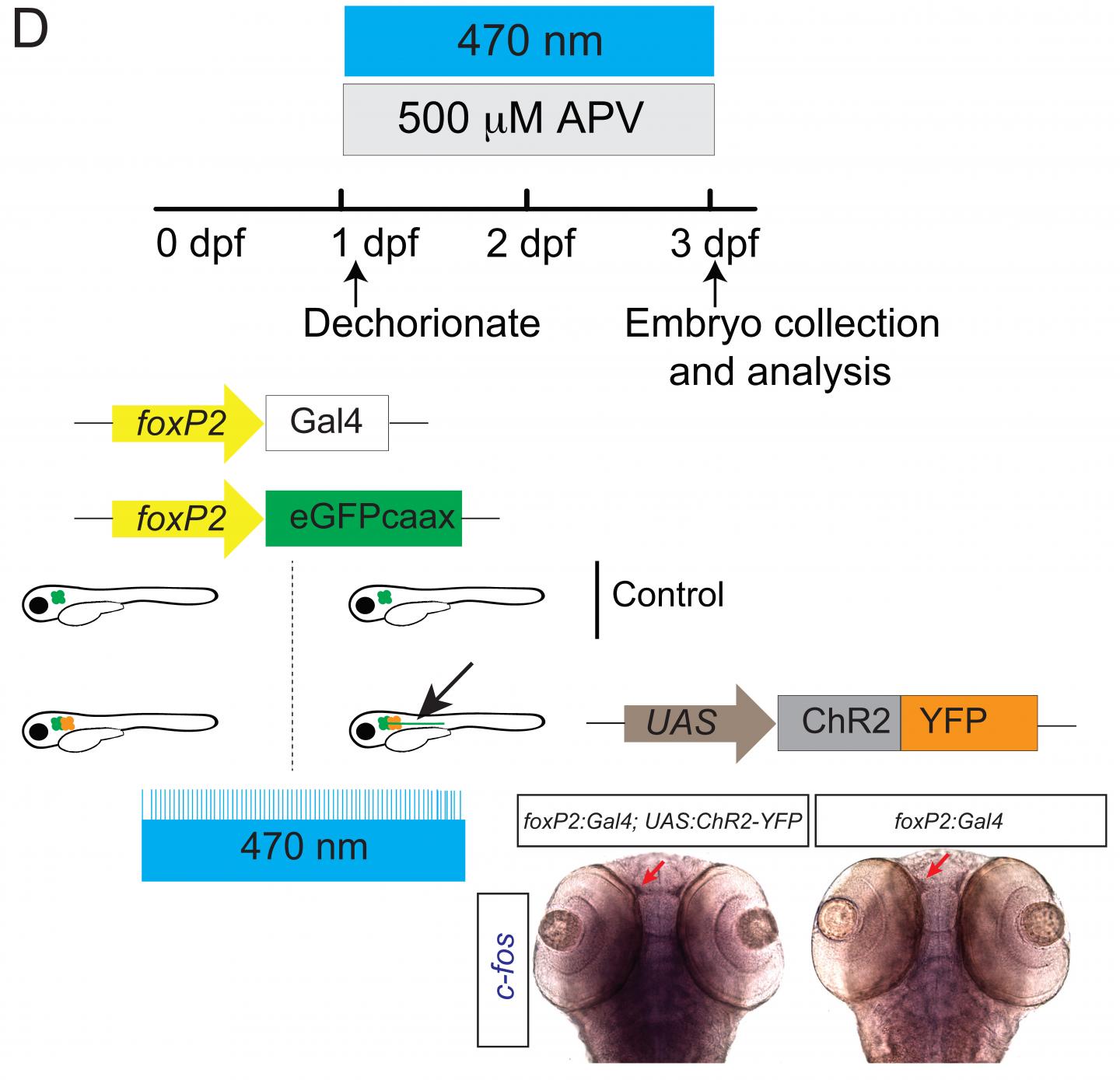 A new mechanism regulating the early development of connections between the two sides of the nervous system has been identified in a paper published in eNeuro. The work demonstrates that neuronal activity is required for this process, a finding that may provide new insight into brain connectivity disorders such as autism.
The paths of axons in the central nervous system are laid down during embryonic development. Most of them will cross the middle of the organism, while some will not. The resulting framework is critical for the connectivity that will later give rise to cognitive functions. Although axon pathfinding is under tight genetic control, the extent to which it can be influenced by environmental factors is unclear.
Addressing this question in transparent zebrafish embryos, Josh Bonkowsky and colleagues found that optogenetic stimulation of an inhibited N-methyl-D-aspartate receptor (NMDAR) was necessary for axons to properly cross the midline. Regulation of neuronal activity by the NMDAR may act through a gene implicated in brain development and neurological diseases. This research suggests that, in addition to genetic control, neuronal activity in response to environmental factors -- for example, the low oxygen levels experienced by premature babies -- can influence the development of brain connectivity.
###
Article: The Midline Axon Crossing Decision is Regulated Through An Activity-Dependent Mechanism by the NMDA Receptor
DOI: https://doi.org/10.1523/ENEURO.0389-17.2018
Corresponding author: Josh Bonkowsky (University of Utah, Salt Lake City, USA), joshua.bonkowsky@hsc.utah.edu
About eNeuro
eNeuro, the Society for Neuroscience's new open-access journal launched in 2014, publishes rigorous neuroscience research with double-blind peer review that masks the identity of both the authors and reviewers, minimizing the potential for implicit biases. eNeuro is distinguished by a broader scope and balanced perspective achieved by publishing negative results, failure to replicate or replication studies. New research, computational neuroscience, theories and methods are also published.
About The Society for Neuroscience
The Society for Neuroscience is the world's largest organization of scientists and physicians devoted to understanding the brain and nervous system. The nonprofit organization, founded in 1969, now has nearly 37,000 members in more than 90 countries and over 130 chapters worldwide.
---