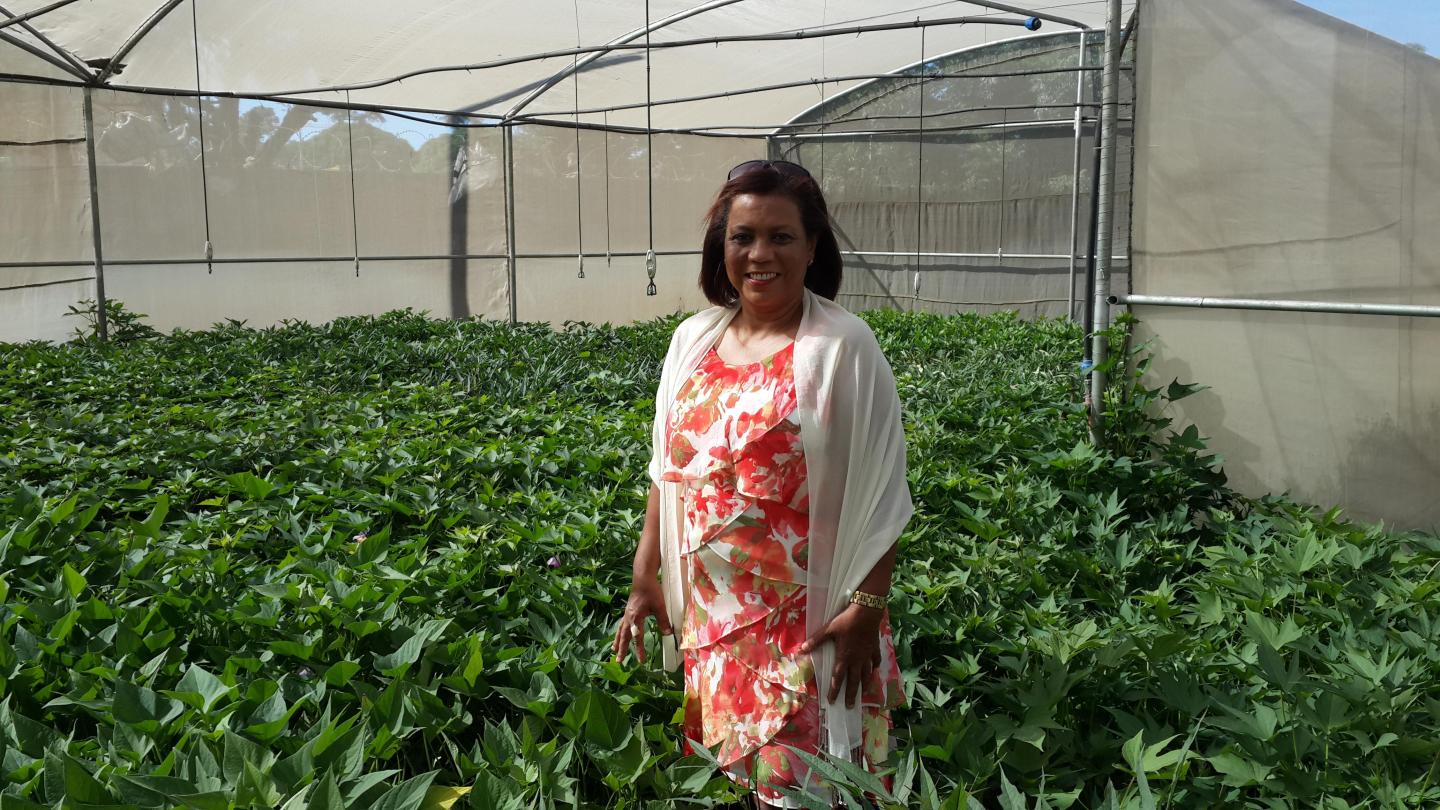 The International Potato Center (CIP) team led by World Food Prize Laureate Dr. Maria Andrade announce the global Climate Resilience through Sweetpotato (CReSP) initiative to improve nutrition security and livelihoods of vulnerable populations in the face of climate change.
CReSP was launched at the Global Landscapes Forum, the lead side event of the COP22 talks being held in Marrakech, Morocco. The initiative brings together partners in research, extension, production and policy to improve and expand the utilization of climate smart and nutritious sweetpotato varieties in the context of national climate change adaptation and disaster risk reduction strategies. CReSP aims to benefit at least 50 million people in high vulnerability regions in Africa, Asia, and Latin America over the next 10 years.
CReSP builds on ongoing work by CIP and partners in Africa and Asia. Orange-fleshed sweetpotato (OFSP), vitamin A rich biofortified varieties, has been demonstrated to contribute effectively to reducing chronic malnutrition and child stunting when promoted together with nutrition and health counselling. This pioneering work for which CIP scientists Jan Low, Robert Mwanga and Maria Andrade were awarded the 2016 World Food Prize. CReSP will extend these benefits to millions of people whose food security and nutrition are at risk from climate change.
"Mozambique suffers variously from droughts and floods that are increasing in intensity," says CIP's Dr. Maria Andrade. "Together with our national partners, we have bred OFSP varieties for these conditions and have developed delivery systems to get planting material and training to people where and when they need it. Since 2011, we have been able to reach over 150,000 households in vulnerable districts. This year, the Government of Mozambique recognized OFSP as a national priority crop and is supporting our efforts as part of the national response to the current drought in Southern Mozambique."
"Countries like Mozambique, Malawi, and the Philippines are working hard to make their agriculture more climate resilient as well as more nutritious; and they recognize the advantages of sweetpotato in this context," said CIP Sweetpotato Program Leader Dr. Simon Heck. "Their experience shows that long-term investments in the development of improved crop varieties are essential for climate resilience; as is the capacity to get these technologies to farmers and to keep adapting and improving on the basis of sound evidence. This is what CreSP is about - connecting countries and organizations to these technologies, delivery systems and information sources so that they can meet their climate resilience and nutrition goals."
CReSP is set to expand its activities to respond to a range of demands from new countries. Droughts in Ethiopia and Madagascar, increasing salinity from rising sea levels in Bangladesh, and recovery from hurricanes in Haiti exemplify the types of climate related crises where sweetpotato can make a difference. Exploiting the natural robustness and adaptability of sweetpotato, scientists are developing improved varieties for changing local conditions that can also meet the nutritional needs and dietary preferences of vulnerable populations. CReSP provides a platform for exchanging such climate-smart technologies and providing technical support to national, civil society and private sector partners who want to use them widely. CReSP builds on existing scientific networks, including regional sweetpotato breeding platforms in Africa and Asia, and development communities of practice to increase its global reach.
CIP and national research partners are global leaders in sweetpotato and potato breeding for smallholder farmers in Africa, Asia, and Latin America and have demonstrated their capacity through the success of nutritious OFSP as a lead biofortified crop. CIP is a member of the CGIAR consortium and is actively engaged in the CGIAR's global research programs to strengthen the climate resilience of the world's main agro-food systems and in particular leads the program on Roots, Tubers and Bananas. CReSP will be able to harness the full range of these crops and provide locally adapted combinations of varieties and technologies. CReSP will also exchange methodologies and data with the CGIAR program on Climate Change, Agriculture and Food Security to ensure that the initiative is well connected to latest scientific knowledge and approaches.
###
About CIP
The International Potato Center, known by its Spanish acronym CIP, was founded in 1971 as a root and tuber research-for-development institution delivering sustainable solutions to the pressing world problems of hunger, poverty, and the degradation of natural resources. CIP's headquarters is in Lima, Peru and it has offices in 18 countries across Asia, Africa, and Latin America. Working closely with our partners, CIP seeks to achieve food security, increased well-being, and gender equity for poor people relying on potato, sweetpotato and other root and tuber crops across these regions. CIP furthers its mission through rigorous research, innovation in science and technology, and capacity strengthening.
CIP is part of the CGIAR Consortium, a global partnership that unites organizations engaged in research for a food secure future. CGIAR research is dedicated to reducing rural poverty, increasing food security, improving human health and nutrition, and ensuring more sustainable management of natural resources. CIP's work is supported by bilateral donor agencies, major foundations, and international financial institutions.
---