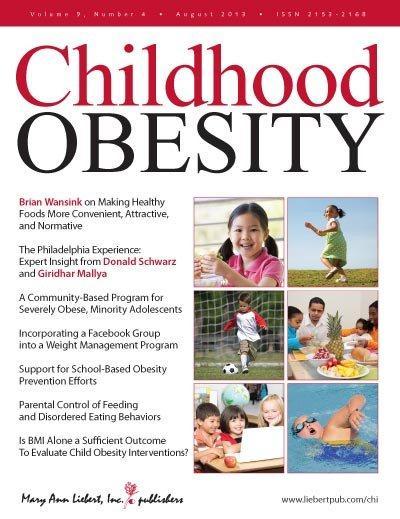 New Rochelle, NY -- Body mass index (BMI) or a change in BMI is often the sole measure used to evaluate whether an intervention intended to combat childhood obesity is effective. But a new study clearly shows that an intervention can have beneficial effects on other health outcomes, such as cardiovascular fitness, regardless of its effect on BMI. Focusing on a single factor like the degree of BMI change is restrictive and can overlook other important outcomes, according to an article published in Childhood Obesity, a peer-reviewed journal from Mary Ann Liebert, Inc., publishers. The article is available free on the Childhood Obesity website at http://www.liebertpub.com/chi.
Maria Kolotourou and a team of authors involved in the Mind, Exercise, Nutrition...Do It! (MEND) trial from University of London, University College London, and Mytime MEND gathered data from a group of obese children before they participated in the MEND childhood obesity intervention and again at 6- and 12-month follow-up intervals. The researchers measured BMI, degree of change in BMI, waist circumference, cardiovascular fitness, physical activity, sedentary behaviors, and self-esteem.
In the article "Is BMI Alone a Sufficient Outcome to Evaluate Interventions for Child Obesity?" the authors report improvements, in several of the parameters measured, independent of whether a child's BMI decreased, increased, or remained the same.
"Good interventions aimed at helping overweight children lose weight should be equally directed at helping them to find health. This article suggests that health benefits may be seen independent of weight change, per se, and we are thus better served by evaluation strategies that encompass an array of relevant and important measures," says David L. Katz, MD, MPH, Editor-in-Chief of Childhood Obesity and Director of Yale University's Prevention Research Center.
###
About the Journal
Childhood Obesity is a bimonthly journal, published in print and online, and the journal of record for all aspects of communication on the broad spectrum of issues and strategies related to weight management and obesity prevention in children and adolescents. The Journal includes peer-reviewed articles documenting cutting-edge research and clinical studies, opinion pieces and roundtable discussions, profiles of successful programs and interventions, and updates on task force recommendations, global initiatives, and policy platforms. It reports on news and developments in science and medicine, features programs and initiatives developed in the public and private sector, and includes a Literature Watch. Tables of content and a sample issue may be viewed on the Childhood Obesity website at http://www.liebertpub.com/chi.
About the Publisher
Mary Ann Liebert, Inc., publishers is a privately held, fully integrated media company known for establishing authoritative medical and biomedical peer-reviewed journals, including Metabolic Syndrome and Related Disorders, Population Health Management, Diabetes Technology & Therapeutics (DTT), and Journal of Women's Health. Its biotechnology trade magazine, Genetic Engineering & Biotechnology News (GEN), was the first in its field and is today the industry's most widely read publication worldwide. A complete list of the firm's 80 journals, newsmagazines, and books is available on the Mary Ann Liebert, Inc., publishers website at http://www.liebertpub.com.
Mary Ann Liebert, Inc.
140 Huguenot Street
New Rochelle, NY 10801-5215
http://www.liebertpub.com
Phone (914) 740-2100
(800) M-LIEBERT
Fax (914) 740-2101
---
Journal
Childhood Obesity