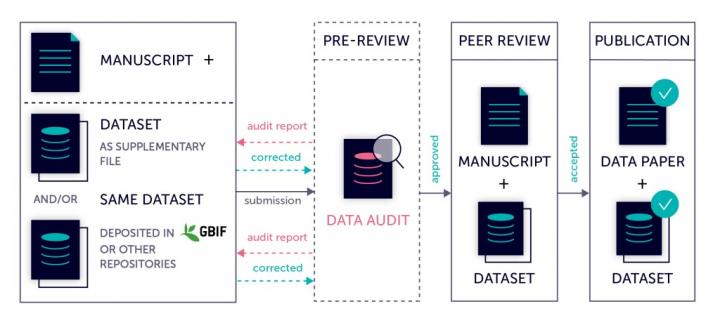 Building on ten years of experience in biodiversity data extraction, publishing and dissemination, scholarly publisher and technology provider Pensoft has introduced mandatory data audit for data papers submitted to any relevant journal across its exclusively open access portfolio.
The solution leverages both manual and technological expertise to ensure that datasets described in well-structured, fully citable and research-friendly data papers fully comply with the principles of FAIR data in research. The workflow is applicable to data either provided as supplementary material within the manuscript or linked from an external repository such as GBIF - the Global Biodiversity Information Facility.
Pensoft's data quality solution is to be presented at the upcoming Biodiversity_Next conference on Wednesday, 23 October at 11:00 AM.
Prior to being assigned to a subject editor, a data paper submitted to any relevant Pensoft journal undergoes mandatory data audit meant to ensure the findability, accessibility, interoperability and reusability of the associated data. Only after the process is completed, can a manuscript proceed to peer review. If there are major issues with the dataset, the data paper can be rejected right away, but resubmitted after the necessary corrections are applied. In case the authors have their datasets linked from an external repository, rather than provided as supplementary material within the data paper, they are also strongly encouraged to update their data in the associated dataset either prior or before the article's publication.
Within the data auditing workflow, a manuscript is first processed by an automated tool, designed to highlight probable issues, including encoding or data structure problems, which could make the dataset virtually inaccessible. Then, the paper is handled by an expert data auditor, whose task would be to carefully examine the data's quality from a scientific perspective. Following the check, the authors receive a report providing improvement recommendations, similarly to the commentaries they would receive following peer review. Suffice to say, by optimising these stages of the data auditing process, all parties involved save considerable amount of effort, thereby resulting in even shorter submission-to-publication time, as well as seamless user experience.
So far, we have seen the publication of a total of 240 data papers across twelve Pensoft journals, where ~50% are based on occurrence data deposited in GBIF. One of those is the excellent contribution to botany by University of Cordoba's scientists Dr Gloria Martínez-Sagarra and Prof Juan Antonio Devesa. A case study illustrating the progress of their data paper, which describes the herbarium dataset for the vascular plants in COFC and was recently published in PhytoKeys, is available on Pensoft's blog.
In a sense, the data auditing workflow is the natural continuation of years of endeavours at Pensoft to secure data quality in the biodiversity literature and its related online resources. "[S]cience is a self-correcting process," reads an earlier paper, written in collaboration between Pensoft, Naturalis Biodiversity Center and Plazi.
###
To explain how and why biodiversity data should be published in full compliance with the best (open) science practices, the team behind Pensoft and long-year collaborators published a guidelines paper, titled "Strategies and guidelines for scholarly publishing of biodiversity data" in the open science journal Research Ideas and Outcomes (RIO Journal).
Additional information
About Pensoft:
Pensoft is an independent academic publishing company, well-known worldwide for its innovations in the field of semantic publishing, as well as for its cutting-edge publishing tools and workflows. In 2013, Pensoft launched the first ever end to end XML-based authoring, reviewing and publishing workflow, as demonstrated by the Pensoft Writing Tool (PWT) and the Biodiversity Data Journal (BDJ), now upgraded to the ARPHA Publishing Platform. Flagship titles include: Research Ideas and Outcomes (RIO), One Ecosystem, ZooKeys, Biodiversity Data Journal, PhytoKeys, MycoKeys and many more.
About Biodiversity Next
By commission of the Netherlands Ministry of Education, Culture and Science, Naturalis Biodiversity Center in collaboration with the Netherlands Biodiversity Information Facility are hosting Biodiversity_Next. Biodiversity_Next is a joint conference by The Global Biodiversity Information Facility (GBIF), a new pan-European Research Infrastructure initiative (DiSSCo), the national resource for digitized information about vouchered natural history collections (iDigBio), Consortium of European Taxonomic Facilities (CETAF), Biodiversity Information Standards (TDWG) and LifeWatch ERIC, the e-Science and Technology European Infrastructure for Biodiversity and Ecosystem Research.
Biodiversity_Next is a conference that brings together, for the first time at this scale, major international organisations, research scientists, and policy makers to jointly identify socio-technical bottlenecks and horizon-scan opportunities around data-intensive biodiversity and geodiversity research.
A dedicated collection containing nearly 400 conference abstracts submitted to Biodiversity_Next is made openly available in the innovative journal Biodiversity Information Science and Standards (BISS) launched by TDWG in 2017 to provide a scholarly platform for the publication of abstracts related to biodiversity standards, methods, guidelines, models and applications in biodiversity informatics submitted for presentation at the annual meetings.
---