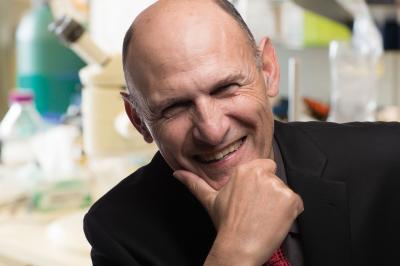 LA JOLLA--(Month 18, 2018) Juan Carlos Izpisua Belmonte, a professor in Salk's Gene Expression Laboratory, has been named one of TIME magazine's 50 most influential people in healthcare for his scientific innovations in addressing the shortage of human organs for transplant. The list, which is curated by TIME's health reporters and editors, recognizes people who changed the state of healthcare in America this year, and bear watching for what they do next.
"Juan Carlos' work is at the absolute forefront of an astounding number of biomedical areas with game-changing potential for people's health," says Salk President Rusty Gage. "He is very much a scientist and a humanitarian in the mold of all Salk faculty, and we are overjoyed to have his pioneering research acknowledged by a magazine as prominent as TIME."
Izpisua Belmonte, who holds the Roger Guillemin Chair at Salk, is globally recognized for his expertise in stem cell biology. Notably, in 2017, Izpisua Belmonte published a proof-of-concept study showing that functional organs from one species can be grown in another, an important early step toward addressing the critical shortage of human donor organs available for transplant.
Combining gene-editing and stem-cell technologies, his lab was able to grow a rat pancreas, heart and eyes in a developing mouse. They were also able to generate human cells and tissues in early-stage pig and cattle embryos, marking the first step toward the generation of transplantable human organs using large animals whose organ size, physiology and anatomy are similar to humans'.
Izpisua Belmonte has also spearheaded the development of new techniques to induce endogenous tissue and organ regeneration, reverting cells to a younger state as well as switch cells from one type--such as skin cells--to another type, including blood, brain and kidney. Just this year, his lab developed a new proof-of-concept technique to heal large lesions in mice by reprogramming wound cells into skin cells, an advance that shows immense promise for healing diabetic ulcers and other wounds in humans. He has developed stem cell models of human aging and aging-associated diseases, and discovered new drivers of aging, which have potential to extend lifespan and promote healthy aging.
Over the past few years, Izpisua Belmonte has pioneered new techniques for both gene editing and epigenetic editing, which alters the chemical tags on DNA that affect how genes are expressed. Through these methods, his team has partially restored vision in blind animals, corrected a disease-causing cardiac defect in human embryos, and treated diabetes, kidney disease and muscular dystrophy in mouse models.
Izpisua Belmonte, whose work spans stem cell biology, genome engineering and regenerative medicine, has been a member of the faculty of the Salk Institute since 1993.
###
About the Salk Institute for Biological Studies:
Every cure has a starting point. The Salk Institute embodies Jonas Salk's mission to dare to make dreams into reality. Its internationally renowned and award-winning scientists explore the very foundations of life, seeking new understandings in neuroscience, genetics, immunology, plant biology and more. The Institute is an independent nonprofit organization and architectural landmark: small by choice, intimate by nature and fearless in the face of any challenge. Be it cancer or Alzheimer's, aging or diabetes, Salk is where cures begin. Learn more at: salk.edu.
---