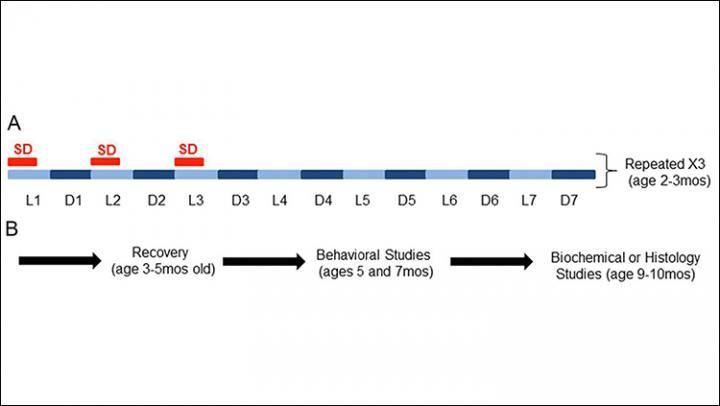 Lack of sleep during adolescence and early adulthood accelerates Alzheimer's disease (AD)-related tau pathology, finds a study of male and female mice published in JNeurosci. These results support the importance of establishing healthy sleep habits in early adult life to help stave off progression of neurodegenerative diseases.
Using a mouse model of tauopathy, Sigrid Veasey and colleagues investigated two forms of sleep disruption increasingly common in modern society: chronic short sleep (CSS) and chronic fragmentation of sleep (CFS). Both forms of disrupted sleep led to an earlier onset of the motor impairments that develop in this mouse model and increased tau pathology in the locus coeruleus -- the site of some of the earliest degeneration in AD -- and portions of the amygdala. CSS also exacerbated loss of neurons in both regions. Together with previous findings that sleep loss contributes to accumulation of amyloid plaques -- the other main culprit in AD -- these results demonstrate the influence of sleep on neurodegeneration in aging.
###
Article: Chronic Sleep Disruption Advances the Temporal Progression of Tauopathy in P301S Mutant Mice
DOI: https://doi.org/10.1523/JNEUROSCI.0275-18.2018
Corresponding author: Sigrid C. Veasey (University of Pennsylvania, Philadelphia, USA), veasey@mail.med.upenn.edu
About JNeurosci
JNeurosci, the Society for Neuroscience's first journal, was launched in 1981 as a means to communicate the findings of the highest quality neuroscience research to the growing field. Today, the journal remains committed to publishing cutting-edge neuroscience that will have an immediate and lasting scientific impact, while responding to authors' changing publishing needs, representing breadth of the field and diversity in authorship.
About The Society for Neuroscience
The Society for Neuroscience is the world's largest organization of scientists and physicians devoted to understanding the brain and nervous system. The nonprofit organization, founded in 1969, now has nearly 37,000 members in more than 90 countries and over 130 chapters worldwide.
---