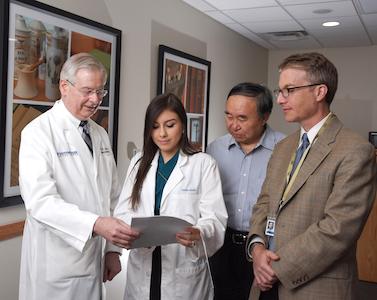 DALLAS – Aug. 14, 2017 – Despite a decade-long call for simplification of clinical trials, the number of criteria excluding patients from participating in clinical trials for lung cancer research continues to rise.
Researchers found a nearly 60 percent increase in exclusion criteria by reviewing 74 National Cancer Institute-sponsored lung cancer trials from 1986 to 2016.
"It's a tired but persistent statistic that only about 3 percent of adults with cancer are enrolled in clinical trials. Increasingly complex and numerous exclusion criteria are a key factor," said Dr. David Gerber, Associate Professor of Internal Medicine and of Clinical Sciences and Associate Director for Clinical Research in the Harold C. Simmons Comprehensive Cancer Center.
Moreover, the increase in exclusions is occurring in the areas that have seen the greatest change in recent years. The increase occurred in trials focused on drug treatments, and was not seen for trials involving surgery or radiation therapy.
The median number of exclusion criteria for lung cancer studies overall rose with each decade:
16 from 1986-1995
19 from 1996-2005
27 from 2006-2016.
"Starting about 10 years ago there were major calls on a national level to simplify clinical trial eligibility and procedures. Yet it's clear that obstacles to participation have not only persisted but also increased. Change needs to occur," said Dr. Gerber, Co-Director of UT Southwestern's Experimental Therapeutics Program, which aims to identify novel targets for tumor targeting, perform laboratory testing of new treatment strategies, and develop new biomarkers and clinical trials.
With the advent of new targeted therapies and immune therapies has come great hope, but also new medical concerns that have led to increasing eligibility criteria. For instance, a history of autoimmune disease was not considered relevant to conventional chemotherapy, but could be relevant in an immune therapy trial. Similarly, the ability to absorb oral drugs was irrelevant with conventional chemotherapy, which is administered intravenously, but may be a factor with targeted therapies, which are often given in pill form.
One problem, said Dr. Gerber, is that considerations that were relevant to older treatments – such as strict minimum required blood counts for conventional chemotherapy – are remaining on exclusion lists for newer therapies.
"Rather than the new eligibility criteria replacing older eligibility criteria, they're being added on," said Dr. Gerber, senior author of the study in the Journal of Thoracic Oncology. This trend makes it ever more difficult to conduct clinical trials at a time when the potential for advances is so great.
Laundry lists of unnecessary exclusion criteria not only mean clinical trials are less efficient, but also less illuminating.
"As eligibility criteria become more restrictive, the applicability of the trial results to the real-world patient population can be problematic. It may create uncertainty for the practicing physician who deals with a broader, less restrictive population in the real-world setting," said Dr. David Johnson, Professor and Chairman of Internal Medicine, and a co-author of this study. Dr. Johnson holds the Donald W. Seldin Distinguished Chair in Internal Medicine.
Dr. Gerber suggested researchers double down on efforts to design more elegant trials.
###
Other U.T. Southwestern researchers who contributed to the study include Sandra Garcia, student; Dr. Ajit Bisen, clinical fellow; Dr. Xian-Jin Xie, Professor in the Department of Clinical Sciences and with the Harold C. Simmons Comprehensive Cancer Center; and Jingsheng Yan, Biostatistical Consultant. Researchers from Emory University and the Inova Schar Cancer Institute also contributed.
This research was funded in part by the UT Southwestern Medical Student Summer Research Program, a National Cancer Institute (NCI) Midcareer Investigator Award in Patient-Oriented Research, and an NCI National Clinical Trials Network Lead Academic Site Award. Biostatistical support was provided by the Biostatistics and Bioinformatics Shared Resource at the Harold C. Simmons Comprehensive Cancer Center, which is supported in part by a National Cancer Institute Cancer Center Support Grant. Research reported in this publication was also supported by the National Center for Advancing Translational Sciences of the National Institutes of Health.
About UT Southwestern Medical Center
UT Southwestern, one of the premier academic medical centers in the nation, integrates pioneering biomedical research with exceptional clinical care and education. The institution's faculty has received six Nobel Prizes, and includes 22 members of the National Academy of Sciences, 18 members of the National Academy of Medicine, and 14 Howard Hughes Medical Institute Investigators. The faculty of more than 2,700 is responsible for groundbreaking medical advances and is committed to translating science-driven research quickly to new clinical treatments. UT Southwestern physicians provide care in about 80 specialties to more than 100,000 hospitalized patients, 600,000 emergency room cases, and oversee approximately 2.2 million outpatient visits a year.
###
This news release is available on our website at http://www.utsouthwestern.edu/news.
To automatically receive news releases from UT Southwestern via email, subscribe at http://www.utsouthwestern.edu/receivenews.
---
Journal
Journal of Thoracic Oncology