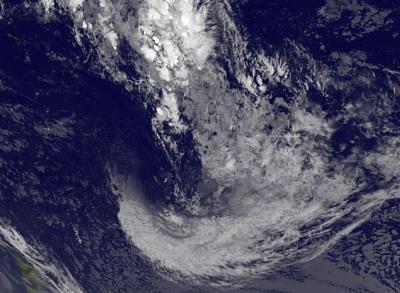 Tropical Cyclone Mike didn't even last a day in the Southern Pacific Ocean as NOAA's GOES-West satellite revealed the storm dissipating just 24 hours after it was born.
The Joint Typhoon Warning Center's second update on Tropical Cyclone Mike was its last. At 2100 UTC/5 p.m. EDT Mike was located near 24.3 south latitude and 157.9 west, about 618 nautical miles/711.1 miles/ 1,145 km southwest of Papeete, Tahiti. Maximum sustained winds were near 35 knots/40 mph/62 kph at that time.
All warnings for the Southern Cook Islands were cancelled and Mike was quickly weakening while becoming extra-tropical. By 1500 UTC/11 a.m. EDT on March 20, NOAA's GOES-West satellite imagery showed that the tropical cyclone had transitioned and was dissipating. In the GOES-West image, Mike's remnants looked like a wisp of clouds. The image was created at NASA/NOAA's GOES Project at NASA's Goddard Space Flight Center in Greenbelt, Md.
###
---