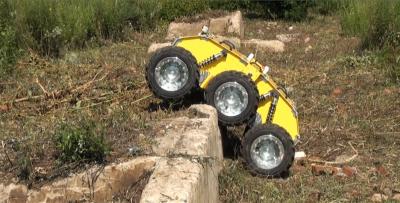 PITTSBURGH—Carnegie Mellon University has signed a five-year master agreement with one of the world's largest mining companies, London-based Anglo American PLC, to develop robotic technologies for mining.
CMU's Robotics Institute (RI), through its National Robotics Engineering Center (NREC) and Field Robotics Center (FRC), will design, build and deploy mining robots, robotic tools and autonomous technologies in partnership with Anglo American's Technology Development Group.
"We are excited that Anglo American selected CMU as its partner for developing innovative mining robotics," said Tony Stentz, NREC director.
"This agreement will break new ground in mining technology," said Dimi Apostolopoulos, principal investigator and senior systems scientist at NREC. "We will apply robotics to underground mining tasks that are perilous and extremely challenging for humans. Our robotic solutions will improve productivity through innovations in processes and technologies."
The RI will build upon its track record of successful mining automation projects to develop advanced perception, electromechanical and robotic systems for Anglo American. It will partner with Anglo American engineers to put the NREC's and FRC's field-proven technologies to work in the company's mining operations. The immediate applications include robotic mining machinery, mine mapping and automated inspections. Anglo American and the RI also will explore other applications under this master agreement.
"We will work hard to get production robotics in place as soon as possible," Apostolopoulos said.
Automating the most difficult, costly and dangerous mining jobs will improve safety and increase the productivity and efficiency of Anglo American's operations. Advances in robotics will allow the mining of hard-to-reach ore deposits that cannot be economically extracted under existing methods and mine layouts.
Anglo American's master agreement with CMU is part of its strategic plan for advancing mining technologies. The company has worldwide operations, producing such commodities as iron ore, metallurgical coal, thermal coal, copper, nickel, platinum and diamonds.
"Working with top robotics experts is essential to our technology and innovation programs," said Donovan Waller, who leads automation and remote control technology development for Anglo American. "Our agreement with Carnegie Mellon University will allow us to rapidly deploy new systems in our platinum mines and develop technologies that will shape our future operations."
###
About Carnegie Mellon University:
Carnegie Mellon is a private, internationally ranked research university with programs in areas ranging from science, technology and business, to public policy, the humanities and the arts. More than 11,000 students in the university's seven schools and colleges benefit from a small student-to-faculty ratio and an education characterized by its focus on creating and implementing solutions for real problems, interdisciplinary collaboration and innovation. A global university, Carnegie Mellon's main campus in the United States is in Pittsburgh, Pa. It has campuses in California's Silicon Valley and Qatar, and programs in Africa, Asia, Australia, Europe and Mexico. The university is in the midst of "Inspire Innovation: The Campaign for Carnegie Mellon University," which aims to build its endowment, support faculty, students and innovative research, and enhance the physical campus with equipment and facility improvements.
About Anglo American:
Anglo American, one of the world's largest mining companies, is headquartered in the UK and listed on the London and Johannesburg stock exchanges. Anglo American's portfolio of mining businesses spans bulk commodities — iron ore and manganese, metallurgical coal and thermal coal; base metals — copper and nickel; and precious metals and minerals — in which it is a global leader in both platinum and diamonds. Anglo American is committed to the highest standards of safety and responsibility across all its businesses and geographies and to making a sustainable difference in the development of the communities around its operations. The company's mining operations, extensive pipeline of growth projects and exploration activities span southern Africa, South America, Australia, North America, Asia and Europe.
---