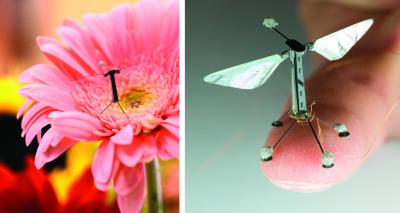 Researchers have been taking tips from nature to build the next generation of flying robots.
Based on the mechanisms adopted by birds, bats, insects and snakes, 14 distinguished research teams have developed solutions to some of the common problems that drones could be faced with when navigating through an urban environment and performing novel tasks for the benefit of society.
Whether this is avoiding obstacles, picking up and delivering items or improving the take-off and landing on tricky surfaces, it is hoped the solutions can lead to the deployment of drones in complex urban environments in a number of different ways, from military surveillance and search and rescue efforts to flying camera phones and reliable courier services. For this, drones need exquisite flight control.
The research teams have presented their work today, 23 May, in a special issue of IOP Publishing's journal Bioinspiration and Biomimetics, devoted to bio-inspired flight control.
The first small drones have already been used in search and rescue operations to investigate difficult-to-reach and hazardous areas, such as in Fukushima, Japan. A research team from Hungary believe these efforts could be improved if robots are able to work in tandem, and have developed an algorithm that allows a number of drones to fly together like a flock of birds.
The effectiveness of the algorithm was demonstrated by using it to direct the movements of a flock of nine individual quadcopters whilst they followed a moving car.
While this collective movement may be helpful when searching vast expanses of land, a group of researchers from Harvard University have developed a millimetre-sized drone with a view to using it to explore extremely cramped and tight spaces.
The microrobot they designed, which was the size of a one cent coin, could take off and land and hover in the air for sustained periods of time. In their new paper, the researchers have demonstrated the first simple, fly-like manoeuvres. In the future, millimetre-sized drones could also be used in assisted agriculture pollination and reconnaissance, and could aid future studies of insect flight.
Once deployed into the real world, drones will be faced with the extremely tricky task of dealing with the elements, which could be extreme heat, the freezing cold, torrential rain or thunderstorms.
The most challenging problem for airborne robots will be strong winds and whirlwinds, which a research team, from the University of North Caroline at Chapel Hill, University of California and The Johns Hopkins University, have begun to tackle by studying the hawk moth.
In their study, the researchers flew hawk moths through a number of different whirlwind conditions in a vortex chamber, carefully examining the mechanisms that the hawk moths used to successfully regain flight control.
Researchers must also find a way of reducing the amount of power that is required to operate drones, which a team from the Université de Sherbrooke and Stanford University have achieved by creating a "jumpglider".
Inspired by vertebrates like the flying squirrel, the flying fish and the flying snake, which use their aerodynamic bodies to extend their jumping range to avoid predators, the "jumpglider" combines an aeroplane-shaped body with a spring-based mechanical foot that propels the robot into the air.
The researchers believe the "jumpglider" can be used in search and rescue efforts, operating at low power and offering a significant advantage over land-based robots by being able to navigate around obstacles and over rough terrain.
In his opening editorial, Guest Editor of the special issue, Dr David Lentink, from Stanford University, writes: "Flying animals can be found everywhere in our cities. From scavenging pigeons to alcohol-sniffing fruit flies that make precision landings on our wine glasses, these animals have quickly learnt how to control their flight through urban environments to exploit our resources.
"To enable our drones to fly equally well in wind and clutter, we need to solve several flight control challenges during all flight phases: take-off, cruising, and landing.
"This special issue provides a unique integration between biological studies of animals and bio-inspired engineering solutions. Each of the 14 papers presented in this special issue offer a unique perspective on bio-mimetic flight, providing insights and solutions to the take-off, obstacle avoidance, in-flight grasping, swarming, and landing capabilities that urban drones need to succeed."
###
From Thursday 23 May, the special issue can be downloaded for free from http://iopscience.iop.org/1748-3190/9/2
A full package of videos and images can be downloaded from here - https://www.dropbox.com/sh/ufb4nq9stvyqja3/AADfEPGFAPqpijugkMrKK1Zda
Notes to Editors
Contact
1. For further information, a full draft of the journal paper or contact with one of the researchers, contact: Michael Bishop, IOP Press Officer, Tel: 0117 930 1032 email: michael.bishop@iop.org For more information on how to use the embargoed material above, please refer to our embargo policy.
IOP Publishing Journalist Area
2. The IOP Publishing Journalist Area gives journalists access to embargoed press releases, advanced copies of papers, supplementary images and videos. In addition to this, a weekly news digest is uploaded into the Journalist Area every Friday, highlighting a selection of newsworthy papers set to be published in the following week. Login details also give free access to IOPscience, IOP Publishing's journal platform. To apply for a free subscription to this service, please email Michael Bishop, IOP Press Officer, michael.bishop@iop.org, with your name, organisation, address and a preferred username.
Bioinspiration and Biomimetics
3. Bioinspiration & Biomimetics publishes research which applies principles abstracted from natural systems to engineering and technological design and applications.
IOP Publishing
4. IOP Publishing provides a range of journals, magazines, websites and services that enable researchers and research organisations to reach the widest possible audience for their research. We combine the culture of a learned society with global reach and highly efficient and effective publishing systems and processes. With offices in the UK, US, Germany, China and Japan, and staff in many other locations including Mexico and Russia, we serve researchers in the physical and related sciences in all parts of the world. IOP Publishing is a wholly owned subsidiary of the Institute of Physics. The Institute is a leading scientific society promoting physics and bringing physicists together for the benefit of all. Any profits generated by IOP Publishing are used by the Institute to support science and scientists in both the developed and developing world. Go to ioppublishing.org.
Access to Research
5. Access to Research is an initiative through which the UK public can gain free, walk-in access to a wide range of academic articles and research at their local library. This article is freely available through this initiative. For more information, go to http://www.accesstoresearch.org.uk
The Institute of Physics
6. The Institute of Physics is a leading scientific society. We are a charitable organisation with a worldwide membership of more than 50,000, working together to advance physics education, research and application.
We engage with policymakers and the general public to develop awareness and understanding of the value of physics and, through IOP Publishing, we are world leaders in professional scientific communications.
In September 2013, we launched our first fundraising campaign. Our campaign, Opportunity Physics, offers you the chance to support the work that we do.
---
Journal
Bioinspiration & Biomimetics